On Friday April 5, I attended my first roast. My husband, comedian Aaron Haber, is a long time Friar and has been to many of these events. I also used to do stand-up comedy and got married at The Friars Club. Still, I had no idea what to expect. This was also my first major public outing since my daughter was born. Due to the tolls of pregnancy, I now have to wear glasses and sneakers and was unable to sport a fun cocktail dress with high heels. I was a nervous about seeing people I knew before I had baby.
Despite these fears, I put my best face forward and attended The Friars Roast of Jack Black. I am glad I did because I learned a few things...
1. If you tell the world that you "pooped your pants" at the White House and then go to a roast, you will be the punch line of almost every joke. I'm looking at you Al Roker.
2. If you are the butt of every joke because you said you pooped your pants at The White House and then attended a Friars Club Roast... just smack a shit eating grin on your face because you deserve it.
3. Al Roker is a great sport and laughed at all the poop jokes... even the not so funny ones.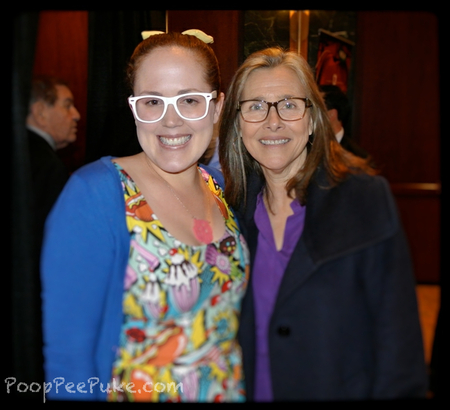 4. Women in glasses are hot: Just check out my best girlfriend Meredith Vieira and I sporting our frames.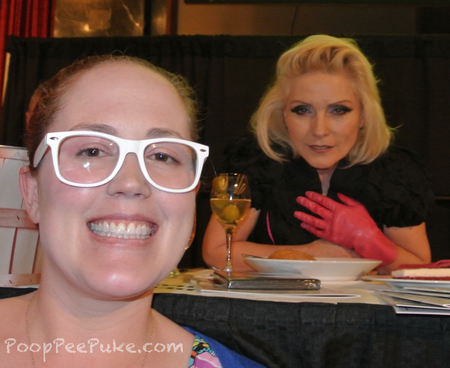 5. Debbie Harry is goddess in pink gloves. Before the roast she confided in me that she was nervous about getting made fun of. I said that wasn't possible because who would make fun of the Debbie Harry? At one point a comedian made a forgettable joke about her age. Did she cry? No. Did she laugh and pretend to not care? No. Debby Harry simply poured herself a cup of coffee in a calculated way that made everyone wonder if the reason she wore pink gloves to the roast was less about fashion and more about practicality. Who has the time to put gloves on to hide your fingerprints before wringing the necks knit-wit comedians?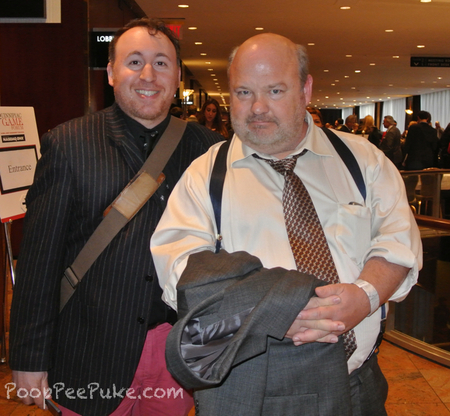 6. Two is better than one. My husband had a better time because I was there. DUH! If you don't believe me check his Twitter feed. Also, I love Jack Black but I love Tenacious D even more. Why it is legal to roast Jack Black without a Tenacious D performance is a mystery we may never solve. But one thing I do know is that Kyle Gass rocks. Here he is chilling with my baby daddy, Aaron Haber.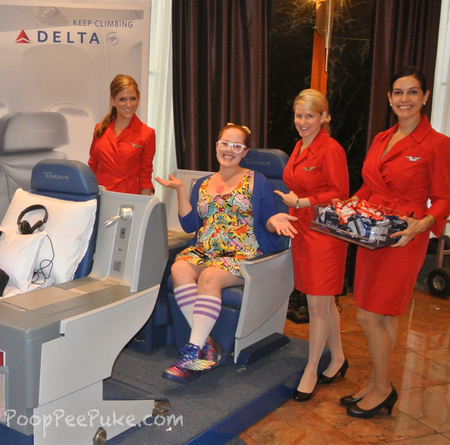 7. First class with Delta rocks. I got to try out these chairs before the roast and they were so comfy I almost skipped the show.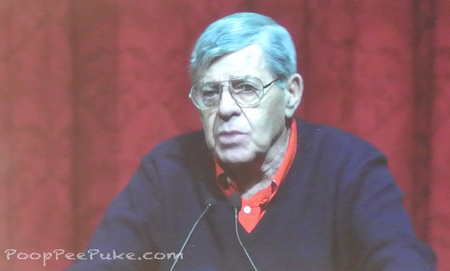 8. This is going to make me sound really dumb but Jerry Lewis is famous for more than getting celebrities to answer phones for hours on end. As a child, I was forced to watch his telethons. When I heard his name I started to have visions of myself being attacked by a swarm of rotary phones ala Hitchcock's "The Birds." I was pleased to find out his telethons were just one of his many achievements.
9. Comedians have no sense of time. The Roast started at 11 am and ended at 2:30pm. Yet everyone repeatedly said evening, night and talked about staying up late. No one was ever corrected.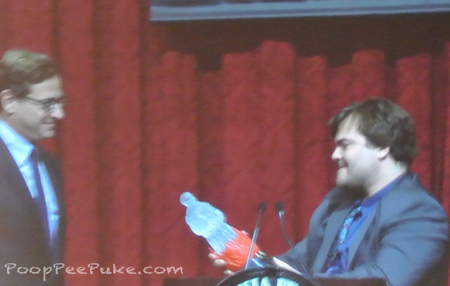 10. If you follow your dreams, work hard, and do a ton of movies about a panda, maybe just one day you will receive giant ice cube dildo to have sex with Bob Saget... gently.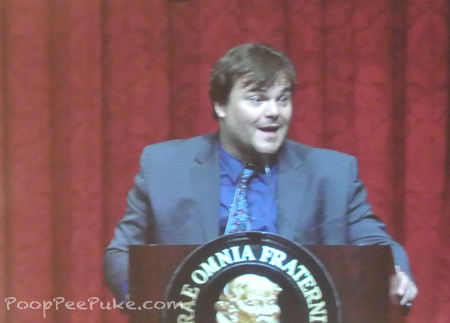 11. Always be true to your style. Before the roast started, I told Jack Black if he made fun of the Debbie Harry I had no problem booing him. He said he would never think of such a thing because she is a legend. Way to keep it classy, Jack Black.
Once the Roast started, Jack Black sat there and listened to comedian after comedian make jokes about his pant size, penis, and pandas. Then when he got his chance at payback he said it wasn't his "style" to be mean. Instead, he said things like, "I'm rubber and you're glue. What bounces of me sticks to you." He ended each bit with an enthusiastic "Roasted." Except for the CEO of Dream Works who only received a "Semi-Roasted" because, as Jack Block explained, he has the power to decide whether his great grand kids will be able to afford to go to college.
Jack Black stood out in a sea of fat, dick and whore jokes. When I asked former mayor of New York City David Dinkins, what he thought of the roast he simply looked at me like I was clueless and said they are all the same. He was right, except for Jack Black.
As David Dinkins walked away from me in his dapper suit and bowtie, I suddenly felt less bad about my sneakers and glasses because all the other women were dressed all the same but I stood out. Just ask Meredith Vieira, who said she wished she could dress like me. The real reason for my fashion choices may be because I have horrible vision and cleft feet from my childhood that decided to return during my pregnancy and two years later have informed me that we are now in a committed relationship. Thanks hormones! But next time I go to a fancy celebrity event I won't give people all these details I will just simply say it's my "style."
Thanks for being so awesome Jack Black!