Thousands and thousands of photographs sit in a large, plastic bin, haphazardly sorted by year. Even with all of the work I've done scanning photos to my computer, these thousands still wait to be dealt with. I carefully peeled them out of their albums years ago, concerned they would disintegrate in the cheap plastic pages, dating some of them, others a mystery.
And so I start tossing.
Friends from high school I haven't spoken to in 30+ years? Gone.
My bachelorette party for my first wedding? Gone.
Playgroups from the toddler years with mothers and children whose names I can't recall? Gone.
Friends who drifted away, their children, their families? Gone.
The hundreds of bad pictures of my perfect babies? Gone.
Blurry, hazy, pointless? Gone.
I sort through the photos, marveling at the changing haircuts and hair colors of all of the women, the mom jeans and vests we wore in the '90s. I see the men's hairlines receding, color fading to gray, the dated, pleated pants long gone from closets.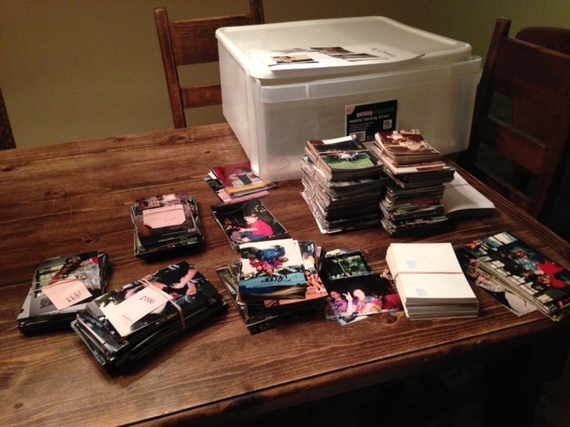 I keep the photos, however random, that are of my home, in it's many incarnations -- the first sofa we bought together, navy blue with tiny white polka dots, our initial purchase for our new home that we bought 23 years ago -- the home we still live in. The pictures of me in the kitchen, the old version before we remodeled it just a few years ago. The photos of the backyard -- first with the Little Tykes playhouse and car, then the addition of a family room and bedroom, then the pool... so many things we've changed over the years.
I keep the shots of crowds, even if no one is looking at the camera -- Christmas with the family when the kids were tiny, Hanukkah parties with friends, candles being lit, gifts being opened. All of the faces so much younger. The moment captured, people in motion, looks of surprise, joy, annoyance -- these are the photos to keep.
Where does all the time go?
Does it sit in a plastic bin of photos, waiting to be let out like a genie in a bottle, taking me back to moments I would never remember without these glossy images to remind me? As I sort through the photos the present seems to rapidly disappear as the past takes up residence on my kitchen table.
There's the first day of kindergarten.
There's the last day of elementary school.
There's the first t-ball game, softball game, big-girl bed.
There's the Barney the Dinosaur doll that went everywhere with us, the blankies so loved, the tiny stroller with baby dolls that was pushed round and round my house, through the kitchen, dining room, living room, family room, kitchen, dining room...
There are Halloween costumes -- ballerinas and bunnies, Clifford the Big Red Dog and Power Rangers. School parades and pageants, best friends and birthday parties. So many photos of my children. So much to remember. So much more I wish I hadn't forgotten.
I have to step away from the task every hour or so, my heart filling up with both joy and melancholy. A visual roller coaster of wonderful moments, but so many of the faces are are gone forever now.
Where does all the time go?
My dear friend calls to tell me her daughter is getting married. I tell her I've found a picture of us dressed up like greasers and bobby-soxers for Halloween.
"I never wear costumes!" she says.
Neither do I. But I have the photos to prove that we did.
Her daughter is getting married. Time is flying. Twenty years ago, our little children at home with babysitters, we dressed up in costumes and went to a party. Now she'll be buying a wedding dress for her eldest child. We wonder how we can hold on to the moments.
"It's a lot to take in," I tell her.
And I return to my photos.
Previously published on Empty House Full Mind
Read more from Sharon Greenthal on Midlife Boulevard