It was just north of Baltimore, Maryland, sometime during the 1850s when Ned Wight's great-great-great-grandfather John Jacob Wight took over a failing whiskey distillery and began producing Sherwood Rye Whiskey. One hundred and fifty years later, Ned Wight is continuing the family tradition in a warehouse on the outskirts of Portland, Maine.
Wight's personal style of spirits and use of old technology (custom designed hand-made copper pot still and direct fire), providing an earthy and round flavor is a nod to the past.
"I had always been aware of the family history but I'd say I didn't start to think seriously about it until I discovered brewing... when I was in college I was given a home brewing kit by my roommates with the stipulation that I have a finished batch of beer by graduation (this was spring of graduating year) two months later I had produced five batches. I loved it immediately, I loved the science, I loved the art, I loved the pleasure it brought people, all of it. From there I immersed myself in brewing and that is where the family history started to link up; I started to think seriously about distilling as an extension of brewing."
Wight, who came to Maine 18 years ago to work for Allagash Brewing, finds Maine consumers are eager to support new products and people from their community. "It's a great environment for craft distilling to grow in just like craft brewing," said Wight.
New England Distilling opened its doors in April 2012 with the release of Ingenium Dry Gin, because it required no maturation period, so Wight could make it and start selling it fairly quickly to establish some cash flow for the distillery. Later that year, the distillery released its Eight Bells Rum. In November 2013, New England Distilling joined the nationwide movement of artisan whiskey distillers with the release of a Maryland-style rye whiskey.
The popularity of American rye whiskey dates back to the end of the 18th century with such proponents as George Washington, who like other colonists used the grain (primarily rye and corn) he grew to make whiskey. Wight looked to his childhood in Maryland hearing about Maryland-style ryes and how unique they were as his inspiration for creating Gunpowder Rye Whiskey. "It was what my family made in Maryland and I wanted to make it as well, partly because of the connection to family history (which I love), partly because it's different than scotch or bourbon, and lastly, because it is really a wonderful style of whiskey," said Wight.
The Maryland-style of rye whiskey all but disappeared in the 1960s. It is different from a Kentucky-style rye, or what Wight refers to as a Midwestern rye, because it does not have corn in it. Rye is legally defined as being made from a grain mixture that is at least 51 percent rye. The Maryland-style ryes are just rye and barley, which gives them a kind of spicy character with a nice herbal quality.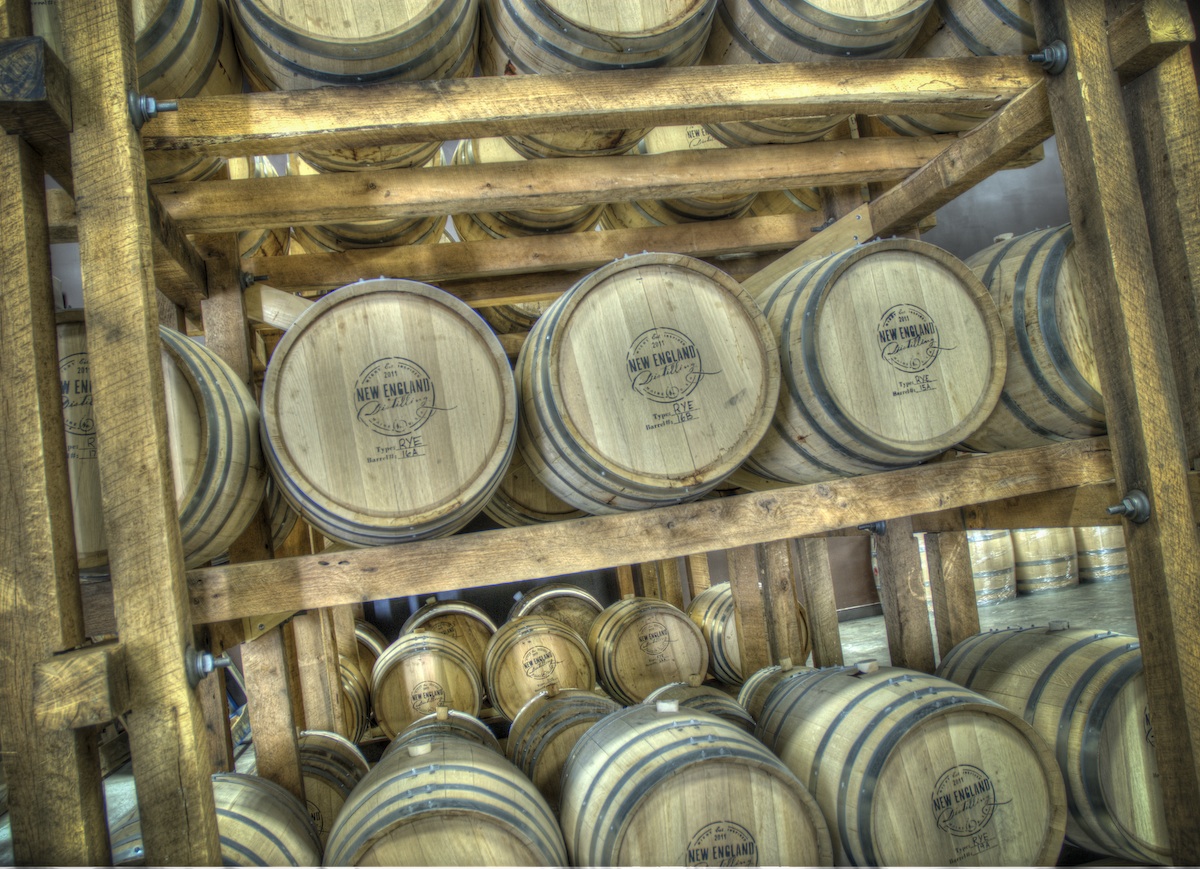 Wight sees the Maryland-style of rye whiskey as an opportunity to showcase grains from Maine. Maine Grains, a wholesale manufacturing facility in Central Maine producing stone-milled grain, and a principal player in the revival of local grain production for human consumption in the state, provides New England Distilling with Maine grown and milled rye.
During March, 2014 New England Distilling began using Maine rye at a production level with the expectation they will eventually switch from Midwest grains to Maine rye soon.
"Maine grains are a great match for us," said Wight. "They are easy to work with and we are looking forward to flavor matching and yield, making sure those line up and if they do it's a slam dunk."
Maine potato growers in Aroostook County grow the barley New England Distilling uses.
Maturation of the Whiskey
"The exercise is maturation, not age," said Wight. "In terms of chemical things going on, 95 percent of the maturation happens in the first 12 months."
The new American oak barrels are stacked on racks rescued by Wight from the last standing rick house of the Sherwood Distillery. Now, his barrels rest on the same racks as those his great grandfather laid down.
Drinking Whiskey
Wight prefers his whiskey neat. It is how he was raised. Growing up with the motto "if you want the taste of whiskey drink whiskey, want the taste of gin drink gin," that makes sense. However, if you want to "fancy" up your glass of rye whiskey, Wight recommends the following recipe for a Vieux Carre.
Vieux Carre
3/4 oz. Gunpowder Rye
3/4 oz. Cognac
3/4 oz. sweet vermouth
1 bar spoon Bénédictine
2 dashes Peychaud's bitters
2 dashes Angostura bitterscherry.
Combine ingredients in a mixing glass and fill with ice. Stir well, strain into an ice-filled Old Fashioned glass and garnish.
Image by Tim Fisher, New England Distilling.