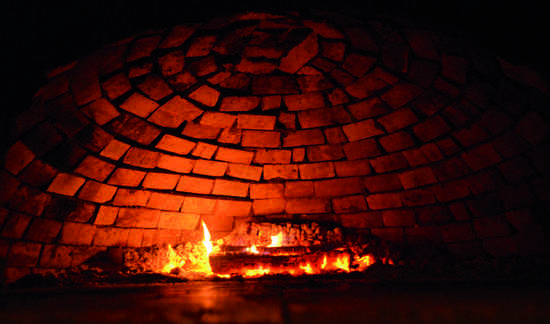 Oven built by Pat Manley, image courtesy of from Chelsea Green Publishing.
Where there's Richard Miscovich, author of the recently published From the Wood-Fired Oven: New and Traditional Techniques for Cooking and Baking with Fire, there's heat -- the kind of heat that's made in wood-fired ovens and bakes flat breads (600 F), roasts vegetables and meats (600 to 500 F), bakes loaves of bread and braises vegetables (500 to 350 F), cooks a pot of baked beans (350 to 212 F), and dries herbs (under 212 F).
Here's what Miscovich had to say about cooking with fire.
Using the various stages of heat in the oven...
It is liberating and thrilling to cook with fire. A simple technique is ember roasting onions, endive and other hearty vegetables right in the intense heat of a coal bed. The char and live fire environment give food an incredibly evocative flavor and it is a good way to 'put up' some staples for later in the week.
I am a bread baker at heart and got interested in wood-fired ovens as a way to explore the world of European style hearth breads. The process of controlling dough fermentation and creating the ideal retained-heat baking environment is a special one. The physical, emotional and intuitive draw of this activity puts me in the moment while keeping me connected to the ancient craft of baking the staff of life. It would be fine with me if suddenly I was able to make only pain au levain, traditional French sourdough, for the rest of my life.
The Comfort Zone around 350 F (177 C) is more casual and I appreciate casseroles and braised dishes that cook slowly, giving you time to go about your daily life without having to check in every couple of minutes to make sure things aren't burning.
And I always use the last of the residual heat to lightly dry the fuel for a top-down burn so the next fire begins to quickly and efficiently combust.
What most fascinated Miscovich when learning to cook and bake with wood-fired heat.
Cooking and baking in a wood-fired oven involves balancing three heat transfer systems: radiation, convection and conduction. I loved thinking about these types of heat on a molecular level and how they charged an oven. The second law of thermodynamics is simple and easy to remember when you intuitively know that heat in a retained heat, a wood-fired oven will continue to spread until the thermal mass is equally heated. I feel a wood-fired oven operator can intuitively and correctly understand and envision heat transfer. Luckily, that knowledge allows them to more skillfully do what they came to the hearth to do: make something to eat.
Advice for someone interested in cooking with fire and possibly building a wood-fired oven.
Stacked brick ovens are an easy way to make an inexpensive and easy way to make a temporary box of flame. It might not be the most efficient oven, but is a good way to start cooking and baking with fire without having to determine the location of a permanent oven and then actually building it... especially for an amateur mason.
Now that you have satisfied your inner pyro-foodie, do some research on the types of ovens based on firing method, shape and building material and decide the best option based on your needs. Your needs will be very different if you want a residential backyard oven or are looking to build the heart of a community micro-bakery.
An earth oven is a good choice is you want to build an oven quickly and inexpensively. You can always build a more permanent oven or outdoor kitchen, but an earth oven is a good place to get started.
Once you have some experience cooking and baking in any wood-fired oven and understand how wood-fired ovens work, it will be easy to determine what type of oven is right for your needs. Weekend pizza extravaganzas require a different infrastructure than a micro-bakery enterprise.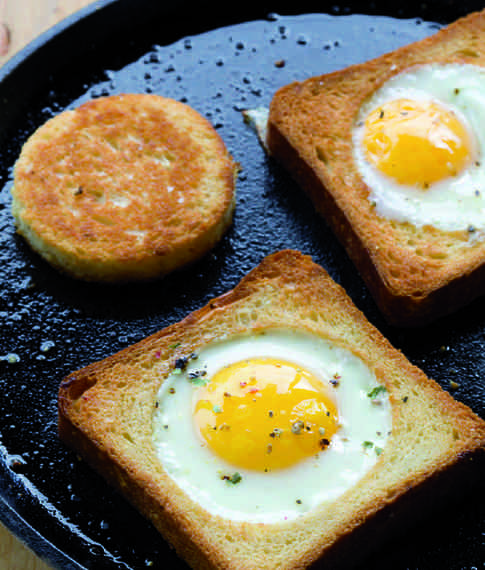 One-Eyed Jacks, image courtesy of Kate Kelley.
Recipe: One-Eyed Jacks
Cut holes in the center of Pain de Mie slices by tearing out a piece of dough or using a cutter to create a neater frame. Heat enough of your favorite cooking fat (Richard gives examples of rendering fat in his book) to lightly cover the bottom of an ovenproof pan. Toast the rims and the rounds of bread; turn them over, crack an egg into each hole, and return the pan to the oven until the eggs are just set. Use the rounds to dip up the luscious egg yolks. The oven's radiant top heat cooks the top of the egg while conductive heat cooks from the bottom. This crunch of heat means you don't have to flip the One-Eyed Jack, retaining a bright, well-cooked yolk that is a more attractive eye than either side of a cooked egg. Melt a piece of cheese on top for a heartier meal.
Recipe republished with Richard Miscovich's permission