It was 2005 and my first visit to Africa. The world was slowly beginning its painful wake up to the reality of the HIV and AIDS pandemic. I was visiting a rural hospital in Kenya not as a doctor or as a health care worker, not as a lawmaker or as a politician. I was visiting Kenya with my church. It was my heart that drew me to this issue and to the families it destroys.
I will never forget the mom or her son. We stood in mud, under a tin-roofed shelter, a storm surrounding us with pounding rain. Her son was maybe five years old. He reminded me of my own son about the same age. He was wide-eyed, seemed afraid, and he was not healthy. He pushed deeper and deeper into the folds of his mother's skirt the more I smiled at him.
I watched as the nurse handed the mother her first prescription for her life-saving medication. As she and her son stood in line at the makeshift pharmacy the nurse informed me the ARV's (antiretroviral medication) had just recently become available in Kenya due to PEPFAR. This mom now had a chance to live -- and raise her small son. I was pleased yet I wondered if her son was HIV-positive and whether he had been tested and if there was medication available for him.
This first-hand experience of PEPFAR's effectiveness was satisfying. I knew about PEPFAR (President's Emergency Plan For AIDS Relief) because I lobbied for this legislation. I joined the ONE Campaign in 2003. Through ONE I was invited to call Congress and the White House to urge passage of this historic piece of legislation.
Before urging my government to pass PEPFAR I had never lobbied my elected leaders about anything. Lobbying seemed the thing of special-interest groups, not the job of soccer moms. I made a simple phone call from my kitchen. How amazing that while standing in a clinic with the rain falling in sheets outside that I was experiencing the full circle of my advocacy efforts!
Last summer I was able to once again travel to Kenya. This time with a group of ONE Moms; women who blog, write and speak about motherhood and the need for American moms to speak for other moms who live under some of the most dire circumstances, many of them on less than $1.25 a day.
We visited another hospital and I was honored to talk with a mother named Grace. I want to tell you about Grace because she epitomizes the story of HIV/AIDS in Africa and the progress we have made in half a decade.
Grace had a fat baby girl on her lap the whole time we talked. Her baby is named Gift because Grace is thankful for the gift of a healthy child. You see, Gift is Grace's fourth baby. Grace is married and had two babies in the late nineties. The first baby, Faith, lived until she was 6 months old. The second child, Gloria, lived to a year and half. Grace and her husband did not know what was taking the lives of their children.
Finally, Grace's husband got very sick. Education was increasing and stigma was decreasing around HIV and AIDS so they decided he would get tested. He was HIV-positive. Grace was tested soon after and she was also HIV positive. She was pregnant with their third child.
But much had changed in the few years since the birth of her previous children. Due to education and awareness Grace knew what to do and where to go. She got on medication and every day she took the two small life-saving pills that prevent mother-to-child transmission of HIV.
Victoria (Victory!) was born HIV-free. And that fat baby girl giggling on Grace's lap during our visit named Gift -- she is also HIV-free. Victoria and Gift are living proof that education, awareness, resources and the will of everyday people who work to change unacceptable and preventable situations make a difference.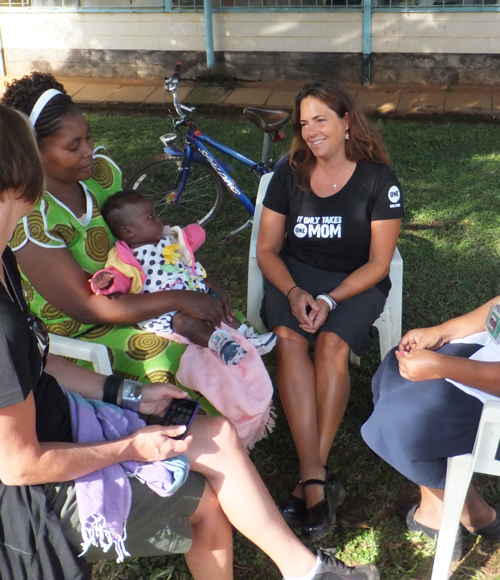 I'm only one mom who lives in the Midwest and I live a pretty ordinary American life. Yet I can join my heart and voice with mothers and families everywhere who long to make a difference. We have the technology, the medicine, and the resources to have a generation born HIV-free -- we can work together to see the beginning of the end of AIDS by 2015.
As my friend from Zambia and fellow activist Princess Zulu says, we can work until "every mother's dream or prayer is answered, that her child or children can be born and live HIV-free, a world where children can be children again, play, laugh, and cry, yet still know they are safe because mum and dad will be there and not be dead. As the Zambian Bemba proverbs says, 'Imitiikulaimpanga.' Meaning, the trees that grow become the forest. Our world relies on how well and healthy our children are."