When it comes to wines of the Iberian kind, it seems like Spain gets all the love. Lesser known are the robust reds and crisp whites of Portugal, whose mountainous north and rolling southern plains breed a batch of grapes that make for sumptuous wines.
Of course, pretty much anything will taste delicious on a cruise circling Manhattan during a summer sunset. But the libations made the night linger on my mind long after darkness fell. In late July, Portugal's G7 -- a consortium of some of the country's leading wine producers -- brought more than two dozen wines on board a boat in New York Harbor to show off the range of flavors the country produces. Leslie Sbrocco, expert on all things wine-wise, moderated the tasting.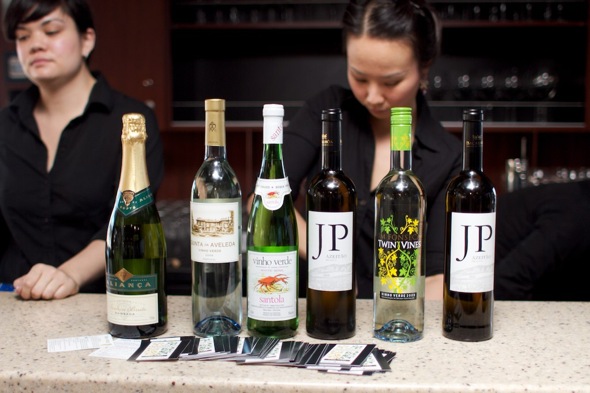 An assortment of the G7's white wines.
In a lot of ways (and after enough glasses of wine) it felt like one of Portugal's islands broke free and floated 3,000 some-odd miles west. The names of the varietals poured into clinking glasses didn't always ring a bell -- Vinho Verde, Baga, Touriga Nacional -- adding to the effect that hey, maybe we did just sail off into foreign territory.
But the food brought it back home. While Portugal's cuisine is rooted in Mediterranean flavors and ingredients, Portuguese wines pair perfectly with food from all over the world. Sparkling Baga/Chardonnay and pesto and pea crostini started the evening off on a high note. A red Trincadeira washed down a spoonful of Bibimbap, artfully doled out by the folks from Korean Made Simple, to wonderful effect. Luke's Lobster's famous lobster rolls met the rich reds from Portugal's Douro region; that old "white with seafood" maxim got tossed off the deck.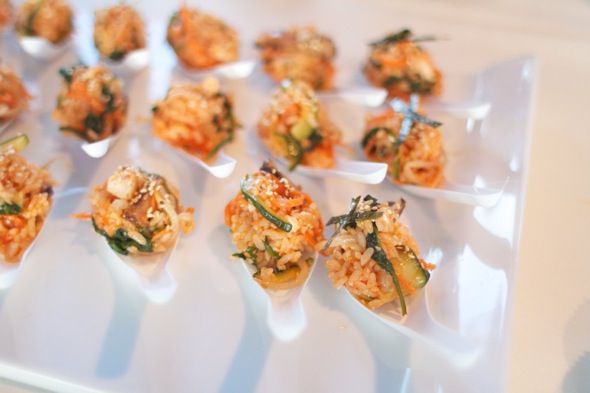 Bibimbap from Korean Made Simple.

They're there, in wine shops all over the city. And there's no love lost for that larger Iberian country's wines. But Portugal's unsung wines deserve a sip. Make that a few.