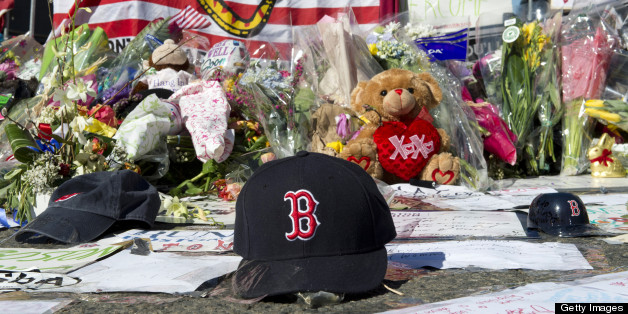 I don't care how many times I am told otherwise, I still believe the world is a beautiful place. While I was scrolling through my iPhone reading about the horrific event that occurred at the Boston Marathon, one of my friends sitting across from me pointed at my iPhone case, which says "life is beautiful," and told me it may be time to take that case off. I was already feeling sick about the news I was reading, and this comment almost made me burst into tears because for a second I thought maybe the world really is just done being a good place. But it's not, and the city of Boston continues to prove that.
Boston is a city known for its beauty, history, and pride. It is known for its outstanding colleges and universities and is home to the best hospitals in the country. Boston is known for its elite sports teams and its world-renowned marathon. Boston will never stop being known for all of these things because another thing Boston is known for is its ability to move forward and fight through challenges.
Boston is home to amazing people. Yes, John Adams, JFK, Matt Damon, Conan O'Brien, Dane Cook, and James Taylor are just some of them. But these are not the people I am talking about. I'm talking about all of the Bostonians that take the T to work every day, the fans who stick by the Red Sox, Patriots, Celtics and Bruins no matter the score, the college students who fell in love with their new home, the athletes who run the Charles River every afternoon, and all of the Bostonians who have trouble pronouncing their R's.
All of these amazing Bostonians have come together more than ever this week with heavy hearts but hope in their eyes. It is not fair that this happened, but sometimes terrible things do happen and it forces us to look at the good around it. The courage and compassion of the first responders help us remember that no matter what in the world goes wrong, there are still heroes all around us. The men and women who ran into the scene of the explosions, risking their lives to help save another, is an act that shows just how strong this community is. The ability for complete strangers to come together as one during times of crisis is something that is larger than life. People that normally would walk by each other without even looking at one another were crying together, holding each other, offering words of comfort, taking the shirts off of their backs to wrap someone's injury, carrying strangers to safety. This is the thing about tragedy; it has an incredible way of bringing people together. Boston has come together as one to mourn the losses, pray for the injured, and stand by their beautiful city.
Next time you're stuck thinking we live in a world filled with sadness and hate, think of all the hope and strength that the people of Boston have displayed. Boston will always be strong. Boston will always be resilient. Boston will always be the land of the brave. My thoughts and prayers are with everyone involved in the Boston Marathon bombing.
For more by Shelby Doherty, click here.
For more on emotional wellness, click here.