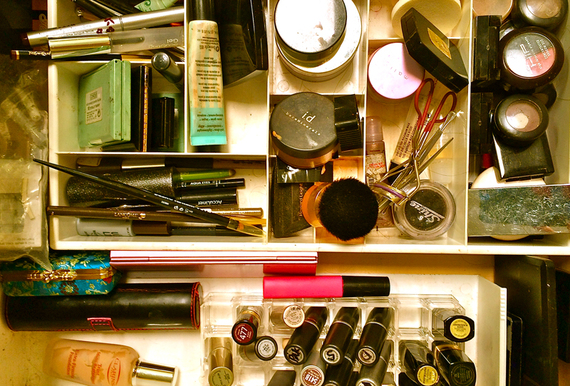 As I reassess and adjust my place in the music business I am also reconsidering other aspects of my life... like excess. It's all a part of the mindset of moving forward. 
My bedroom closet is filled with fantasy garments. Items which, while still on the hanger at Bloomindales, price tag affixed, I could envision myself wearing. But the truth is, six days a week, I default to my uniform. My second skin. Jeans and a white T-shirt. I wear about 5 percent of the clothes in my closet. But a girl needs options. Especially in the white T-shirt department -- of which I own about 50.
It's hard to give stuff up. What if I get rid of those high waisted straight leg leopard print jeans only to get invited to a '70s party? What if I finally part with that chiffon frock my mother gave me, only to find that my daughter wants to wear it but, alas, it's in a bin at Goodwill? These are thoughts that keep my closet full.
Let's have a look at my makeup drawer, shall we? There are lipsticks in there that I bought upon my arrival to Los Angles in 1994. Some of them are moisture free at this point. Plus, how many do I really need? Two. A nice earthy tone for during the week and something a little more bold for Saturday night. So why do I hang on to so many?
Maybe it has to do with how much I invested... a $20 Lancomb this, a $15 Bobby Brown that. I often find that a color was more orange on my lips than it appeared to be as a tester. I always hope that next week it won't be the case. But it will. Still, I can't let go.
And what's up with the sparkly eye shadow? Seriously, what am I thinking? That one day I'll wake up and be 30 again, an age at which the appropriateness of sparkly eyelids is not so debatable?
No. It's time. It's time to purge. And it's okay because the older I get, it's simplicity I crave. And although I will always be in search of (and a sucker for) the quintessential plain white T (a reasonable vice, just as coffee is to the sober), I am making a promise to myself. For every new one I acquire I must part with an old one (even though the soft and worn in variety are the most challenging to set free).
Indeed my life is becoming full of things I love to do and people I love to see and I'll have more time to do and see them if I'm not spending so much time at the mall or bogged down with closet choreography.
I guess as I lose the sharpness of my up close vision (notice I Sharpied initials on the labels of the lipsticks because I simply cannot read that tiny Mac font any more), and forget details of what I did the day before, holding on to the things I can hold onto makes me feel, well, better. More in control. But the reality is, it's cluttering up my mind. I'm spiritually constipated. I tell myself negative space is good. Not every wall needs art. Not every side table needs an oversized book. Not every hanger needs a garment, every crevice in a drawer, a lip liner. Letting go will liberate. Make room for fresh ideas.
Since I started writing this I've filled up four big blue Costco bags with clothes I haven't worn in years, which I'll drop at Goodwill later this afternoon. And then I'll get started on the makeup drawer. I feel 10 pounds lighter just thinking about it. I'm going to try, really try, to graduate the superfluous. But perhaps I'll hang on to one tube of you-know-what. No matter my age, a little sparkle on New Year's Eve never hurt.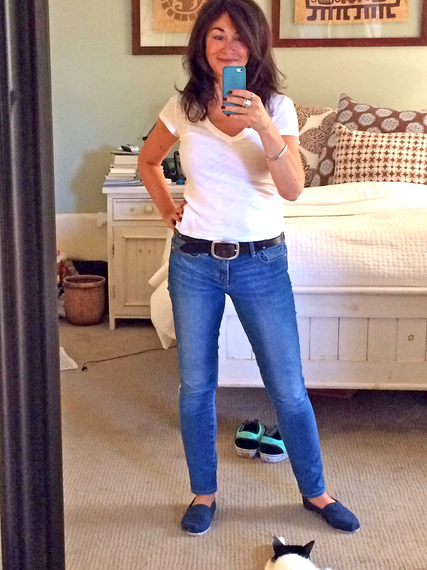 Please visit me at ShellyPeiken.com and I would love if you liked my Serial Songwriter Facebook Page. Thank you if you already have.