That I would even ask a question like this is proof of how badly our world (and yes, this country as well) is in need of some serious changes.

Of course, I know that a woman's value is exactly the same as a man's as far as both being human beings worthy of value, but if one looks around at what's going on in the world, women clearly aren't treated as equals.

This month, there was a meeting of international military physicians in Indonesia. One of the concerns of this group was the required "Virginity test" for all female military recruits and the fiancées of all military officers. This has also been required for female police. This has gone on for decades, and there is no end to this barbaric practice in sight.

Usually, the women are examined using the "two-finger" test. This test has no validity at all, and is painful and embarrassing for women. It is most often performed in military hospitals around the country with large groups of applicants put into large halls with curtain-separated exam rooms. It is usually done by women doctors, but sometimes by men.

Human Rights Watch has been advocating to end this practice in many countries where it still is done, including India, Egypt and Afghanistan. It is a most abusive practice.

Last year, Human Rights Watch came out with a 75-page report on Child Marriage and Human Rights Abuses in Tanzania. The report indicates that girls' access to education is severely curtailed by early (some as young as 7 years of age) marriage, and their incidence of marital rape and female genital mutilation is high. Overall, early marriage exposes them to exploitation and violence and reproductive health risks.

For this report, Human rights Watch interviewed 135 women and girls in 12 districts as well as government officials, local activists and international agency personnel.

This goes on in many other countries as well. I find it even more incredible that the government takes an attitude of entitlement about this when Indonesia is well-known as one of the worst violators in trafficking of women and girls for sexual slavery. This has gotten much worse in recent years, not better.

Even in the U.S., according to a June 2015 article in truth-out.org, 300,000 American children are at risk of child sexual exploitation (most female) and 55% of girls living on the streets are engaged in sexual slavery.
In Cambodia, the garment industry has been rampant with abuse of women. Human Rights Watch sent a letter to Prime Minister Hun Sen asking for improved coordination of different ministries for registration and monitoring of factories. Many women are forced into laboring in these jobs for little or no money under terrible conditions.

When it comes to wages, while not as horrific as the circumstances described above, American women still lag far behind men in their pay for doing the same jobs.

According to Catalyst, a leading non-profit organization working to expand opportunities for women and business, women earned on average $.78 to every $1.00 earned by men (captioned below).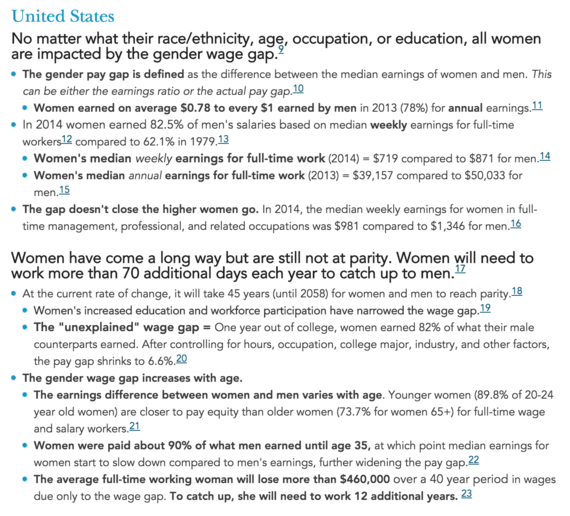 Even as women progress up the career ladder into management and professional jobs, the difference continues. The recent scandal within Sony Pictures when the co-chair of the studio, Amy Pascal, had her emails hacked, brought forth information about how even women at these top levels were earning less than their male counterparts, doing the same jobs.

Women in these higher positions earned a median weekly wage of $981 compared to men at $1,346 in 2014.

The average full-time working woman will lose more than $460,000 over a 40-year period in wages due only to the wage gap. To catch up, she will need to work an additional 12 years.

I think it's time for women to take a stand and do something about this. What do you think?
Visit my website for more information about me, and don't forget to follow on Twitter and Facebook!