We all know that growing an audience on social media is important for you and your business. It builds brand awareness and contributes to your bottom line. However, few of us actually have the time necessary to spend on Twitter. You could hire a social media manager, but the good ones are expensive and you risk hiring someone incompetent.
After running experiments and analyzing the data, we've tracked down the perfect formula to grow an engaged audience without sacrificing too much of your valuable time or money. Here's what we found:
Show Your Appreciation
Favoriting
Twitter is a conversation tool and everyone enjoys any acknowledgement. They want to know that you've been listening to their thoughts and reading their content. The easiest way to show your appreciation is by favoriting their tweets. When you favorite a tweet, it sends the user a notification. Oftentimes, the user will check your profile, read your tweets, engage with you and follow you back, and visit your website.
We've tracked over a million favorites and have crunched the numbers. About 4-6% of all tweets you favorite will turn into a new follower. You still receive exposure from those that click your profile but don't follow you.
Open Coffee Club @CapitalFactory had the best breakfast tacos ever! Thanks @bfeld and @gordondaugherty :) #startup pic.twitter.com/F8iWmxfGrO

— Sherman Lee (@SHERM8N) September 10, 2014
In this simple example, I received 7 favorites for my tweet with Brad Feld and Gordon Daugherty in Austin, Texas. Guess what I did? I looked at the profiles and websites of all 7 people because they showed me some love. In fact, I even followed them. Try engaging with me above and see if I follow you ;)

A great example of a Twitter influencer leveraging favorites is TechStars London Managing Director, Jon Bradford. Below is a graph of Jon's twitter growth over the past year. In the first 6-month period, he was growing at a rate of 150 followers a month with no favoriting.

You can see the inflection point starting at the second 6-month period of when he started showing appreciation to other Twitter users with a simple favorite. The results were amazing. Jon started growing at double the rate with 300 followers a month. His tactic? He targeted specific tweets where users were talking about startups and entrepreneurship. Not only has the number of his followers increased but so has his engagement. That highlights the fact that these are relevant and captivated new followers.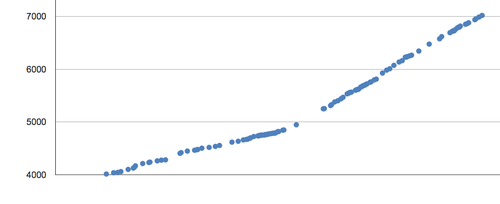 150 followers/month for 1st 6 months. 300 followers/month for 2nd 6 months. Favoriting doubled growth rate.
Following
While Twitter users enjoy receiving a favorite, they LOVE getting a new follower. In fact, they love it so much that they are 5 times more likely to follow you back as opposed to favoriting their tweet. We've also tracked over 1 million follows on Twitter and found that ~20-30% of all people you follow, will follow you back.
Let's have a look at the startup @PicResize. In the graph below, you can see that their growth was relatively flat up until the beginning of August. That's when they started targeting key influencers and potential customers to follow. They even targeted tweets talking about photoshopping and image resizing to favorite. Their growth rate tripled and are gaining 900 followers a month.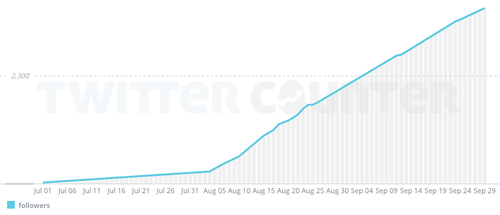 With no follow or favorite engagements, growth remained flat. Growth rate tripled after employing those tactics.
Targeting the Right People
We know that favoriting and following users works to rapidly increase your growth on Twitter, but how do you know who to follow and favorite? Targeting is important because you want to make sure that you are following and favoriting people that have an interest in what you have to say and will engage with you.

Some factors we look at are number of tweets and followers, how often they engage with others, related keywords, and their overall influence across the web. Through millions of our data points, we've been able to create a robust algorithm that targets those users who are most likely to engage with and show an interest in you.
Doing It Efficiently
Now that you know the secrets of increasing your growth rate on Twitter, how can you make time to perform all the engagements? We are able to perform all of our engagements for the day in just a few minutes using our own tool. By surfacing high quality users and tweets we can quickly scan through the suggestions and engage with users seamlessly and efficiently.
It's up to you to define what your workflow looks like. I'd suggest spending 5 minutes every morning doing a quick search on Twitter for conversations that are going on. Then show those people some love. Get started now! Follow and favorite these people below. I searched specifically for people talking about "startups" on Twitter.
Looking for $100K #Angel/#Seed #Investment partner to match existing funding for a new #startup in progress. Time to build another company.

— Jimmy Griggs (@Jimmy_Griggs) October 15, 2014
The Importance of Culture When Starting Up: With most startups just concerned with surviving, how imp... http://t.co/XjQDdiXyjF #startup

— Andrew Yochum (@yochum) October 15, 2014
every time I look into #startup companies I become obsessed with the idea of applying & moving to SF (a perfect example: @asana) #hireme

— Jordan Leigh Bryant (@jlbryant13) October 15, 2014
The Best Part: It Just WORKS!
While following and favoriting users may seem like a rather simplistic growth strategy, the fascinating thing is that it works! We've done our research and have crunched the numbers from millions of engagements, and it's proven to be a successful growth and user acquisition strategy. Your users are out there, you just have to interact with them!

How do you achieve growth on Twitter? We'd love to hear your strategies in the comments below...
Sherman Lee is the co-founder and CEO of Good Audience -- a SaaS that allows you to build, manage and market to your social communities in a fraction of the time. He writes about startups, marketing and entrepreneurship.