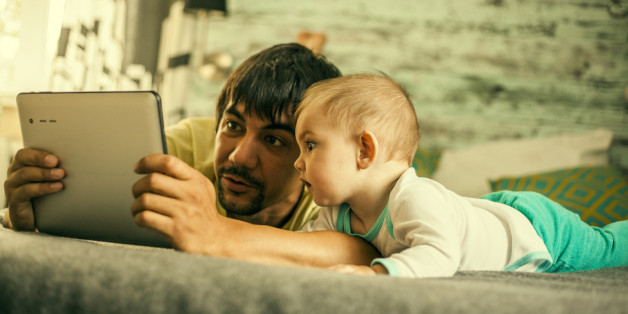 Dr. Seuss once said, "You can find magic wherever you look. Sit back and relax, all you need is a book."
March is National Reading Month, a time to celebrate the importance of reading, foster children's growth as readers and promote a lifelong love of literature.
Technology has opened up possibilities for reading that were unimaginable a decade ago. Technology has improved the reading experience for children by making it more interactive. E-readers and other devices also have made it possible for children to have a 1,000-book library in the palm of their hands.
While technology is a powerful tool to engage children in reading, families play a critical role in helping children develop their literacy skills, beginning at birth. And that role doesn't stop when children start school.
It's increasingly important for families to take the time to read with their children. Research shows that engaging both children and their parents in reading can increase the amount of learning a child takes away from a book. The same holds true for e-books and other electronic media. After all, as author Emily Buchwald once said, "Children are made readers on the laps of their parents."
Whether using an e-reader or physical book, the following are some ideas for families to inspire children to read and help them improve their literacy skills.
1. Encourage reading in your home Set an example by reading in front of your child for both pleasure and practicality. You can even create a special space in your home where you can read together.
2. Spend 30 minutes each day reading together When reading with your child, ask your child to describe what is going on in the scene or happening in the story.
3. Sign your child up for a library card A library card is essential and free for your child to gain access to countless numbers of books. E-books can even be borrowed for free from many local libraries.
4. Attend a library event Most libraries hold weekly or monthly events, such as story times, that you and your child can attend together.
5. Become involved at their school Communicate regularly with your child's teacher to help monitor his or her progress, and ask what you can do at home to support their reading.
6. Applaud your child for reading Reward your child for reading a certain number of books or finishing a challenging book just as you would other activities such as basketball or piano.
7. Give books as presents Give books as a gift, especially on topics your child will love, to encourage and support their interests.
8. Help your child write their own stories Encourage your child to write stories based on his or her experiences or favorite characters from other books, movies or TV shows.
9. Make flashcards to learn new words Help your child study new vocabulary words or create colorful bookmarks to mark his or her place.
10. Utilize free reading programs like the Family Reading Experience, Powered by Kindle It engages the entire family to support better literacy outcomes for children. The program features fun activities in English and Spanish using both physical books and e-books to help children better understand reading fundamentals.
During the month of March and all year round, it is critical to focus on the joys and importance of reading and to take the time to read with children. Technology provides access to a wealth of books and information, and engaged families help motivate children to read and learn.
Dr. Seuss said it best, "The more that you read, the more things you will know. The more you learn, the more places you'll go."
Sherri Wilson is a senior manager of family and community engagement for National PTA, a nonprofit association dedicated to being a powerful voice for all children, a relevant resource for families and communities, and a strong advocate for public education. Wilson develops and implements programs designed to increase family and community engagement in education. Prior to joining National PTA, Wilson served as director of the Alabama Parent Information and Resource Center.