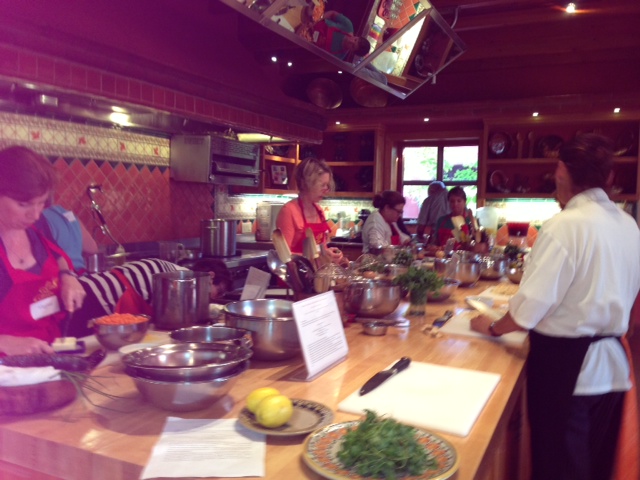 I know I should eat more vegetables, and I would if they tasted better. So, I was excited to spend a week at the famed Rancho La Puerta spa, doing yoga, hiking, and saying goodbye to meat. Although just a short distance from San Diego, the ranch is a world away with nature trails, very limited WiFi and its own sacred mountain. Deprivation is not part of the ranch experience. You can eat as much as you like and the food is amazingly good. While most guests wouldn't mind losing a few pounds, the emphasis is on getting healthy and the days are packed with hikes and hourly exercise classes, although it is also perfectly acceptable to lounge by the pool or spend an evening at the recently opened wine bar.
I wondered how I would make out with the largely vegetarian menu. (Fish is occasionally served.) Of course the best way to convince anyone to eat anything is to make it taste good and the ranch does an amazing job of creating super delicious menus out of a largely vegetarian pantry. In fact, the food was so tasty that almost every night I took advantage of the kitchen's policy of allowing guest to order two entrees. "Combo please" became my official dinner time mantra.
Anyone wondering where much of the largely organic food comes from was invited to sign up for a four mile roundtrip hike to the ranch's organic farm. Rancho La Puerta's recipes have been perfected since its founding in the 1940s. However, to keep things current, a guest chef arrives each week to give cooking lessons to guests and members of the ranch's team. The cooking school, La Cocina Que Canta, is housed in a sleek teaching kitchen adjacent to the ranch's six-acre farm.
I did learn a few basic techniques (one related to kale) but the highlight of my cooking lesson was the joyful experience of picking the food we were about to eat. We did not have to set foot in a grocery store, (a generally crowded and unpleasant experience in New York City) or even a greenmarket, (better, but usually with somewhat limited selections). Instead, I got to experience the ultimate "local" meal as our class was sent out into the super-lush garden to pick pears and blackberries for that night's pie, as well as herbs, zucchinis, tomatoes and other items on our "shopping" list.
My cooking partner and I were tasked with making fried sage leaves. Our instructor told us that our first batch was overcooked and needed to be thrown out. No problem, I just walked outside and picked some more. My next job was to cook fresh spinach with toasted pine nuts. I was amazed at how good a simple dish could taste. Soup, fish and several other side dishes rounded out our dinner.
The real test of success would be if I could maintain at least some of the healthy eating habits I learned after I headed back to New York City. The San Diego airport was not going to provide much healthy sustenance, so I started collecting quesadillas, walnuts and other snacks from the salad bar the day before I left. Yes, I felt a little bit like a crazy squirrel, but at least I wasn't hungry on the five-hour flight home. I knew the ultimate test would be if I could resist a diet Coke en route -- and I did.
Although it is hard to eat healthy all the time, I now cook big pots of vegetable soup every week and red meat has fallen into the "meh" category.