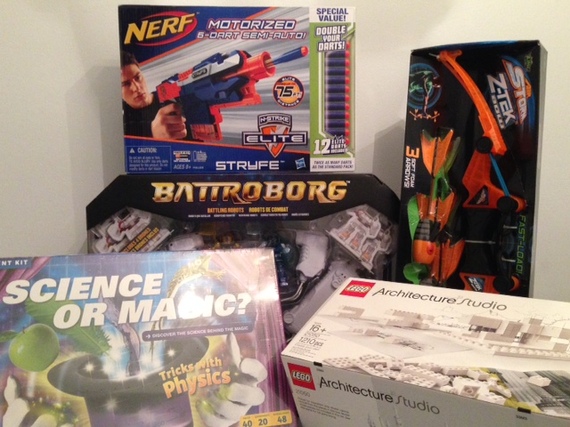 When my 10-year-old twin boys want to play after a long day of school, they instinctively reach for my old iPhone. Last year, as a Chanukah present, I broke down and bought them each Minecraft, which resulted in many happy hours of computer time. This year, I am determined to find some holiday gifts that don't require being hunched over a screen.
Happily, this holiday season, there are many toys for tween boys who think they are too cool or to old for anything sold in a toy store. But what if it involves both robots and warfare? Introducing Battroburg, a set of motion-controlled battling robots that come with their very own ring. The 3-in-1 Battle Arena lets kids choose between a head to head robot battle against a (human) opponent, or they can choose to fight it out against a self-activated Battroborg robot. ($79.99 at major retailers).
Boys who love to build, but think they have outgrown the usual LEGO theme sets, will be thrilled with LEGO Architecture Studio. This all-white LEGO set contains over 1,200 pieces and a guidebook of conceptual ideas for the budding creator. It is much more sophisticated than the usual set in that it does not provide step by step instructions and lets imaginations run wild. ($149.99, lego.com).
If the guy in your life is into magic and you want to sneak some serious science into his holiday gift, look no further than Thames & Kosmos' Science or Magic Experiment Kit. The kit provides over 20 experiments where kids learn tricks through physics, including how to use a magic box that makes objects disappear. ($34.99, thamesandkosmos.com).
Yes, it's a classic, but one game that gets boys off the couch is a nerf gun battle. The newly-launched N-Strike Elite is motorized and has a range of a staggering 75 feet. ($14.95, walmart.com). Archery fans will appreciate the Zing Air Storm Z-Tek Bow, a cool and powerful bow and arrow set that can be used indoors or out and whose arrows make a satisfying whistling sound as they zip through the air, en route to the target. ($19.50, amazon.com).
Happy holidays!