We have made dozens of visits to the Planetarium in New York City's Museum of Natural History (we live just a few blocks away) and two years ago, made a trip to the Smithsonian's National Air & Space Museum in Washington, D.C. So our family's next logical excursion was a trip to the Kennedy Space Center in Orlando.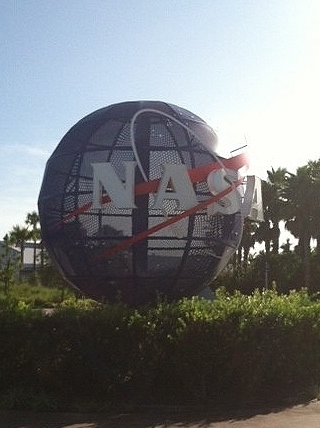 The Kennedy Space Center gives budding scientists and nostalgic parents an experience that is not available anywhere else. Where else can you wander through an outdoor "Rocket Garden," filled with the actual rockets of Mercury and Apollo?
My twin 11-year-old boys and I started our day by checking out the Space Shuttle Atlantis, which is surrounded by numerous hands-on exhibits that use the latest technology to give visitors to get a taste of what it is like to live and work in the weightlessness of the shuttle. It isn't easy.
Using interactive monitors and wearing simulated protective gear, we had the chance to perform various astronaut tasks, such as inspecting the payload bay. (I never got the hang of that one). We also got the chance to try to slow down and land the Atlantis and to pilot the space shuttle in a simulated docking with the International Space Station. And then we got to experience a simulated space shuttle launch.
Still, I wondered, what is it like to be a real astronaut? In order to answer that question, we took advantage of what became one of my favorite parts of the day -- "Lunch with an Astronaut." On the day we were there, the astronaut on lunch duty was Jerry Ross, who holds the record for being the first human launched into space seven times. Mr. Ross presented what was basically a home movie of a classified trip on board Atlantis in 1988, complete with a sporting event involving M&Ms. Although there were over a hundred space lovers at lunch, he managed to answer almost everyone's questions and then posed for photos.
We squeezed in an IMAX movie on the International Space Station and then joined an "Up Close Explore" tour, which must be taken in an official Space Center bus since it includes a visit to restricted areas and launch pads. The tour concludes with a stop at the Apollo/Saturn V Center, which gives families the chance to relive the thrill of America's quest to land on the moon. Seated in a replica of the original control room, we watched an inspirational moon landing movie (which uses original footage and includes interviews of Neil Armstrong and his team.) The movie resulted in a few teary adults and many awe-struck kids. Filled up on science and freeze-dried ice cream, we made our home.