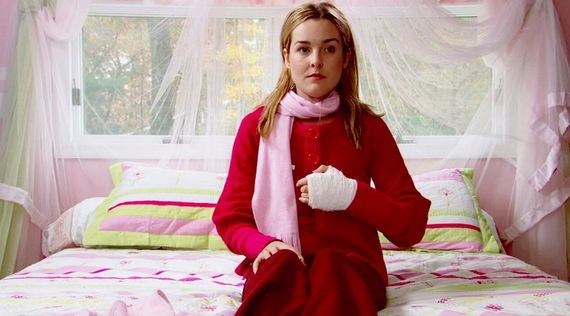 Liliana Greenfield-Sanders' award-winning short Adelaide won Grand Jury Prizes and Audience Awards at Gen Art, Austin, Woodstock, New Orleans, Indie Memphis and more. The film, which will be screened March 29 at Cinema Paradiso, is currently being developed into a feature film. (Photo provided)
According to an article published in the Los Angeles Times, The Tisch School of the Arts at New York University (NYU) rated No. 1 in recent film school rankings for producing the most graduates involved in the production of quality films.
The NYU Alumni Club of South Florida will host Film Night, an opportunity for the public to view award-winning short films by Tisch graduates March 29 at Cinema Paradiso in Fort Lauderdale. Also shown will be filmed introductions by celebrity NYU alumni including John Ellison Conlee, Billy Crudup, Joel de la Fuente, Antoinette Lavecchia and Victor Williams. (The actors will not be present at the event.)
Founded in 2003 by NYU Stern School of Business graduates Peter Weisberg and Patrick Kedziora, the South Florida club is the University's longest continuous running alumni club, consisting of members living in Broward, Miami Dade and Palm Beach Counties. Community service events as well as networking events are offered throughout the year.
The 2014 Film Night, one of the club's most ambitious events, is produced by Broward-based filmmaker and Tisch graduate Robert Adanto. His new film, City of Memory explores the ways in which the cataclysmic events in the wake of Hurricane Katrina became imprinted on the memory of visual artists from New Orleans.
He is currently working on The F Word, a documentary featuring interviews with Judy Chicago and performance artists Narcissister and Go! Push Pops. In addition, he heads the Film and TV Production program at University School of Nova Southeastern University in Fort Lauderdale.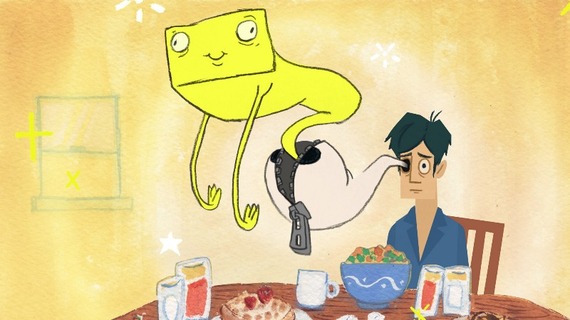 Stephen Neary's Dr. Breakfast is a surreal meditation on the quirky but rejuvenating nature of friendship. Neary's animated film was an Official Selection at Sundance, the AFI Fest, the Austin film festival and more. (Photo provided)
Films to be screened include:
Liliana Greenfield-Sander's Adelaide
Stephen Neary's Dr. Breakfast and Chicken Cowboy
Andrew D. Corkin's The Fort
Brooke Swaney's OK Breathe, Auralee
Emily Carmichael's RPG OKC Part 1 and 2
Todd Wiseman Jr.'s The Exit Room
Sean Durkin's Mary Last Seen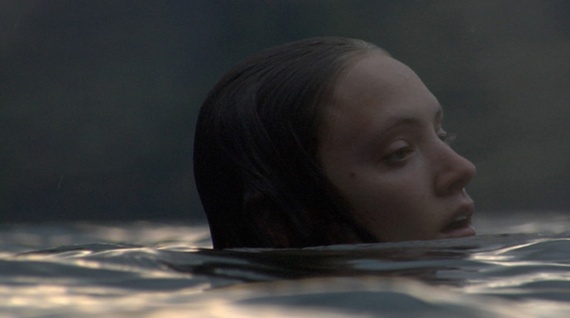 Alexia Rasmussen stars in Sean Durkin's short film Mary Last Seen, which won the best short film at the 2010 edition of the Cannes Film Festival. (Photo provided)
The filmmakers will not be present at the screening. Though, according to Adanto, they're pleased to have their films screen for the first time in Florida. I'm an NYU Steinhardt School of Culture, Education, and Human Development grad and a new member of the South Florida club, so I wanted to learn more about the event. I had the opportunity to ask him a few questions.
Q&A with Robert Adanto
How did the NYU Alumni Club of South Florida's Film Night come about?
This is the second film night sponsored by the NYU Alumni Club of South Florida. The first film night took place in 2006, but what sets this year's edition apart from that initial event are the films themselves. Every short film that will screen on Saturday, March 29 was written and directed by alumni of NYU's Tisch School of the Arts.
How were the shorts selected?
I am proud to say that I curated this year's showcase. My aim was to offer a program that best demonstrates the diversity of voices and talents that one associates with the Tisch School of the Arts. The short narrative and animated films we will screen were all completed in the last three years and have premiered at some of the most prestigious film festivals, including Sundance, Cannes, Tribeca, SXSW and AFI. It's an eclectic mix but I believe these films will entertain and provoke a broad audience.
Did you attend NYU with the celebrity alumni featured in the film introductions?
Yes, I did. Billy, John, Joel and I were in the same class in the Graduate Acting Program. We earned our MFAs in 1994 and Antoinette and Victor were in the classes above and below us. We all got to know each other very well as there are only 16 actors in each class.
Are Tisch graduates influencing the entertainment industry?
New York University's Tisch School of the Arts occupies a powerful place in the entertainment industry. Ang Lee, Angelina Jolie, Spike Lee, The Coen Brothers, and even Lady Gaga are Tisch alumni. You just need to look at this year's Oscar and Golden Globe nominations to see how The Tisch School's Maurice Kanbar Institute of Film and Television continues to influence film-making as an art form: Robbie Brenner, (Kanbar, '93) produced Dallas Buyers Club; Martin Scorsese (Kanbar, '64), directed The Wolf Of Wall Street; Steve McQueen (Kanbar, '94), directed 12 Years A Slave and were all nominated for Academy Awards. Mark Kamine (Kanbar '92) a co-producer of American Hustle; and Vince Gilligan (Kanbar '89) director, writer and producer of Breaking Bad, with Sam Catlin (Graduate Acting '98) as executive producer, were winners of Golden Globes.
Why is this event of interest to the general public?
Saturday night's program of award-winning narrative and animated shorts will appeal to film lovers from all walks of life. Despite the fact that all of our featured films premiered at A-list film festivals like Sundance, Cannes, Toronto and Tribeca, several of them are actually making their Florida premiere on March 29 at Cinema Paradiso. That is because several of the filmmakers moved on to bigger projects, namely features. For example, Fox Searchlight was so taken by Sean Durkin's Mary Last Seen when it premiered at Cannes that producers offered to make it into a feature, Martha Marcy May Marlene. Mary Last Seen is that film's prequel. Liliana Greenfield-Sander's Adelaide won a Grand Jury Prize and is currently being made into a feature-length film. In short, if you make it to Cinema Paradiso on Saturday, March 29, you are going to see some excellent films.
What: NYU Alumni Club of South Florida's Film Night
When: Saturday, March 29
6:30 p.m. Welcome and Hors d'oeuvres
7 p.m. Film screening
8:30 pm. Buffet Dinner
Where: Cinema Paradiso, 503 S.E. 6th Street, Fort Lauderdale
Cost: $12. The event is now open to the public. Space is limited; advance registration is required. Click here to register. Please note: "Class Year" is a required section on the registration form, non NYU alumni can enter "2014;" and the "Guest Detail" section only needs to be completed by NYU alumni. The $12 includes dinner if the tickets are ordered in advance.
Info: Email alumni.clubs@nyu.edu