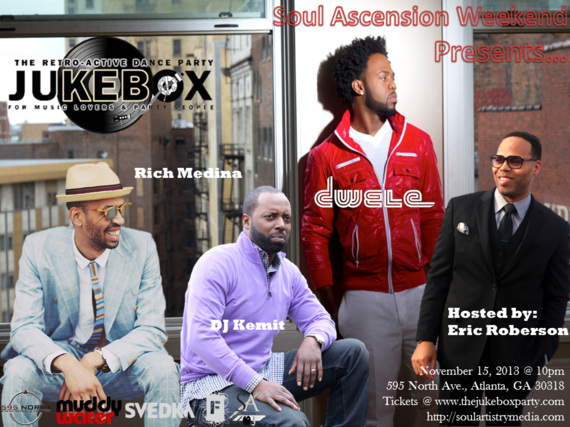 Image provided
Atlanta resident James A. Bing, Jr., 35, is a radio frequency (RF) engineer by day, on a crusade to promote neo-soul music by night. The Fort Lauderdale, Florida native and Florida A&M University grad, who in 2010 created Soul Artistry Media, LLC driven by SoulArtistryMedia.com, is convinced this genre of music should be promoted, celebrated and in the mainstream.
When he turned age 30 on Nov. 9, 2008, he celebrated his birthday in South Florida by creating a concert weekend called, "Soul Ascension Weekend" featuring prominent neo-soul artists. Five years later, now in Atlanta, his birthday celebration tradition continues with what he calls the, "Soul Ascension Edition of The Juke Box Party," Friday, Nov. 15 at 595 North. The event will include Grammy Award-nominated artists Eric Roberson (host), Dwele and Anthony David, as the music fest will also serve as David's official concert after party. Also, DJ Kemit, a Grammy-nominated producer, and from Philadelphia, DJ Rich Medina will provide music.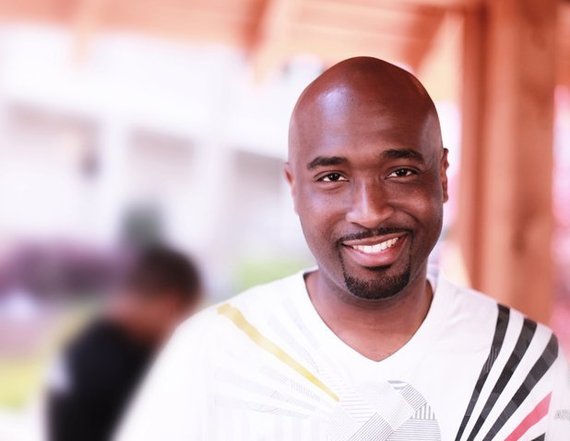 James A. Bing, Jr.
When did you become interested in neo-soul?
I grew up on different types of music. In college I became disappointed in a lot of the mainstream music I heard on the radio. I didn't have a clue about indie or underground soul music, until in 2003 by chance I met Dwele at the Broward Mall while I was working part-time in Dillard's department store. When I told a friend of mine from Chicago, Brent Clair, that I met Dwele, he introduced me to the world of indie soul music. From there I discovered Eric Roberson, Raheem DeVaughn, Platinum Pied Pipers and a host of other independent soul artists.
How did you continue to develop your interest in the genre of music and make contacts?
In 2006, my fraternity, Alpha Phi Alpha, Inc., had a national conference in Washington, D.C. Eric Roberson had a show in D.C. at the same time, so I was able to see him perform live. It was at the ascension of my journey in indie soul music that I would go to see someone who would become one of my favorite artists ever, and truly get the live experience of a soul show. Also in 2006, I started writing reviews on my MySpace page about the different artists I was discovering, which led me to do reviews for a soul music website on artists. I had also started helping a friend of mine, Chai Footman, who was promoting and creating indie soul music shows in the South Florida area. I discovered other artists like PJ Morton in Atlanta while I was at music summit in 2006, and got to know his music and performances well. And I knew of Jesse Boykins III from his first show in Miami, he was an awesome talent and songwriter, and I wanted more people to discover this guy.  
How did "Soul Ascension Weekend" come about?
In 2008, when I was turning 30, I wanted to do something major for my birthday. Yet, I wanted to give a gift to my family and friends for celebrating my milestone. So, I decided to put on a soul concert to show the people who I'd been constantly informing about the world of music I discovered. By this time, I had gotten to know Dwele and Eric Roberson, so I wanted to bring them down to perform. I worked with the Majestic Group, a local promotions team consisting of Ralph, Lee and Jeff who had been doing events in South Florida and was making a pretty big splash. I had an entire weekend of events, from a Friday night party that had one of indie soul's champion DJ's and ambassadors, DJ Rhadu spin that night. The concert was Saturday and featured performances by Jesse Boykins III, PJ Morton and Eric Roberson closing the show, all hosted by Dwele. That Sunday, I had a brunch where DJ Rhadu did a set and I gave out gifts and presents. The response from that musical experience was amazing, and people talked about that night through the next year. I labeled my 30th birthday weekend "Soul Ascension Weekend" because it was at a point where my inner soul was rising all because of the amazing soul music I discovered. It also had a meaning of truly the rising of indie soul's awareness in music and hopefully in the South Florida market.
Has "Soul Ascension Weekend" continued each year since 2008?
In 2009, "Soul Ascension Weekend" included artists Carol Riddick, V, Wayna, Jesse Boykins III and Eric Roberson. People loved the performances. I then moved to Atlanta for career purposes, but to mostly get closer to the music community and indie soul music world to be more involved and pursue my own aspirations in music. "Soul Ascension Weekend" took a hiatus in 2010 and 2011, but in 2012 I started to slowly create the buzz and atmosphere to revive and bring the event to Atlanta, a vibrant music community and fertile market for indie soul, house and underground music of all genres. I linked with different DJ's and incorporated their events into "Soul Ascension Weekend," while creating the Soul Artistry Awards ceremony, giving awards to great people and honoring those who did wonderful things in soul and in life.
What is your goal for the 2013 event?
We partnered with The MuddyWater Group and 595 North to bring the "Soul Ascension Edition of The Juke Box Party," a musical and dance experience for those who truly love music and love to dance. I needed to really put a stamp on this event. So, I went back to 2008, to the individuals that brought me into soul music and made my 30th celebration one to remember. So, we brought back Dwele and Eric Roberson, and added Atlanta's legendary DJ and producer DJ Kemit, alongside Rich Medina, one of Philly's legendary DJ/producers who has introduced many to the Afrobeat movement, led by its creator Fela Kuti. This was the proper way to really bring "Soul Ascension Weekend" back in a way that can truly do what I originally set it out to be, a time where people from all walks of life can find the soundtracks to their journeys, come together and enjoy music, discover new music, and leave feeling their soul has ascended to a place it wasn't before they came.
IF YOU GO
What: Soul Ascension Edition of The Juke Box Party.
When: 10 p.m., Friday, Nov. 15.
Where: 595 North, 595 North Ave., Atlanta, Ga.
Tickets: Click here for ticket information.
More information: SoulArtistryMedia.com
Connect with Soul Artistry Media: