The list grows.
This week, two more official accounts come out of Iran, confirming the extent of violence that is taking place in Iran's detention centers and prisons, against members of the public who chose to publicly protest their grievances against the Iranian government.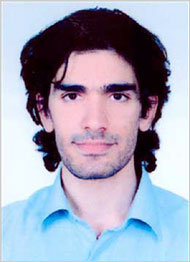 Mohsen Ruholamini, photo Mehr News Agency
The first is the confirmation of a story which was reported out of Iran weeks ago: that the son of a close advisor to vetted presidential candidate Mohsen Rezai lost his life to abuse in a detention center after being picked up at a post-election protest.
It seems a mistake was made, and the unregulated process by which Iranian protesters were being picked up and loaded into detention centers did not involve background searches on them to determine whether these 'enemies of the state' might in fact be related to the powerful individuals within the state itself. Thus 25-year-old Mohsen Ruholamini, the son of Rezai's senior campaign advisor Abdolhossein Ruholamini, died from "physical stress, numerous blows, and also a blow by a hard object" following his detention in Kahrizak prison and then Evin prison, according to an official medical report. The death was originally slated to an alleged prison-wide outbreak of meningitis.
The Supreme Leader of Iran -- the single most powerful person in the country -- has now offered his condolences to the Ruholamini family, and stated that justice will be sought. He was the one who called for the closing of Kahrizak prison because of "its substandard conditions."
Mohsen's death is not in vain and his powerful connections have ensured that the reality of prison abuse of political prisoners in Iran has not only been confirmed, but acknowledged by the head of the government itself.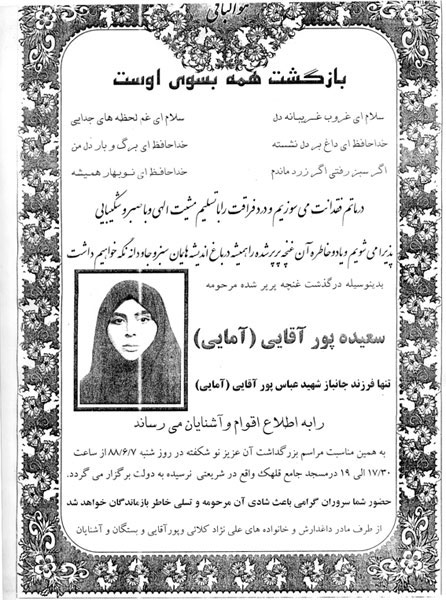 Saeedeh Pouraghayi, photo Parliament News
The second story is that of Saeedeh Pouraghayi -- similar to the story of Taraneh Mousavi in which the only daughter of a family was arrested, taken into custody and later rashly buried as her family contemplated why her body had to be burned with acid.
Mir Hossein Mousavi, one of two leading opposition presidential candidates, attended a ceremony in commemoration of Saeedeh, along with her mother and a handful of others. The actual burial had already taken place in secret after Saeedeh's mother was given a brief chance to see her daughter's burned corpse in a prison morgue.
Saeedeh's story, too, has been reported by an official agency, Iran"s Parliament News, as well as the BBC. She too is believed to have been gang raped prior to her death and acid-burning -- which conspicuosly was allegedly limited only to the area of her body from her knees to her chest. Unlike Taraneh, Saeedeh was not in a street demonstration but was participating in one of the late night rooftop chants of Allah-Akbar, when she was arrested.
"Saeedeh's father, Abbas, was a victim of the chemical attacks on Iran by Saddam's forces...[who] died two years ago," says Potkin Azarmehr, an Iranian-British blogger, one member of the public-generated news machine that is breaking story after story out of Iran. After she went missing, her mother appealed to a family friend -- a war veteran who had fought alongside her husband during the Iran-Iraq war -- to help find her daughter. That's how she eventually came to witness her daughter's corpse in a sardkhaneh (literally: cold house).
"Perhaps it is best that he did not live to see what these murderers did with his only beloved daughter," Azarmehr says.