A group of emerging musical theater writers present their songs in concert. It sounds like a typical night on the New York City musical theater scene but for one notable difference: The writers are all women, the performers are all women, the music director is a woman and the producers are both women. In fact, the only men involved are collaborators of two of the featured writers. The concert, An Evening Celebrating Female Composers: A Concert to Promote Gender Parity, produced by Sparkification Productions on July 15, also differed in another aspect: It aimed not only to feature women composers but to help nurture them.
I was fortunate to be one of the concert's featured writers along with Jennifer Lucy Cook, Kathryn Hathaway, Janine McGuire, Julia Meinwald, Nicky Phillips and Sarah M. Underwood. We all had the opportunity to present two songs to a sold-out crowd, each sung by a popular Broadway performer cast by the producers and musical director. Tickets sold out more than week in advance, and as I arrived early for the concert I saw fans lined up down the block for the best seats. My work has been featured in concerts before, all well-produced and great opportunities, but this was a new experience.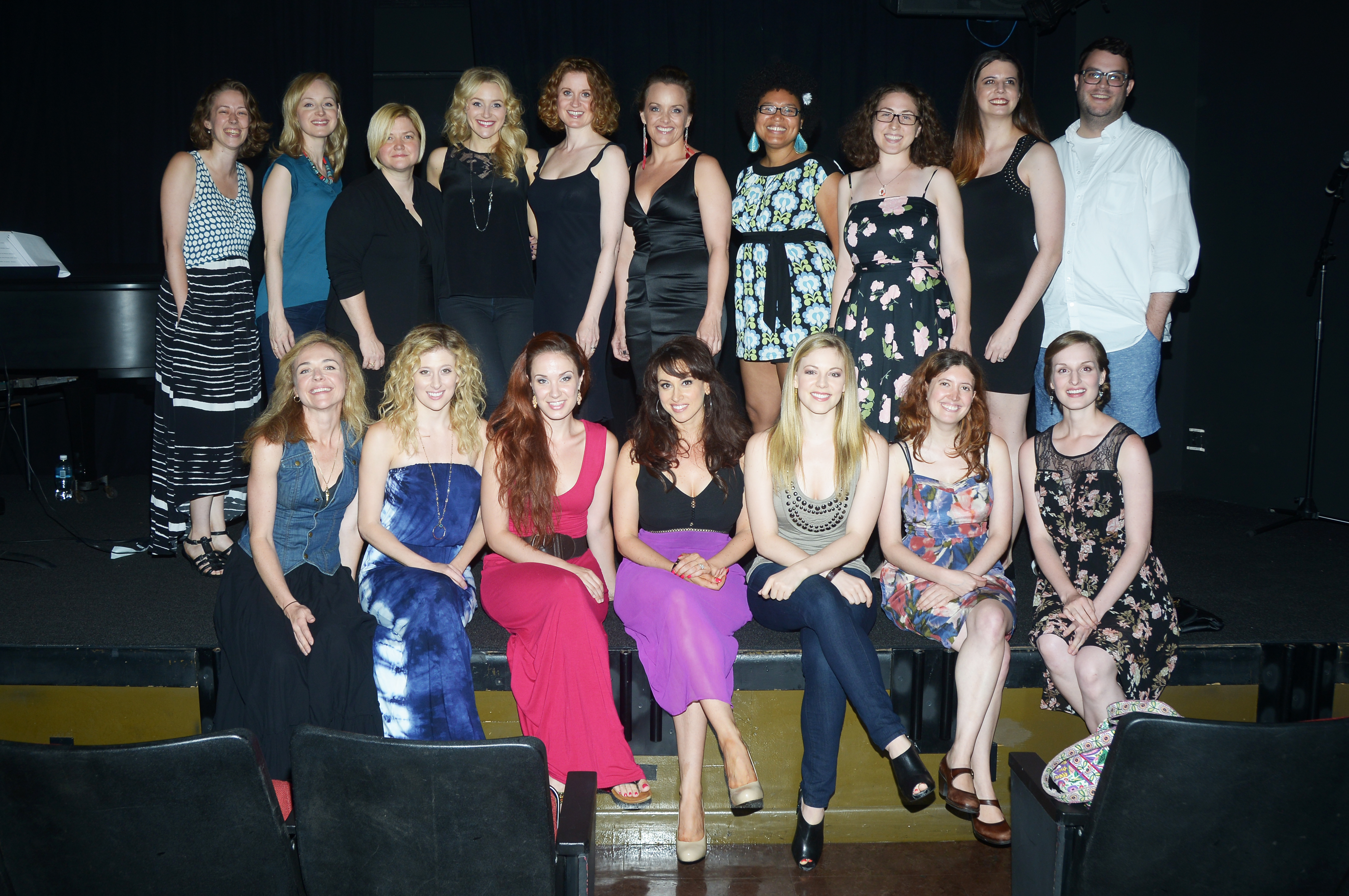 The performers, singers, and musical director of
An Evening Celebrating Female Composers. Photo by Monica Simoes.
Of course, the line was not for me. It was for the performers, which included Alice Ripley, Rachel Bay Jones, Lesli Margherita, Betsy Wolfe, Kirsten Scott, Caissie Levy, Erin Davie, and the two who sang my songs, Sierra Boggess and Christiane Noll, all performers with substantial Broadway credits and many with sizable followings. Some might think that having these singers made the concert more about the performers than about the writers, but having someone at that level sing an emerging writer's work can be more beneficial than an evening solely focused on the writers.
Mary-Mitchell Campbell, the concert's musical director, agreed. "It's important for writers to have the process of seeing seasoned professionals perform their work," she said in an email after the concert. "It helps them develop as a writer and experience the process that happens when they pass [their work] off to someone who doesn't have a personal connection to them."
Having these performers involved also meant that the audience was not just composed of writers' friends and families and those rare but wonderful people who seek out new musical theater writers. The concert exposed a much broader fan base to songs they normally would not have heard, and this fan base multiplies in the form of audio clips on Tumblr and the proliferation of the official YouTube videos. When a singer retweeted the YouTube clip of one of the songs, it shot up to 300 views in one day.
"Poet in Hollywood" Music and Lyrics by Kathryn Hathaway, Performed by Betsy Wolfe
From An Evening Celebrating Emerging Female Composers
A few concerts this past month featured women songwriters: A concert at the New York Music Festival titled Music Box: An Evening of Lady Composers and a late night show at 54 Below, Binders Full of Women's Songs: A Celebration of Women Musical Theatre Writers. The latter was headlined by Gretchen Cryer and Nancy Ford, whose 1978 off-Broadway musical I'm Getting My Act Together and Taking It on the Road enjoyed an acclaimed revival at Encores! Off-Center series last week. There has been much talk in the theater community in recent years about the lack of women writers, but the discussion has mostly centered on playwrights. Musical theater writers also face gender parity issues, and more needs to be done to correct the imbalance.
For example, the number of female musical theater writers with Tony-eligible shows on Broadway last season: three, with one woman, Amanda Green, writing for two different shows. This number means that out of the 19 writers of eight eligible musicals, only 16 percent of those writers were women. Women also write musicals that have off-Broadway, off-off-Broadway, and regional productions, but Broadway provides the most exposure.
"The Decay" Music by Jeffery Dennis Smith and Lyrics by Shoshana Greenberg, Performed by Christiane Noll, From An Evening Celebrating Emerging Female Composers
The lack of women at the top of the musical theater writing industry shows why it's important for companies and organizations not only to have these concerts but to invest in these writers' futures so that down the line gender parity exists in all areas of theater writing. And Broadway performers want to help. Tony-winner Alice Ripley signed on to do the Sparkification Emerging Female Composers concert immediately. "Diving into an unknown melody in order to make it my own is one of my favorite things to do," Ripley said in an email after the concert. "So I said yes right away when I was asked to participate.... The entire evening was a delight due to the high concentration of positive, supportive and wickedly talented women revealing their souls without shame."