I have had a soft spot for the Brussels Antiques & Fine Arts Fair (which ran January 19-27) ever since I bumped into the owner of a Leonardo while waiting outside for a taxi - the prelude to the biggest scoop of my career.
More on that another time.
These days BRAFA is still held in the middle of an Arctic wasteland, with an entrance like that of a garden shed, and no public transport in sight; but the wait for a taxi has dwindled dramatically.
That's one of the many improvements to the Fair since 2004, when it moved from the dingy Palais des Beaux-Arts, where it was limited to around 50 (mostly Belgian) dealers installed in the building's cramped corridors, to the Thurn & Taxis railway depot overlooking the industrial canal that links Brussels to the North Sea.
That move was engineered by the visionary Jan de Maere, then president of the Belgian Dealers' Association. A bit too visionary, in fact: the Fair was shooed into the iron-and-glass building before it had been fully converted, and De Maere paid for his impatience by putting his foot through a gap in the floorboards and breaking his ankle.
He has long since recovered - but no longer takes part in the Fair, too busy with his estates in Romania, his burgeoning stable of vintage automobiles, and his PhD thesis on Neuroscience in Relation to Artistic Perception.
His current successor as Fair president is modern art dealer Harald T'Kint, an equally perceptive but more unassuming figure who sprang into the limelight with an exquisite show of Chinese art, Between Tradition & Modernity, in 2007.
That title reflected T'Kint's oecumenical approach - one of the reasons why he was elected BRAFA President last May, ahead of the controversial incumbent Bernard de Leye. It was a tight vote, underpinned by the rivalry between Flemish and French-speakers that dogs many walks of Belgian life. But, however much blood was spilt on the committee-room carpet, none of it could be detected on the floors of this year's Fair - perhaps because the carpet resembled a psychedelic cast-off from some Palm Beach casino.
Actually, it was commissioned by T'Kint from French graffiti artist Julien Colombier.
It took dazed visitors a stiff drink or six to recover from this unwarranted visual onslaught, but luckily the wine and champagne were cascading in Niagaran spates at the three (sic) VIP preview evenings. One sic VIP lost his sense of both balance and timing, lurching into a pedestal on the Jacques Nève booth to send an early 19th century skeleton-clock crashing to the floor, looking not so much skeletal as disembodied.
Monsieur Nève, who was presumably ticking like an over-wound grandfather-clock, reacted with timekeeping calm - epitomizing the cheerful humour that makes BRAFA such a pleasant fair to visit.
The good vibes start the minute you enter the building and are greeted by half the city's student population lining up to take your coat. They were only just outnumbered at the preview evenings by the army of waiters floating around with food and drink.
BRAFA oozes ease at its reputation as continental Europe's second-best annual art and antiques fair after TEFAF Maastricht. Unlike TEFAF, with its emphasis on Old Masters and its obsessive expansionism (288 exhibitors at last count), BRAFA is unashamedly eclectic and happy to stay with 130 galleries. Whereas TEFAF caters to museum curators and collectors with jets, BRAFA targets decorators and art-lovers who drive their own cars. Prices start at $1000.
One BRAFA exhibitor with a particularly offbeat display of affordable artworks - curios might be a better term - was London's Finch & C°, where you could buy a 19th century African elephant tooth, shaped roughly like the Himalayas, for a dune-sized $3900.
Antoine Barrère, better known for showing venerable Asian statuary, was caught up in the eclectic mood - selling not only a quirky mosaic elephant from ancient Rome, but also Chinese contemporary art courtesy of his Paris/Shanghai-based wife Magda Danysz. Mathivet followed suit, offering abstract Aborigine paintings alongside their traditional Art Deco.
Other delightfully bizarre highlights included meticulous drawings of 16th century mosques by Augusto Burelli (born 1938) at Copetti (Udine), and a ribbon-patterned, hand-sewn, 20th century needlework carpet at Christian Vrouyr - who claimed to know nothing about the work's origin.
That could have been commercial bluff, but I'd prefer to think it refreshing honesty.
Furniture ranged from 18th century grandeur at Benjamin Steinitz to superbly restored, early 19th century Russian and Austrian Biedermeyer furniture at Bavaria's Tilman Roatzsch.
The stunningly lit, golden-hued citron- and maplewood Charles X furniture at Le Couvent des Ursulines was complemented by a majestic Berlin KPM porcelain vase (c.1870) featuring the portrait of future German Emperor Friedrich III. The gallery had co-purchased the vase in December for $50,000 at Kohn Art in Paris, where it had been offered for the second time in three months. Here it was available for $110,000.
Eclectic it may be, but BRAFA has a salient strength: 20th century fine art - and especially the opportunity for foreign visitors to undergo a crash-course in Belgium's magnificent contribution to the field.
To my mind, the greatest Belgian artist is Leon Spilliaert; to others', René Magritte or Paul Delvaux. All are available at BRAFA. President T'Kint set the tone with a one-man show devoted to early Delvaux, led by an Impressionistic 1921 view of a square in Ixelles (suburban Brussels) - an enticing contrast to the nudes and trains that befogged Delvaux's later career. Félix Labisse's psychedelic 1934 Ostend Carnival added further brightness and joy.
The landscape school of St-Martens-Latem (near Ghent) remains one of Belgium's best-kept secrets, but not even Paul Haesaerts - author of the last serious book on the subject, in... 1964 - had tracked down Rodolphe de Saegher (1871-1941). All credit, then, to Francis Maere, whose bewitching display of De Saegher's pastels constituted the most important art historical discovery of this year's BRAFA.
Other eye-openers ranged from the lyrical abstraction of the hugely talented, but unjustly forgotten, Huguette Arthur Bertrand, championed by the effervescent Diane de Polignac, to an abstract 1910 Fauve stage design for Stravinsky's Firebird by Leon Bakst - better known for his ballet costumes - at Alexis Bordes.
Perhaps the wackiest visual feast was on the menu at Vincent Lécuyer. On top of an appetizing contrast between Ventiane (Marc Leguay's 1950s Market in Laos) and Bridlington (a 1931 Lobsterman by the pre-Hockney Bradfordian artist Frank Newbould), Lécuyer served up Henri Danger's 1901 Plague: a stomach-churning vision of a lifesize naked giant striding through a corpse-strewn street.
BRAFA's Contemporary Art section is weak - Art Brussels (April 18-21) adequately caters to that market - but Budapest's Kalman Maklary staged a mini-coup by having young Korean artist Kyung-Ae Hur sign a gallery contract on his booth on the opening night.
Meanwhile Petits Papiers catered to Brussels' reputation as Comic-Strip Capital with canvas-sized works by François Avril (stylized Brittany coastscapes) and Dominique Carbasson, whose deft acrylic skyscaperscape NYC I - indebted to the great Soviet artist Alexander Labas - was the bargain of the fair at $1500.
A propos, almost, Russian collectors descended on this year's Fair in droves - not necessarily in search of comic strips, but more thanks to the appointment of a Moscow fair representative: one of T'Kint's first initiatives as President.
Under T'Kint's polyglot stewardship - De Leye's lack of English proved a handicap - BRAFA aims to become more international. The next priority: to dilute the Fair's Belgo-French hegemony. The two countries account for 80% of exhibitors. A more cosmopolitan outreach is required.
Achieve that and T'Kint will rank alongside Jan de Maere as the fair's most important-ever President.
Fail - and he'll face a carpeting.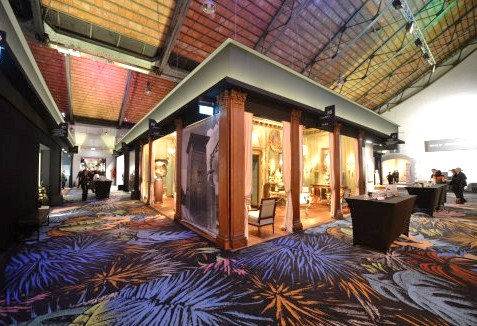 FLOWER POWER: Colombier's carpet floored visitors © BRAFA