When I first visited St. Petersburg, in 2004, the city laid scant claim to being a center for contemporary art, beyond the exhibitions staged by the Russian Museum's indefatigable Alexander Borovsky.
Timur Novikov had died in 2002, and the energy that had flamed up over the previous two decades in his charismatic wake seemed to have flickered out. The commercial gallery scene was barely embryonic.
Much has since changed, with the advent of a clutch of dynamic galleries (tempered by the demise of the excellent D-137) and new museum venues showcasing both domestic (Novy Muzei) and international art (Hermitage 20/21) -- complemented by the deliciously offbeat Kuryokhin Contemporary Art Center Awards.
A significant upshot of this maturing scene has been the launch of the Association of Contemporary Art Institutes (ACAI), geared primarily at promoting the city's galleries. It now has 13 members and its most ambitious event to date was staged at the end of June -- a gallery open night combined with a joint display of installations by gallery artists.
This showpiece exhibition took place at New Holland, an 18-century shipyard on a triangular island on the River Moika, named after Peter the Great's favorite country. Tucked away between the Neva and the Mariinsky, 2.2 kilometers from the nearest Metro, Novaya Gollandia (as Russians quaintly call it), had been closed and forlorn for years before lurching into summer-only life three years ago, as one of those grungy, post-industrial party places that form the social glory of an Eastern Europe delightfully unfettered by First World security concerns.
On a bad day you could easily patrol New Holland's 2.2-kilometer perimeter before finding its discreet pedestrian entrance. Whereupon you stumble into a joyous oasis, teeming with Petersburg's youngest and brightest. Pop bands blare. Russian pizzas sizzle. Many a mojito is sipped and Coke possibly slurped.
New Holland's sturdy brick warehouses enclose a dock and something often smoked in St. Petersburg but seldom betrodden. On June 29, this was littered with a beguiling array of witty installations, whose ACAI umbrella title was both down-to-earth and misleadingly grand: Luzhaika (Lawn).
There were of course tents. Andrey Rudyev's, small and orange, artfully contained a miniature landscape. Anatoly Belkin's was larger, khaki brown and contained a skeleton in a pit. As not even installationists of Belkin's maestrosity are allowed to dig up New Holland's hallowed, if rather scrubby turf, the tent was staked down on New Holland's gravel concourse, next to an amusing wooden cubist figure by the versatile Ivan Plusch.
Meanwhile, back on the grass, Sasha Frolova's white inflatable Miraclescope, described as "something between a telescope and a microscope" but more like a giant albino snake, was snarling at an anti-tank barrier made from luminous plastic tubes by Ivanov & Grachev (Cyland MediaArtLab). Away in the distance, in splendid isolation, Ilya Gaponov's Traveling Waves, an intriguing array of charred discs on poles, paid simultaneous tribute to the Last Judgment and eclipses of the sun. At the other end of the lawn ColorJuice's Black Stone Family -- seven shiny polycarbonate 'stones' able to change color thanks to interior LED displays -- looked part of the ACAI show but weren't.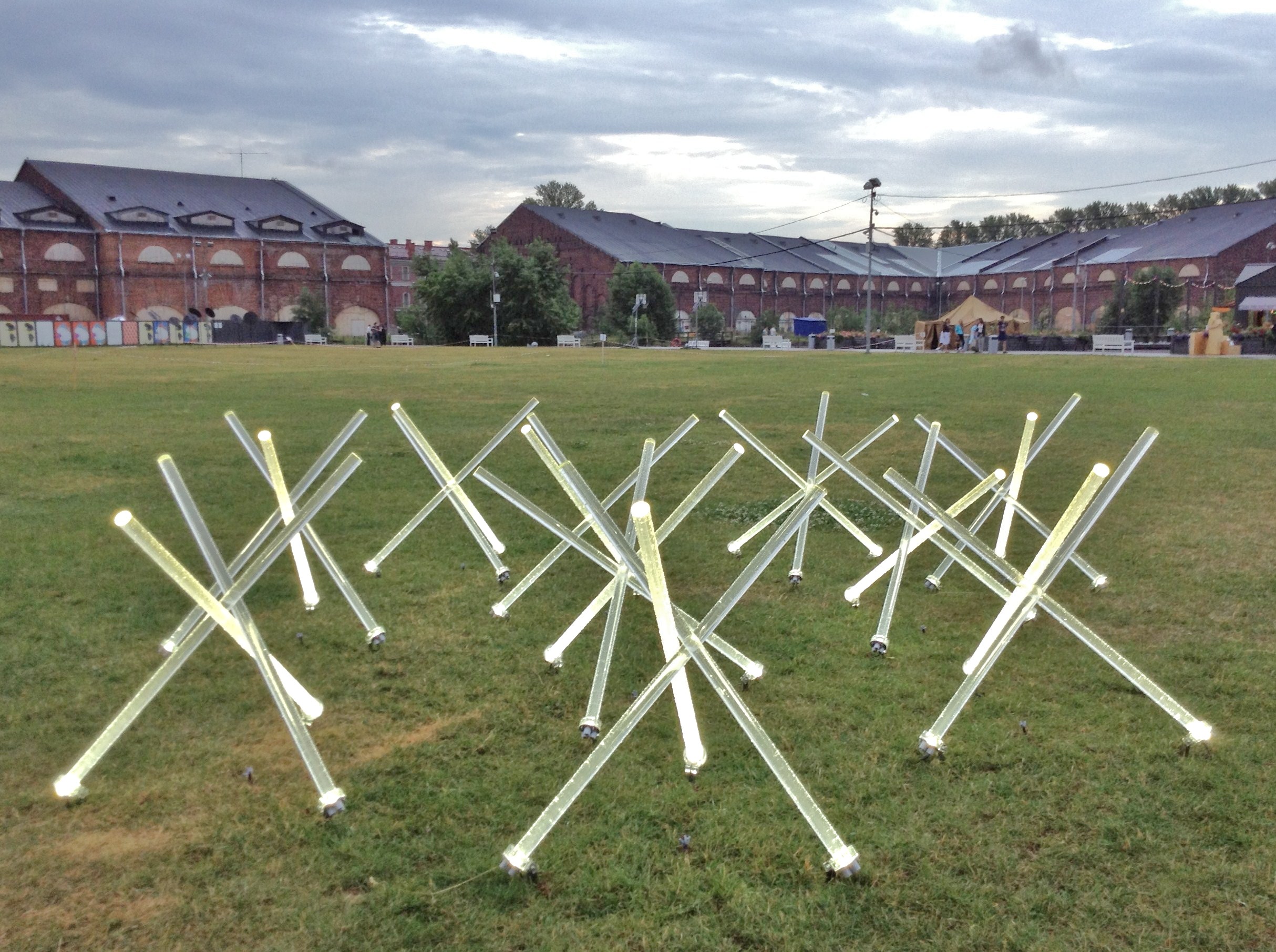 Could the gallery trail now beckoning, as the evening's main course, live up to Luzhaika's eclectic appetizer?
ACAI had hired a bus to help visitors find out. Good job. Unlike Moscow, where half-a-dozen galleries are clustered at Winzavod, there is no tight-knit gallery venue (or even district) in St. Petersburg and, unless you're in training for a marathon, touring its galleries on foot is a non-starter. This is, after all, the third-largest city in Europe.
The ACAI bus almost careered into the Baltic while exploring the depths of St. Petersburg's decaying industrial hinterland before spurting across the Neva to Vasilievsky Island then ending its odyssey on Nevsky Prospekt deep into the White Midsummer Night.
First stop was the Rizzordi Art Foundation, housed in what was once and still smells like a vast brick brewery. The work of 30 artists from Krasnodar and the Kuban region was fermenting on the third floor. Highlight was a deftly lit, trellis-like wooden structure by the Subbotiny Brothers, entitled Cloak but resembling a praying mantis.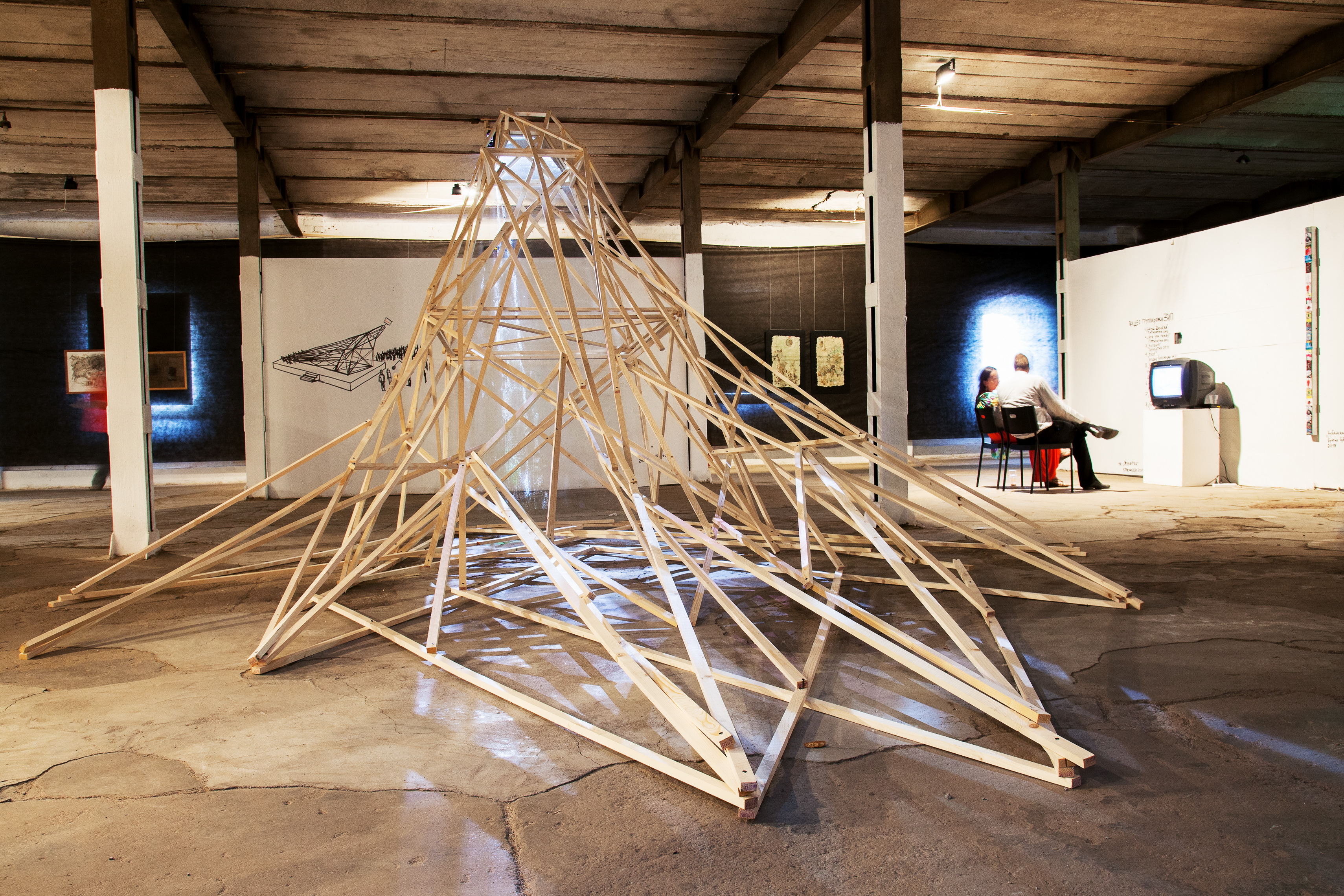 After the sweaty buzz upstairs at Rizzordi, the crowds were spilling down onto the street outside Art re.Flex, whose whimsical homage to Simferopol's Nikolai Arendt (1833-93), the 'grandfather of Russian aviation,' took the form of Constructivist assemblages and linen embroidery concocted by his descendants Natalya and Maria. An improvising pianist in the brick-vaulted gallery basement added timeless class.
Elsewhere the mood veered from studious to reverential. Pinpoint spotlighting at Lazarev seconded giant canvases by Oleg Tselkov into stained-glass sublimity. Yuri Molodkovets's monochrome, branch-patterned photographs at AL Gallery (still seeking a permanent nest, and set to relocate once again this summer) demanded contemplation; the twee graphics and paper cut-outs of Tel Aviv's Yael Balaban and Noa Yekutieli, at Gisich, a fat wallet.
Video aficionados could enjoy Ilya Selitsky's Present Indefinite at Anna Nova and Zane Balode's schizophrenic Mirror installation at Novy Muzei, where what appeared to be mundane Japanese landscapes heaved into flashing fluorescence when the lights came down to a pulsating techno beat.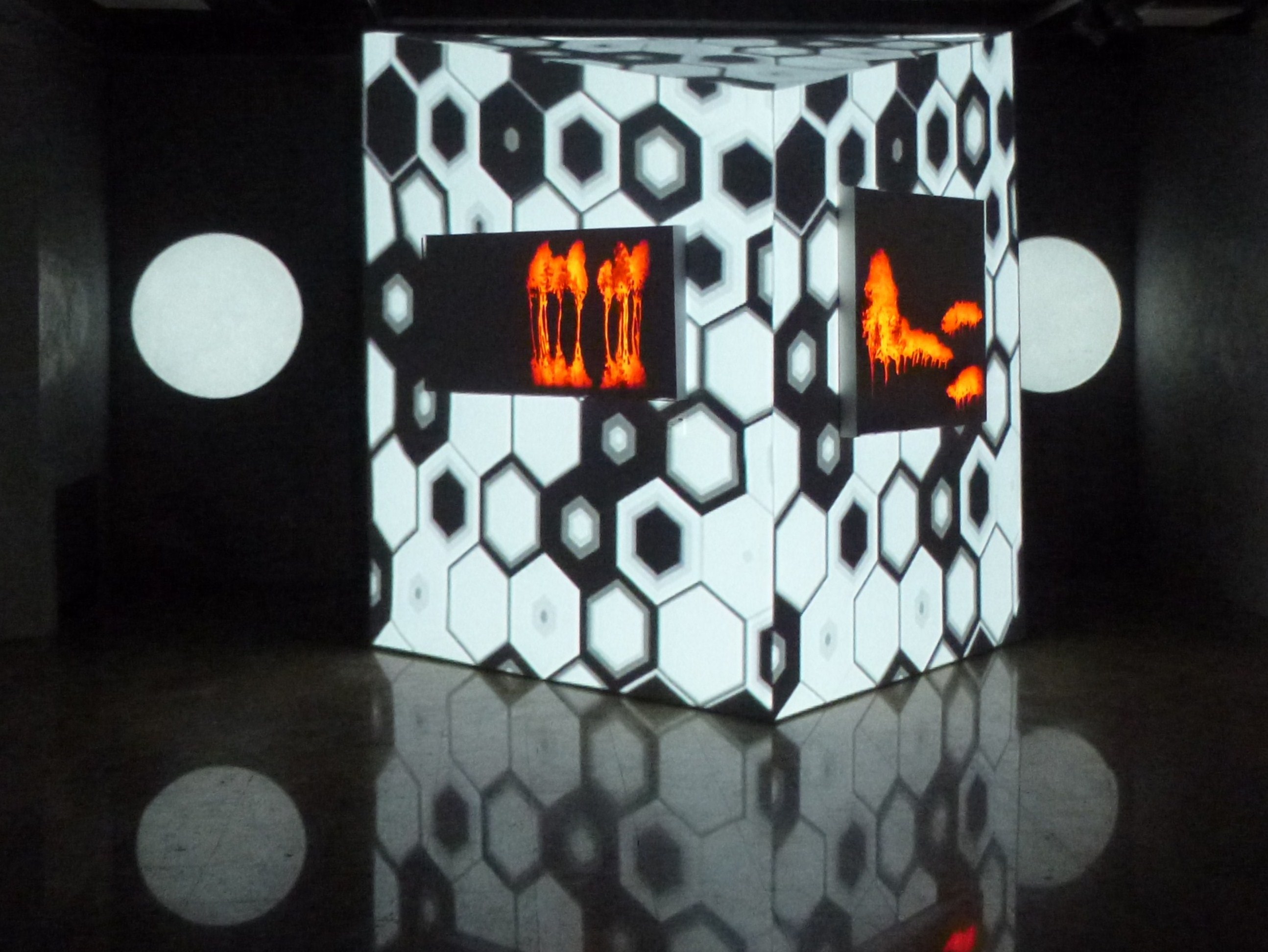 Dmitry Semenov rounded off the evening with a DJ, a bottle-swilling punk, and a little bit of art.
Varied moods, visual versatility: it had been a stimulating but exhausting eight hours of culture.
Too much for a single night, however white. Parazit's group show Wall on Wall, and Anna Frants' tribute to American movie-maker Jonas Mekas, proved up the creek and off the radar as far as ACAI's bleary-eyed bus driver was concerned.
No wonder the next event planned by the Association of Contemporary Art Institutions is to be a whole gallery weekend (October 4-6).
With Novaya Gollandia set to close for years of renovation, a new showpiece venue may have to be found. I'd like to suggest the venerable, 18-century Repin Academy, by the Neva, whose exuberant Rector, Semyon Mikhailovsky, is an Art Institution in his own right.