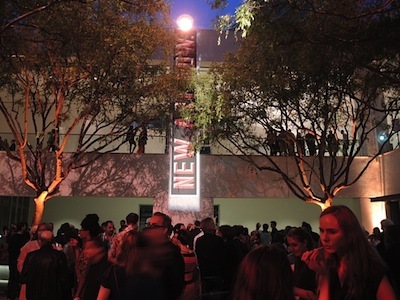 The opening of the UCLA Hammer Museum's Made in LA 2014 exhibition
ANNUALLY FOR THE past four years, I've made a Los Angeles art pilgrimage in the company of prominent New York collectors Zoë and Joel Dictrow. With me piloting the car, Joel as navigator and Zoë keeping up a lively banter of good cheer in the midst of occasional wrong turns, we traverse the 502 square miles of urban sprawl in search of challenging new art in studios, galleries, museums and private residences.
Usually we've made this a fall trip, but this time we were a bit delayed and have just sneaked in at the close of the art season, with a mid-June, four-day tour that coincided with the opening of the UCLA Hammer Museum's Made in L.A. 2014 exhibition.
Right off the plane, our first stop was a studio visit with painter Kour Pour, who this past February enjoyed a sold-out show at Untitled NY in New York's Lower East Side. Easily mistaken for beige oriental carpets, they are in fact meticulously crafted oil paintings in the form of Persian rugs, but whose content is a minutely detailed meditation on the calligraphy of ancient history, ranging across the planet and marshaled to create non-narrative dialogues of birds and emperors, camels and warriors, goddesses and carnivores. A cosmos of refined sensuality and of passion!

The artist Kour Pour in his studio (left); and gallerist Honor Fraser speaks about Frank Stella
Our next stop was to meet Honor Fraser and view her stunning '60s color field painting show, called Openness and Clarity and curated by Haydn Dunbar, with stand-out paintings by Helen Frankenthaler, Morris Louis and a simply breathtaking one by Frank Stella called Ctesiphon I, from 1968. Borrowed from MoCA's permanent collection, the work's appearance in the Fraser show marks only the fourth time it has been on public view-- and it was a thrill to witness this pristine work in all its electric color.
Our next stop was to Cherry & Martin gallery, where we were greeted by sculptor Nathan Mabry who walked us through his current solo gallery show. The first room featured a Giacometti inspired green patinaed bronze that turned out to be a slow, self-contained fountain, in which a slight stream of water ran down its face. On the walls surrounding the sculpture were small-format photos of a flume of smoke circling up, as if from burning incense.

In the studio with artists Glenn Kaino (left) and Alex Olson
I've known Glenn Kaino since 1996 and have attended many of his group and solo shows, but this was my first in his studio. The experience was a bit bewildering at first, since the studio is a laboratory where the artist has more than a dozen "experiments" going simultaneously: a giant firefly contraption takes up a swing-set zone; materials for an upcoming performance are laid out on every surface of the seating and sofa zone; fish tanks surround a computer zone and provide the staging ground for an oceanic corral project; dozens of human arm forms, cast in a Black Power salute and cast in gold, are lined up along a wall, in preparation for a huge installation in Washington, D.C. this fall; a 3-D printer is on pause as it creates Lilliputian figures for who-knows-what; and everywhere are various staging grounds of plastic models which will eventually be sprayed in gold and mounted on pins, to create Kaino's now-signature six-foot-tall, glittering gold pin drawings that suggest atomized worlds. As I absorbed and made sense of the chaos, it began to dawn on me that Kaino's studio is akin to an artistic tide pool where many life forms are spawning and growing.
Elliott Hundley is well known for his painting installations using pinned collages, and more recently he's been focusing on pure painting that jettisons the pinned format and involves a carefully choreographed waltz of abstraction of collaged imagery. I've been an unabashed fan, but this was my first studio visit, and I was unaware of and unprepared for the scale of his practice, which is based on collage scavenging and then cataloging the images by colors and themes. The walls of his 7,500 square-foot studio are literally filled with file boxes that are filled with carefully noted and labeled scraps of paper and other ephemera-- all of which forms a personal encyclopedia describing the world he knows and providing a vast catalog of micro-tools to create his canvas universes.
Alex Olson is a painter of abstractions. In the studio at present are works that seem meditations on various kinds of brushstrokes: thin brushstrokes captured in monochrome; wave-like brushstrokes captured in modeling paste like water lapping on a sea shore; and black brushstrokes arching over fluorescent bleeds. Commanding the studio is a painting with a brilliant red central element that seems to be pushing out of the picture, or receding into it. An arresting and beguiling vision currently under purchase consideration by some lucky museum!
Hyper-energetic gallerist François Ghebaly has moved from his former doll-house-sized gallery on South La Cienega to L.A.'s booming Downtown District and is currently renovating a fantastic 15,000 square-foot, former sewing factory into a multi-arts space. The space will be the home of several publishers, an artist residency program, Ghebaly's own gallery and much more, as he creates what will no doubt be a bustling hive of activity. Looking remarkably clear and focused for a dealer who has made two art fair presentations in the past month, François happily introduced us to participating artists and publishers, all of whom are setting up shop in this soaring ceilinged, wood-domed space that seems destined to become a must-see site on the Los Angeles art map.
After a bumper-to-bumper drive out of downtown along the 10 Freeway, and after a few false turns, we arrived at a dirt road alleyway that ended in a piled up collection of weather-beaten old cars, all with Kenny Scharf's signature "Jetson" faces trapped in a hookah-fog. We knew we'd arrived in Scharf's world. Not much farther, through a canopy of plastic drift garbage that the artist collects on beaches, we found Kenny, paintbrush in hand, at work on some very beautiful, principally black monochrome canvases. With cheerful instructions to look around the cast-open garage that is his studio, we discussed my hope that he'll create one of his "Cosmic Caverns" for a September exhibition I'm guest curating in the heart of São Paulo. Scharf is equal parts a master painter and clubland showman whose legendary black light installations are now finding there way into museums such as L.A.'s MoCA two years ago and (next year) New York's MoMA.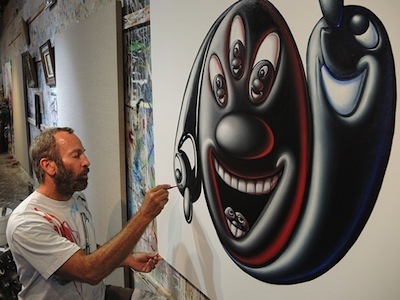 Artist Kenny Scharf at work in his studio
In her studio, painter Annie Lapin introduced us to three bodies of painting work: small, densely painted brooding abstractions that might harken to nighttime landscapes; large, principally rich brown jute-like murals on which black paint appears to have been shot at considerable velocity; and medium, body-sized, jewel-like landscape abstractions that employ a Frankenthaler stain technique to create suggestions of framing walls inset by almost blasted Courbet flower still-lives.
The latest iteration of the Hammer Museum's biennial Made in L.A. 2014 exhibition features works by 35 Los Angeles artists, with an emphasis on emerging and under recognized artists. Some highlights of the show are the installation rooms of Harry Dodge (sculptures and framed drawings) and Tala Madani (three stop-action films and paintings on maxi and mini scales of her now-signature boys and girls behaving badly). Also of note were the gently political works of Juan Capistrán, alluring painted and collaged abstract triangle patterning of Lecia Dole-Recio, the knitted charms of Channing Hansen and the painted bed-sheet sensuality of Max Maslansky.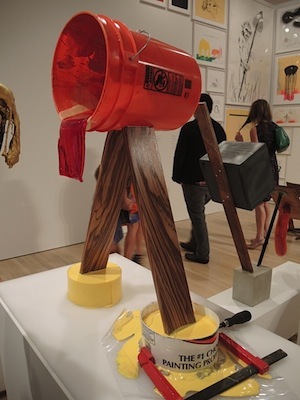 A work by Harry Dodge, at the Hammer Museum's Made in L.A. 2014 exhibition
The order of our Los Angeles art tour was:
On Wednesday, June 11:
1. Kour Pour, studio visit
2. Openness and Clarity: Color Field Works from the 1960s and 1970s, curated by Hayden Dunbar
Honor Fraser Gallery
2622 S. La Cienega Blvd., Los Angeles, 90034
3. Nathan Mabry (the artist was present and did a walk-through of his exhibition with us)
Cherry & Martin
2712 S La Cienega Blvd., Los Angeles, 90034
On Thursday June 12:
4. Glenn Kaino, studio visit
5. Gabriel Kuri
Regen Projects
6750 Santa Monica Blvd., Los Angeles, 90038
6. Erlea Maneros Zabala (the show was being installed)
Redling Fine Art
6757 Santa Monica Blvd., Los Angeles, 90038
7. Terry Winters
Matthew Marks
1062 North Orange Grove, Los Angeles, 90046
8. "The Motorman" group show
Richard Telles Fine Art
7380 Beverly Blvd., Los Angeles, 90036
9. Mary Weatherford
David Kordansky Gallery
3143 S La Cienega Blvd., Unit A, Los Angeles, 90016
10. Raffi Kalenderian and Nick Aguayo
Susanne Vielmetter Los Angeles Projects
6006 Washington Blvd., Culver City, Los Angeles, 90232
11. Anya Gallaccio
Blum & Poe
2727 S. La Cienega Blvd., Los Angeles, 90034
On Friday June 13:
12. Elliott Hundley, studio visit
13. Alex Olson, studio visit
14. Josh Mannis
Thomas Solomon Gallery
427 Bernard St., Los Angeles, 90012
15. Men in L.A.
The Box
805 Traction Ave., Los Angeles 90013
16. Christine Wang and Jo Nigoghossian; windows by Yunhee Min
Night Gallery
2276 E 16th St., Los Angeles, 90021
17. The Square (a group show was being installed)
François Ghebaly Gallery
2245 E Washington Blvd., Los Angeles, 90021
18. Kenny Scharf, studio visit
On Saturday June 14:
19. Annie Lapin, studio visit
20. Mike Kelley
The Geffen Contemporary at MOCA
152 North Central Ave., Los Angeles 90012
21. Ma Ke
Marc Selwyn Fine Art
9953 South Santa Monica Blvd., Beverly Hills, 90212
22. Albert Oehlen
Gagosian Gallery
456 North Camden Dr., Beverly Hills, 90210
23. Made in L.A. 2014
Hammer Museum
10899 Wilshire Blvd., Los Angeles, 90024
FINE DINING
Last but not least, Los Angeles is a splendid gourmet town, with fresh produce and great restaurants. We had the good fortune to have the recommendations of our L.A. foodie friend Fancy Fechser, who tipped us off to these three superb restaurants:
Tar and Roses
602 Santa Monica Blvd., Santa Monica, 90401
Chef Andrew Kirschner gives a wood-fired, Italian twist to local and seasonal dining. Beautiful presentations and a fine wine list in a bustling yet intimate setting near the beach.
Info: tarandroses.com
Picca
9575 West Pico Blvd., Los Angeles, 90035
On the edge of Beverly Hills, Peruvian chef Ricardo Zarate has created a flight menu of minimalist, Japanese tapas bar-like offerings that included transformative experiences with a baked-potato and a perfectly executed anticucho featuring small, sweet scallops that we had to try twice.
Info: piccaperu.com
Tavern
11648 San Vicente Blvd., Brentwood, 90049
Located in Brentwood, just minutes from the Hammer Museum and our boisterous biennial opening, Tavern's natural light-filled atrium in soothing shades of moss was the perfect, calming early dining spot. James Beard award winning chef Suzanne Goin has created an inventive menu that springs from the freshest of produce. Our dining adventure began with a salad of grilled peach with dandelion, burrata and pine nuts. Simply stunning!
Info: tavernla.com