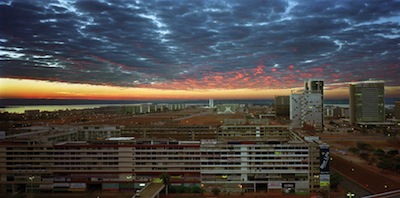 Robert Polidori: Oscar Niemeyer's Congresso Nacional, Brasilia, 1958
I love Brazilian Modernist architecture and design. This country boasts a vast treasury of buildings and other structures that reflect inventive use of materials ranging from rare woods and stone to humble concrete and brick, deployed in a unique climate that encompasses blazing sun and driving tropical downpours, grey winter skies and breathtakingly clear summer days. Over the decades Brazil has seen a tradition of startling creativity flourish among architects inspired by both the country's passionate connection with nature with public and its embrace of the pleasures of daily living.
In more than fifty stays in Brazil over the last ten years, I've been seduced and awestruck by many great works of Brazilian architecture by early pioneers such as Gregori Warchavchik, Oscar Niemeyer, and Lina Bo Bardi, as well as by those of more recent practitioners such as Paulo Mendes da Rocha. And I've tried to share my enthusiasm with others for the mastery and imagination of this work -- the unique textures, the combinations of material, the sheer grandeur that can result from the continuity of living and working spaces with tropical abundance that surrounds them. But alas, I've never been able to take a photo that captured my experience of any of these buildings.
Nelson Kon: Oscar Niemeyer's Oca, São Paulo, 1951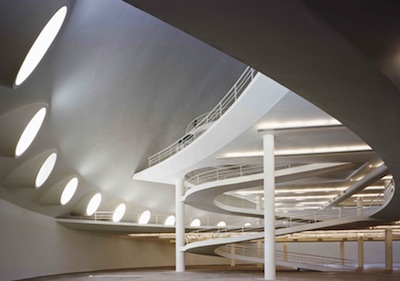 So it was a thrill to visit Instituto Tomie Ohtake's recent exhibition Arquitectura Brasileira: Vista por grandes fotografos (Brazilian Architecture Seen by Great Photographers). The show's selection of images by 27 photographers was organized chronologically, from the early 1930s to the mid-1970s. On display were marvels of texture, form, and site, in images ranging in size from the snapshot to the mural, giving a dramatic sense of the scale and physical presence of the structures within their settings. Many of the photographers' names were new to me; so was some of the their subject matter -- all of which contributed to my pleasure in seeing this show. Here, in one place, was a reflection of my love for Brazilian Modernist architecture, captured by photographers who truly felt its magic.
This past Sunday -- the last day of the show -- I had the pleasure of viewing this groundbreaking exhibition for the third time. And on this occasion I was lucky enough to see it in the company of the show's erudite curator, André Aranha Corrêa do Lago.
Curator André Corrêa do Lago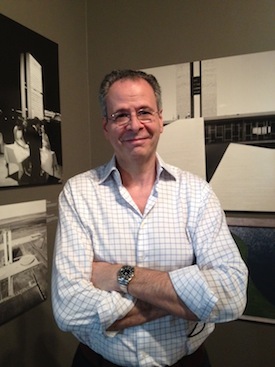 Though not trained formally as a professional architect or architectural historian, Corrêa do Lago -- a trained economist who happens to be Brazil's Chief Negotiator for Climate Change -- is a man with a life-long passion for architecture. I asked him how he came to put the exhibition together.
"I am an economist and a diplomat," said Corrêa do Lago, "but since I was fifteen I have been crazy for architecture. In fact, since I fell in love with two photos by Ezra Stoller of the Seagram Building and of the Farnsworth House. My great passion is still Mies van der Rohe, but my mother was a Niemeyer fan, and it was quite natural then to be interested in the architecture of Brazil. But I never wanted to be an architect. I started writing about architecture more frequently in 1999 for no.com. I wrote some texts for magazines and chapters for books, and then my Niemeyer book for BEI [Oscar Niemeyer--Uma Arquitetura da Seducao]."
"I've always been fascinated by architectural photography," he continued. "And I have been collecting architecture books since I was sixteen. I love to see the difference of buildings depending on the photographer. As a Brazilian diplomat I have to travel a lot. I am lucky to visit lots of places, so I am able to see architecture personally. I try very hard to take good pictures, but they are desperately dull. This increases my admiration for photographers that capture architecture in an exciting way!"
Brazilian Architecture Seen by Great Photographers
Instituto Tomie Ohtake, São Paulo
Curator: André Corrêa do Lago
Assistant to the curator: Rodrigo Ohtake
Participants: Angelo Serravalle, Bob Wolfenson, Cristiano Mascaro, Dmitri Kessel, Fernando Stankuns, Francisco Albuquerque, G. E. Kidder Smith, Hans Gunter Flieg, Iñigo Bujedo Aguirre, Jean Manzon, Leonardo Finotti, Lucien Clergue, Marcel Gautherot, Massimo Listri, Michel Moch, Nelson Kon, Paolo Gasparini, Patrícia Cardoso, Peter Scheier, René Burri, Rob Crandall, Robert Polidori, Romulo Fialdini, Thomaz Farkas, Tomas Elia, Tuca Reinés, Virgile Simon Bertrand

Leonardo Finotti: Installation view, Brazilian Architecture Seen by Great Photographers, Instituto Tomie Ohtake, São Paulo