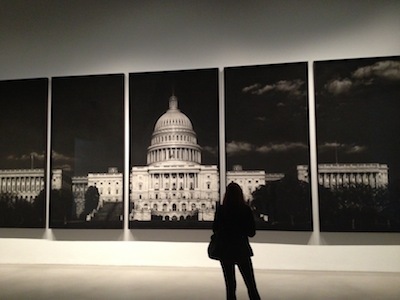 Robert Longo's dueling Chelsea solo shows at Metro Pictures and Petzel Gallery are spectacularly stunning. Above, at Petzel, "Untitled (Capitol)," 2012-'13; charcoal on paper
Robert Longo's Gang of Cosmos at Metro Pictures includes 12, ghostly black-and-white charcoal drawings based on canonic paintings by Abstract Expressionist masters Willem de Kooning, Helen Frankenthaler, Lee Krasner, Norman Lewis, Joan Mitchell, Robert Motherwell, Barnett Newman, Jackson Pollock, Ad Reinhardt, Mark Rothko and Clyfford Still. In many ways, Robert Longo's current Metro Pictures show is a summary statement of the Pictures generation, of which he was one of the leading figures. The term was coined by noted art historian Douglas Crimp, for his landmark 1977 Pictures exhibition and essay of the same name. Crimp recognized the full power and import of a loosely knit band of young artists -- including Louise Lawler, Sherrie Levine, Richard Prince, Cindy Sherman, and Jack Goldstein -- whose work appropriated from art history and popular culture.
Longo's "Strike the Sun" at Petzel Gallery includes a massive seven-panel black-and-white charcoal drawing that visions the nation's capitol building with all the gothic foreboding of the Star Wars Death Star. And in neighboring spaces are a 17-foot-high black wax-surfaced American flag sculpture that appears to be crashing through the gallery's floor and a poignantly solemn detail image of the riderless horse that led JFK's funeral procession.
Robert Longo's Gang of Cosmos
Now through May 23
Metro Pictures
519 West 24th Street
New York NY 10011
W. metropictures.com
Hours: Tue-Sat, 10-6
Robert Longo's Strike the Sun
Now through May 10
Petzel Gallery
456 W 18th Street
New York NY 10011
W. petzel.com
Hours: Tue-Sat, 10-6
At Metro Pictures, After DeKooning (Woman and Bicycle, 1952-1953), 2014; charcoal on paper