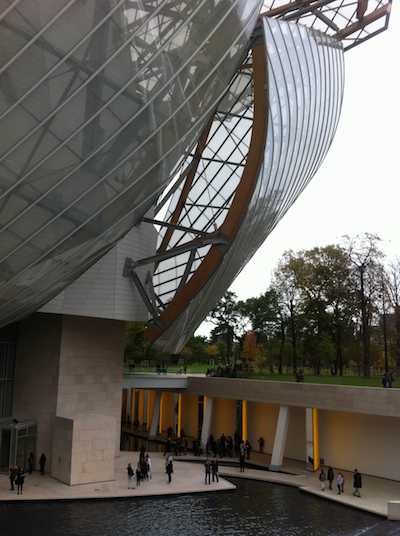 Paris's new Fondation Louis Vuitton, design by Frank Gehry: "Vaux le voyage..."
AND THE HIGH-PITCHED art world whining continues....
All through the week of events and art fairs surrounding Art Basel Miami Beach I heard constant griping about Miami's newest cultural addition, the Perez Art Museum Miami. Griping is a permanent part of the art scene, of course, but since the building opened one year ago, people have been moaning about the gift from real estate developer Jorge M. Perez that helped put the building back on track; bleats like "he did it just for the tax deduction" kept circulating. Which is really sort of stunning when you consider that one man's support put the creation of the side-tracked building project back on course and that the resulting institution is one of the finest American museum spaces built in the past decade. The Perez Museum is a glorious mix of intimate spaces and grand ones. It's a gift to artists and curators for their future exhibitions, as well as a joy for visitors.
The museum's current key attraction is a mid-career retrospective of paintings and collages by Beatriz Milhazes-- her first major U.S. retrospective. The exhibition features the artist's large-scale abstract paintings inspired by Brazilian and European Modernism, Baroque forms and fantastically lyrical Carnival decorations. The exhibition reaches back 25 years into the artist's career and affords the viewer an in-depth glimpse of her painting development in the 1990s which features a wonderfully creaking, noticeably hand-made and irregular quality. For all who are interested in how great artists lay an early foundation on which to build, these paintings and this exhibition yield gracious insight.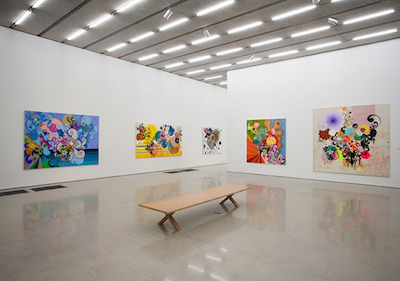 Beatriz Milhazes, Jardim Botânico; installation view, Pérez Art Museum Miami
(photo by Oriol Tarridas)
In view of the griping to be heard in Miami, I was instantly reminded of the Fondation Louis Vuitton building in Paris's Bois du Boulogne, which was also met with grumpy word-of-mouth predictions and subsequent moaning in the media, not least of which in my favorite daily, The Guardian. So I went to a preview of the building not expecting much. But the Fondation Louis Vuitton is in fact one of the instant great wonders of Paris: a joy to behold and to walk through, filled with gracious exhibition spaces created with stacked box-like spaces that are enveloped in a massive five-story, billowing sail-like super-structure.
I went to the preview with noted New York art collectors the Mallins and the Dictrows, who both predicted doom based on the obvious design failures of Gehry's Bilbao Museum. In Bilbao swoopy, monumental spaces, it's almost impossible to install art in unless it happens to be Richard Serra. But low and behold, some architects learn from the buildings they create. And the Fondation Louis Vuitton building is simply glorious. Thrilling to scale its exterior courtyards and filled with delightful surprises in the ways that it can show a huge range of artist works from video and painting to sculpture and installation. As the Michelin guide might say, "Vaux le voyage." Run don't walk!
The Fondation Louis Vuitton in Paris