What does 4,042 feature films and 7,675 short films add up to? Tough competition for budding filmmakers who want to screen their movies at the
Sundance Film Festival.
Sundance festival programmer,
Puerto Rican Shari Frilot
remarks:
"Our job is to find the freshest, most original, and beautifully executed cinematic works...Seven programmers must come to some kind of consensus around the selections--this is incredibly difficult to do! But when we discover a Filly Brown...it is truly an incredible experience."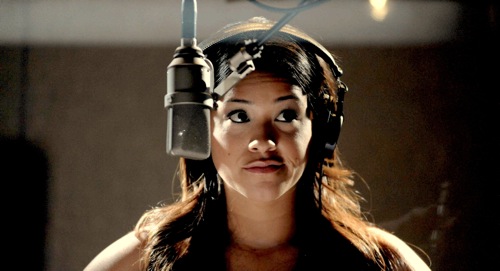 U.S. Dramatic Feature competitor Filly Brown is a Latino powerhouse of a movie that premieres tonight at the film festival in snowy Park City, Utah. The movie stars rising talent Gina Rodriguez, industry veterans Edward James Olmos and Lou Diamond Phillips (Who doesn't love a Jaime Escalante and Angel Guzman reunion?), and Latin music sensation Jenni Rivera. Helmers are a co-directing pair making fast tracks in the entertainment industry: Youssef Delara and Michael D. Olmos.
Gina Rodriguez
, who plays the title role of Maria Jose "Majo" Tonorio, also known as "Filly Brown," is the film's driving force. Self-proclaimed "[laughing] and [smiling]...baby of the family," Rodriguez had her "work cut out for [her]" to play the "tough chick" Filly. But armed with acting chops acquired in the
Theatre Department of the Tisch School of the Arts of New York University
, the actress rose to the challenge. Having seen her in the
Lionsgate
release
Go For It
, directors
Delara
and
Michael D. Olmos
had a hunch on Rodriguez. As Michael D. Olmos reveals:
"[Rodriguez] came in and blew us away in the audition, and then broke into an impromptu rap. [W]e smiled, said 'Thank you, we'll call you,' and when she left Youssef and I high-fived because we knew then and there that she was Filly Brown."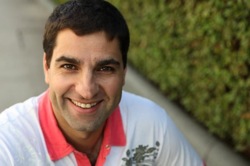 Fueled by the rap of character Filly Brown and the unique world of the real-life
Pocos Pero Locos
program,
Lisa "Khool-Aid" Rios and Edward "E-Dub" Rios
were responsible for bringing Filly Brown's Latin Rap persona to life.
Iconic Mexican-American singer Jenni Rivera
brought her own real-life musical talent to the screen; this is Rivera's feature film debut. The original score composition is to the credit of
Reza Safinia
, and the movie was produced by
Victor Teran
,
Amir Delara
and
Mico Olmos
. Desaturated cinematography captured on
RED
and presented in a savory 2.35 aspect ratio by Director of Photography
Ben Kufrin
provides a kinetic entrance into the world of the story.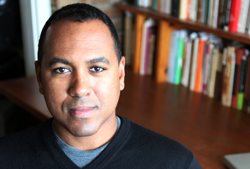 Delara's skills in editing and narrative informed the transitions and pacing. (Delara was a Visual Effects Supervisor for many years before pursuing his own projects.) Michael D. Olmos' extensive acting background acquired at the
Sanford Meisner Academy
(where he studied with
Marlon Brando
) allowed for the team to capture the necessary dramatic beats in the talents' performances. The combination proves to be both a complementary and cohesive directorial vision. Sundance's Frilot remarks:
"Filly Brown has to be one of the most energetic films at the festival, and it features a firecracker performance by Gina Rodriguez...The energy comes not only from the musical performances that Gina's character serves up, but by the way the directors, Youssef DeLara and Michael D. Olmos, tell the story--with a fast, precise and muscular style that makes it a thrill to watch."
Filly Brown
tells the story of an LA street poet called Filly Brown, who along with her father (played by Lou Diamond Phillips), tries desperately to rebuild her fragmented family, broken as a result of familial drug abuse and crime. As Michael D. Olmos extrapolates:
"[T]his family [tries] to do what's right for each other, yet each [is] so out of touch with their authentic self and so emotionally isolated from each other that they're on the verge of destruction. The tension is electric."
To the directing team, the film's message is truth. As Delara explains:
"It takes a reckoning in [Filly Brown's] personal life for her to admit she's a fake, and influence those around her to see that they are too. That's one of the most inspiring things about this character...She's a catalyst."
Like the character Filly Brown, the movie Filly Brown could be a catalyst, too--not only as a groundbreaking film that could finally cue the ultimate emergence of American Latino talent into the commercial film industry, but as a vehicle through which Latinos and Hispanics could come together by identifying with the diversity represented in the film and in those who made it.
Michael D. Olmos, although raised Latino--he is the son of Edward James Olmos--is, in fact, Jamaican by birth. Delara is Iranian by descent, was born in Spain, and was raised in Hollywood, although he continues to share Latino themes in his films. Star Rodriguez says:
"[Filly Brown] is a story from first, second, third generation Latinos who have yet to be represented in [the film] industry. Those that don't talk with an accent, didn't grow up speaking Spanish...those that were born here and wear Abercrombie and like Fast Five or Woody Allen films. [W]e are telling their story."
Could our unique Latino voices finally be our commonality? As renowned author
Rubén Martínez
suggests:
"At its worst, [the identifier - "Latino"--] dissolves the complexity and nuance of Latin American identity and obscures some pretty big divides along the lines of race and class...But it is also a way for people from diverse Latin American backgrounds to claim some solidarity with one another in the United States."
Long-time Latino icon Edward James Olmos is ready for a new era, when the number of identifiable Latinos in entertainment isn't limited to names you can count on one hand:
"We represent 16% of the population of the country, but we have less than 2% of the images on film and television. Filly Brown is made for a universal audience, but it could become the first major Latino breakthrough film to be embraced by the entire Latino community in full. It's a story that digs deeply into the family and into music...two elements that Latinos love."
New Latino voices. Rising talent. A directorial vision from a co-directing team of complementary talents. It could just be the recipe for a movie that packs a punch...or in the least, a really cool rhyme.
Filly Brown premieres tonight and will screen 5 times over the course of the 11-day festival.
ABOUT the SUNDANCE FILM FESTIVAL
The Sundance Institute was founded in 1981 by Robert Redford to bring together emerging filmmakers in an intimate and remote natural setting to craft films with unique visions. The artistic essence of the program remains today, although the Institute's talent development programs and Film Festival are now internationally recognized.
An earlier version of this post incorrectly stated that the role of Filly Brown's father was played by Edward James Olmos.