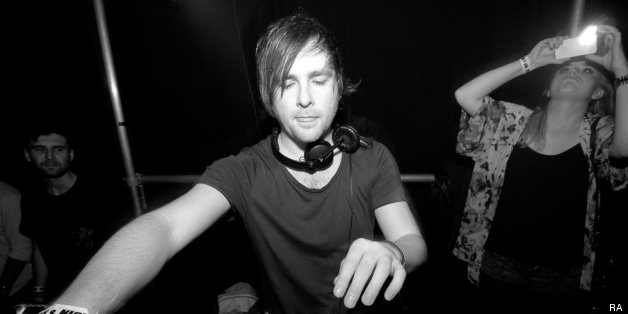 It's undeniable that techno has undergone a massive renaissance over the last few years, emerging from the dark shadows of electronic music and taking the forefront at some of the world's largest festivals and most important clubs. Among those leading the charge are relative newcomers like Glasgow's Gary Beck, who has become a prolific studio producer and globe-trotting DJ, employing a raw, brash sound that recalls techno's classic underground roots. His music takes no prisoners on the dancefloor, creating a dense sonic storm out of hypnotic loops, speaker-rattling basslines, and energetic percussion. Major DJs have all championed his tracks, as he continues to churn out massive techno anthems (like this summer's "Video Siren" on his own BEK Audio label.)
This Friday, July 19th, he returns to the US for his Marquee New York debut, taking a stateside break from a packed European summer of festivals. We spoke to Gary about the roots of his sound, the fertile underground scene in his hometown, and the different influences you'll hear in his tracks. We're excited to play with him at our Marquee Friday night, which has featured cutting edge underground artists week in and week since the club re-opened in January; it's always refreshing to witness a set from an original artist who is blazing his own trail. This is the third Huffington Post interview we've done with our guests - following our Steve Lawler and Damian Lazarus Q&As.
Dark, driving, and uncompromising, techno music is the hard-hitting alternative to the melodic, confetti-spewing euphoria that is "EDM"'s sound du jour, and it's no wonder that it has struck a chord with a crowd that's grown weary of what the more mainstream artists have produced. No matter how popular electronic music may be with masses, techno has always enjoyed deep and dedicated support in the underground, and this is unlikely to change anytime soon.
Greetings Gary! Tell us where you're at and what you're up to right now?
I'm on my way to the Balaton Festival in Hungary. It's been a good weekend, very hot here in Europe. I also made my first appearance at the Boiler Room this week which was great fun.
How has your summer been going so far?
Very busy and exciting with lots of great gigs, and fortunately, I've found some time to write some new music along the way.

What's been some of the standout sets or parties you've played so far this summer?

I played Old River Park in Naples a few weeks ago. The energy and passion was unreal! I also had a great time playing Rockness festival in Scotland on the banks of Loch Ness.

We can't wait to have you at Marquee New York this Friday. Tell us what New York as a city means to you?

I'm looking forward to returning to NYC, as it's one of my favourite places to play. I have made many friends and I really look forward to Marquee. NYC has something magical about it and the response from the crowds is always great.

Have you been inspired as a producer and DJ by any particular New York artists - or particular records - over the years?

Danny Tenaglia is someone who has inspired me. His DJ sets have always been fantastic and I was lucky enough to meet him last time I played New York. Also Harry "Choo Choo" Romero. I reckon I bought every single record he made! New York has really generated some great talent over the years!

Tell us about the nightlife scene in Glasgow. Obviously there's a quite a lot of history with artists like Slam, and labels like Soma. For those who've never been a part of it, how would you describe the city, its vibe, it's music culture?

It's a very industrial city, and I think this comes across in lots of the music. Slam and Soma are an institution in Scotland and they played a major role in the underground scene. Also guys like Harri & Dominic have been great for the scene with their nights at the legendary Sub Club. The scene is still going strong here and the crowds are always up for a real good party.

Why do you think that techno has had such a strong connection with Glasgow? Has this been an influence in the music you make?
I think it could be something to do with the weather. Most of the year is very miserable and people spend lots of time indoors. In a funny way this can make you quite creative. I wouldn't say that it influences my style because I've always just gone my own way.

Tell us about your music-making process. I've read that you like to use a lot of hardware in your productions. What are some of your most important pieces of gear?

Yes I love to use hardware. In particular I love my microKORG and Roland RS-50 very much. I feel It's a lot more enjoyable having the hands on approach, and it produces a nicer texture in the overall sound.

There's quite a range of styles that you reference in your tracks - it's not just all dark techno. Some of your tracks like "Funk Up High" have a classic American 60's soul / R&B vibe going on with the samples. How does these sounds come together for your productions?

I have always been a huge fan of '60s soul and Motown. My first idea to combine the two came about by sampling Ann Peebles on a track called "Hands in Mine" which was released on BEK Audio. I started playing around with her vocal and it really excited me. We had to get the samples cleared by EMI which took a lot of time. The combination of techno and 60's soul really got me! It's hard to capture that kind of feeling with modern equipment so I couldn't help but have a go at it!

How long have you been making your own music?

It's going on 10 years now I think.
How did you first get introduced to techno and was there a specific DJ or artist who really had a profound influence on what you do now?

The Slam parties in Glasgow got me hooked on Techno. I first went when I was 17 and I was completely in love with it. Some of the first DJs i heard were Jeff Mills, Richie Hawtin and Carl Cox. I started buying records around this time, however it was a certain Mr. G that really got me excited. His music had everything for me: raw, energetic techno at its best. I have since had the pleasure of collaborating with him on a record for BEK.

As you may know, there's a lot of interest in electronic music - and specifically "EDM" here in the US right now. How do you see techno - and more underground styles - carving its own path here in the US?

Every part of US seems to have its own techno scene going on which is great, but places like Detroit and Chicago have been at the forefront of the scene from the beginning. Some parts are obviously smaller than others however It really seems to be growing. I was overwhelmed on my first visit to the US. There was terrific energy with great vibes. I can see the underground scene becoming a lot more prominent in the future.

What's the most important thing you see to help get this music established and to help it grow here in the US?

I think its important to look at the history and listen to what has been coming out the states for decades. It's important to be aware of this and hopefully upcoming artists can learn and create their own styles to push things forward. I think many people and myself included prefer real techno to stay underground where it belongs.

What's coming up for you that you're particularly excited about?

My label has been my main focus this year and I'm really excited about the future. I have my first label night at the legendary Berghain in Berlin in October. We also have some fantastic music coming up from the likes of Ben Sims, Mike Dehnert and of course myself.

Do you have a current top 10 for us?

Dense & Pika - Lack of Light
Gary Beck - Paid Out - Mike Dehnert remix
Hackler & Kuch - 3D Analyst
Pfirter - New State of Consciousness
Gary Beck - Shambles
AnD - Deep Consciousness
A.Mochi - Disabled
J.Tijn - ILGD v4
Gene Farris & Cajmere - The Biz
Charlton - Chaotic Behaviour
------
Gary Beck debuts at Marquee New York on Friday, July 19th.
For more on Gary Beck - https://www.facebook.com/garybeckmusic
For more on Marquee NY - http://www.marqueeny.com
For more on Sleepy & Boo - http://www.basicnyc.com