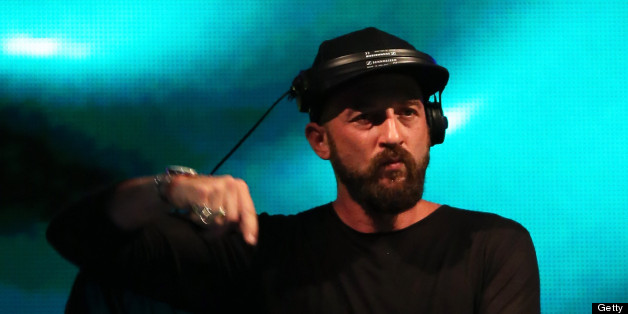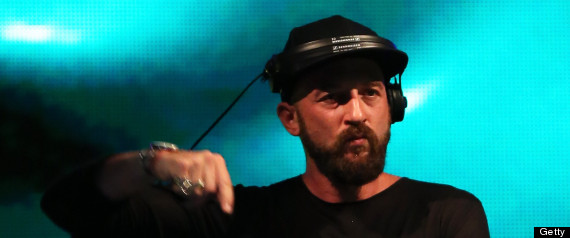 When talking about typical large-scale electronic music festival stages in the US, you're not very likely to hear names like Anish Kapoor and Stanley Kubrick tossed around. But then again, you're probably not talking with Damian Lazarus, the mercurial boss behind Crosstown Rebels, one of the most important independent underground labels in today's dance music marketplace.
Those names are some of the influences, references, and inspirations Lazarus channeled when creating the concept for the "Get Lost" stage that he's helming at a variety of Insomniac festivals in 2013, including their flagship Electric Daisy Carnival Las Vegas. Featuring sets from Lazarus himself and select members of his Crosstown Rebels crew, this roving rave project represents one of the most ambitious accomplishments of Lazarus' team: transporting his heady, melodic, moody and mind-bending sounds straight from the underground and shoving them directly into the neon-swathed heart of America's current electronic music obsession.
But taking chances and challenging the status quo have always been part of Lazarus' credo. He's never tread the obvious path with his own DJ sets, and he's always had a knack for finding the sounds and styles that every other taste-making label will be finding a year or two later. Rather than signing one-off hits, carefully nurturing a roster of homegrown talent is how Lazarus runs his own label, and he's developed into something of a "head coach" of a growing - and thriving - collective of like-minded producers and DJs all happy to fly the Crosstown Rebels flag.
Constantly touring, Lazarus brings his open-ended DJing approach to Marquee New York on Friday July 5th, joining an event series that has featured both esteemed veteran and newcomer DJs alike. Fridays at Marquee are the club's night for cutting-edge underground music, featuring a variety of sounds and styles. From deep house to techno, it all sounds amazing on Marquee's pristine Funktion One sound system.
Independence Day weekend is all about celebrating freedom and we couldn't imagine a better DJ to take the decks for a night of musical abandonment than Damian. After our Steve Lawler interview back in May, we think Damian Lazarus - authentic, deliberate, and a true iconoclast - is the perfect guest to feature in our second Huffington Post interview. Speaking via Skype a few weeks ago - right before the weekend of Barcelona's annual Sonar festival, and ahead of the Electric Daisy Carnival Las Vegas, Lazarus shared some of his insights behind the operations of Crosstown Rebels and the challenge of translating his left-of-center vision into a large-scale festival event.
How are you?
I'm perfect, thank you, just watching the sun go down on Formentera Island.
Well that's very nice.
Yeah it's beautiful actually.
You must be in the perfect state of mind to do an interview then.
Aw yeah, man, you can only imagine, so make these questions really interesting! Otherwise it could be a really speedy interview.
Ok cool. Thanks for doing this, and thanks also for coming to play at Marquee, we're really excited to have you there. Are you doing Sonar this year?
This year, I - well I kind of semi-opted out of Sonar this year. You know we've been doing some amazing parties there for many years, and I felt that, as a label, we've just come off the back of this like, huge ten-year tour, and I didn't really feel it was necessary to put something big together at Sonar this year. So I'm going to do one exclusive solo set at Circoloco, so literally I'm playing in Ibiza until then and I'm just nipping in, and straight after my set I have to fly to London. So actually this year I kind of opted out, I kind of felt that it wasn't that necessary this year for us.
You're skipping, basically.
Uh, yes. Like a stone across the water. And to be honest actually I try not to do the skipping side of things, but it will mean I will actually be in three different cities in one day. But there's been a lot of flying issues actually this week, the French air traffic controller have gone on strike, so hopefully I'm going to make everything, so fingers crossed.
Always can count on a French strike sometime during the summer!
Yeah. (laughs)
So, I was looking on your Facebook page and looking at your whole list of gigs, and it's quite a big range of things you've got coming up. Just from the U.S. side of things, you did Ultra this year, you did Electric Daisy Carnival in New York, and you're doing one in Vegas as well.
Well, we're actually creating a Get Lost stage. You know, our Get Lost parties we've been doing in Miami for the last eight years, so Insomniac invited me to create a Get Lost stage for pretty much all of their events this year, so that's pretty much all of the Electric Daisy Carnivals and all the Beyond Wonderland and Nocturnal Wonderland events. I think we're doing six or seven. And you know what man, it's a very interesting one for me, because I moved to, well I've been playing in America since about 2004, 2005, when I played my first set in the States. And I've seen a massive change in that time. Five years ago I decided to move to Los Angeles, because I guess I kind of sensed that there was something kind of brewing for electronic music, and you could see there was really. And there's always been an interest in the more commercial mainstream side of electronic music in America, but I kind of felt there was something for our sound that we could try to establish. And it's taken awhile, but I'm happy to report that the first Get Lost event that we did with Insomniac just a couple of months ago was a massive success. We had 4,000 people, which was absolutely amazing, so I'm very excited about the Vegas show, I think that's the biggest one that they do.
Yes, it's gigantic.
Yeah...You know I'm not sure how it's going to go, I'll be honest, I'm not - I don't want to encourage coming off as being too confident about it, it's uh, as I understand it, Vegas - people travel from all over the country to be at that one. And I don't think that they've ever really pushed the underground as much as they are doing this year so it's going to be very interesting to see how that goes.
What are you going to have in Vegas at your stage?
I tried to get my head around what can I create that will be really fresh and different and kind of set the mood and set the tone for what we do musically. And I think that what we do musically is very futuristic, and obviously the theme of the event is Get Lost, and that's kind of like - we're going to take you on a mission into your own mind. You're going in, deep, (laughs) and it's going to be difficult for you to find your way out. So that's the idea. I look at Kubrick a lot for inspiration, and I looked at the scene inside the wormhole from "2001: A Space Odyssey," and took some of our other themes that we've been closely connected to recently, the more spiritual kind of themes, and kind of came up with this, I don't want to give too much away, but kind of came up with quite a kind of Anish Kapoor meets Stanley Kubrick in a very warped mind.
So, yeah, and then I talked to some friends of mine about creating a fairly new direction for our performance, because I think, you know our music doesn't really sit well with the kind of girls coming up in kind of like rabbit ears and stuff, so I wanted to create something new, fresh, and very different, and a friend of mine has created six amazing costumes for our six performers, and they're doing more like performance art, like along the lines of, like have you seen the movie "Pina?"
No.
So they're more performers in a very theatrical sense, and there's a monolith that gets built throughout the event which is quite interesting, you know in "2001" the monolith is the key to the universe's secrets, so that's the vibe. (laughs) Yeah, we played it out for the first time in the show in Los Angeles awhile back and it went extremely well.
So I don't know, we've taken these things extremely seriously, and this is the first opportunity I've had to do something on such a grand scale, and I really wanted to pull out all the stops. I've got an amazing team of people behind me. I'm working with the director that does the direction of the Secret Garden festival from the UK, a whole team of people that are really, really in tune with what we're trying to do there. And it's nice that it's something they're all supporting. I think I'm making a really big statement and I'm hoping it's going to kind of follow through. Surely we're going to reach a lot more people that haven't really experienced our sound before and our vibe, who are going to get into it, but it's not for everyone. I don't expect there to be an overnight kind of massive change in the way that people in America kind of view, 'Well this is our music,' but I think we're going to make a difference.
That's really cool, I didn't know you were going full, kind of whole hog into this.
Yeah, we're going full-hog (laughs).
I saw an interview where you said that when it comes to electronic music, the problem with America is that it doesn't quite have the whole raving tradition as a nation. Do you feel like you're kind of a missionary for this, to kind of, what you're doing with your parties and your tours?
Yeah, in a way. I feel like - I feel bad that people that are just discovering our music now in America haven't had the same grounding or experiences that many of us in Europe have had, because I feel that what we've experienced is so connected to where we are now, so it kind of makes it...it's almost like saying "Oh this is good, I like it but I don't know why."
But I think that we've come from a place where we know exactly why we like this, because we've kind of followed through with this whole culture of this underground sensibility. I mean I'm not saying there aren't any underground parties in America because of course there are, and from where you're coming from right now in New York there's many, but there's an issue in the culture of how we got to this point right now, and I think it would be interesting to try and give people the knowledge on how it all came about. And who knows, it might spark a new revolution in underground parties and stuff, I'm sure the police wouldn't be that happy about it.
When you've had the chance to play in - when you play in somewhere where they don't have that same kind of grounding, not like in New York or LA, what's been the reaction to your music?
Well actually in the past five, six years I've watched, there's been a massive upturn in our party cities. I've come from showing up in Boston to play to 150 people to playing to a couple thousand people in most cities. So I've seen the change quite dramatically. And I have to say there are some amazing parties going on all around America. You know, Miami, in Washington DC there's a great scene, but right now it seems to me like there's one, maximum two really good nights you could possibly play in most of the major cities in the States. Around the rest of the world, it seems to be on any given night there would be anywhere from 5 to twenty events that you could go to and hear killer, killer music.
And you know the bigger perspective, I mean obviously there should be more people and more parties. I think that people are happy sometimes to be fed the easy option and that's what they're being given. But I think labels, like of course of our label and all our crew, and all of us in the underground, we want to see this changing a little bit. We want to see more people experiencing and understanding and appreciating that the music we're playing is on another level. We're not talking about quick, easy fix music, we're talking about music that is really from the heart, it has spirituality, it has love, it has melody, and it's not quick fix, like get your kicks on the dance floor in the quickest possible way you can. Of course there's a place for that, and there are people that will only ever want that, but there has to be more people that appreciate the beauty of what we actually do here.
So your music and the music you're kind of putting out there, you feel that there's a connection with your heart, your spirituality. I mean it comes from somewhere of a personal place for you.
Yeah, that's me talking personally of course. As I've gotten a little older I've started to really understand who I am and what I'm about as an artist. I've come to realize that because there's a connection between my state of mind and what's in my heart, they're very personally connected to what I put out there from an artistic perspective. Because I want my music and my sound to represent me. I don't just want to come along and make 5,000 people get their hands in the air for two hours, you know, unnecessarily. I'd much rather put a set together that tells a story and takes people into a number of various twists and turns while all the time keeping their attention because the music is bubbling in such an organic and interesting way, but yet it's making you dance and making you feel good. But there might be occasions when it makes you feel a little bit uneasy or a little bit weird, or a little bit strange, but that's the way I try to approach my music.
But you know, that is essentially what life is about. Life is not about an easy quick fix load of nonsense. So that's my personal mission. But obviously I don't speak for everyone and I don't want to slag anyone else off, you know, I just think this is a good time for people to start to really appreciate that there is something really special going on here, you know?
That kind of gets me to this question I wanted to ask, because you're really so closely associated with Crosstown Rebels, and it's clearly one of the most revered and I would say polished labels about there. Tell me about the dynamics just of running the label, you know, what's your role in that these days.
You know, essentially I am the creative director of the label, which I own, and due to the fact that I'm traveling so much, it's impossible for me to sit in an office and cross the t's and dot the i's on everything that needs to be done behind the scenes. So I have a very good team of people that have been working with me for a number of years now. We don't actually have an office, which is quite bizarre. I have a staff of about 12-14 people, generally scattered around the world. Some in London, some in Berlin, some who kind of shadow me and follow me around, and a couple in New York and a couple in LA. We're a very tight-knit team, we actually, my boys, some of them do work for some of the other labels that are connected to us, like Hot Natured and Ellum and No. 19. And we kind of share our experience and information, and I would say we've kind of pulled it off for ten years of running this thing. I would like to think we've kind of got our shit together, it seems the wheels are well oiled. But we're always looking at new opportunities and right now there seem to be many new doors opening, many new ideas coming through, and I'm constantly interested in how we can develop our label and take things on to another level.
But from a personal perspective, I choose all the music, I listen to all the music, I've worked on records with all the artists. If I find someone that I think has an interesting future ahead of them, regardless of what point they already are at in their career, I'll take them under my wing and offer advice on a regular basis and hang out with these people and talk music and introduce them to other - start building families. And I think it's been working really nicely. Fortunately I've had quite a good track record of finding some really talented people and I guess that reflects on the kind of people that come and work for me.
Is it really important for you to have a personal bond with your artists? What I mean is, would you want to put out music by someone if you loved their music but didn't really care for them as an individual?
It's an interesting question I think because, it's probably much to my - I probably would have been a lot more successful had I not had that idea firmly planted in my daily routine. You know? Because I probably would have picked up and signed a number of one-off massive records that would have sold shitloads of copies. But due to the fact that I didn't have any connection whatsoever to the artist or the people around the record I decided to steer clear. So if I had been, over the last ten years, more of a kind of business, taken the record label businessman approach I probably would have been far more successful than I am now and would be sitting in a huge mansion somewhere.
But I've always opted to take the honest route, and that's one of the most important things for me, to connect with my artists. Because that's what we as an organization are about, Crosstown Rebels, that's what we're about, we're a crew, we're a family, so we will support each other. So if I introduce new people I've been working with into the family, it might take a while for people to settle in or for people to accept that these are the new guys, but after a while it's amazing to see all these guys putting their arm around the younger guys and helping them through and listening to their music and giving them music and discussing it with them and inviting them to the studio.
And so the family grows, and then I kind of get to look on at this and I feel really proud when these people go on to make it later on. I mean of course there are times when someone comes to me with a really big tune and I'm faced with a decision to make, you know, what do I want to do here, do I want to make a bit of money and sign this record and then say goodbye to that artist after it's gone. But I don't know if I'd get much satisfaction out of doing that, you know?
It makes sense; I think nowadays you need to rely on the people that you're working with because it's a bit more of a sacrifice to make that commitment to do this.
I mean I've had a number of opportunities over the years to kind of take the selfish route. I've had a number of opportunities where someone has said "why don't you come and do this with us, your future's going to be totally set up" and I don't know, I've kind of been a little bit reluctant to do that, because I have so much fun hanging out with this crew, these people, and bouncing ideas constantly off these other guys and having these guys around us. I think that no man is an island and I wouldn't want to be one. So teamwork and having a creative team of people around you is essential to this business.
I mean you've definitely been responsible for helping bring a lot of guys to the forefront, like Maceo Plex and Jamie Jones, Art Department, not that these guys weren't successful on their own, but you definitely helped them get to another level. Do you think it's because the music that they release or that the label releases, is easy for people to catch on to, or is it because the label is so well known and has such a good reputation that people will just grasp on to what you guys put out.
I think it's a little bit of both. I mean there are still times when I'll release a track on Crosstown from a relatively unknown artist and it doesn't sell so well, so I don't know if that actually does hold true to the second part of what you just said. Because otherwise you'd imagine that every time we release a record it would sell about the same amount of copies, but that isn't always the case. I think that, like what I was saying about from my position, from running a label, it works the same way if you're an artist. Like no artist could operate entirely on their own. And I think people come to me because they see I'm passionate about what I do, and I put 220% into everything I do, so... did I answer the question?
Yeah. It's kind of interesting if you look at Maceo Plex, because I don't think he really intended that alias to become this big thing, but it certainly took off, and definitely through the album you put out and the remixes he did for you guys...how did that whole project come together for you?
Well actually, I think you're absolutely right, I think I kind of helped to push him to go down this route, but bizarrely it turned out that he was such an incredible producer, a talented artist that he made an album of such great quality along this new direction that we kind of just started and tried to formulate. And he went from a certain position where things were kind of ticking along OK to having this new sound that everybody responded to in such a dramatic way. And as a consequence to that, every five minutes he gets a phone call of a remix offer or a remix request, and he then turns up to DJ at events and people want to hear the Maceo Plex sound, but yet he's still Maetrik. I mean I'm sure he's very happy with the work that we actually did, but I think he's found it more difficult as an artist because he did actually change his sound to work with me. I think as a whole he did a very good job, so I'd like him to continue that but we'll see.
Have there been any misses or big flops where you said "Jesus, why did I waste my time with this?"
I think in over ten years of running this label there's certainly been a couple of tunes I probably should have signed that I never got to or just didn't have the time to do it. Well no, no, I don't regret any signing, you know. I think there's been a number of records in the past ten years, probably more towards the beginning as opposed to more recently, there definitely were a couple of records that maybe stick out a little bit from the rest of our output. But the thing is, with Crosstown, I don't think we have a sound, you know, we don't have a particular, I mean... people will often say, "Oh, you can play a record and know immediately it's Crosstown Rebels." I don't know whether that's always true. I'm always trying to be three steps ahead of other people and I'm always, like, trying to look into the future a little bit and re-imagine how things could be later on. And if I come across an artist who is doing something that is, for me, mind-blowing, that I love, and I think maybe he's not quite ready for this minute, so I might have to sit and hold onto it for a little while. It's a very personal thing, this record label. Like I said, I don't always pander to the needs of anyone, really, I just kind of do what I feel is creative and feels right and interesting. I like to experiment with it, and sometimes it doesn't always go according to plan, but I guess if it did I'd be an absolute genius and I don't think I am.
What do you think you're the best at doing, DJing or being a label guy or producing?
For me I made the perfect album I could have made in 2009, because it was a very important moment for me because I really felt the need to express myself musically. But I went in such a weird number of different tangents on the album. But for me it stands very true to what I wanted to do. I wanted to throw in many, many inspirations and influences into that record, and I think I achieved that. I'm just starting now to think about making my next project, which I'm hoping to start early next year. I'm going to attack it from a different angle this time. I'm still learning as a producer, and unfortunately I haven't had that much time to do it recently, so I kind of feel like that part of it I'm still working on.
From a label perspective, I think I'm flawed in a number of ways, but I'm certainly not afraid to admit that to other people. And I think there are some elements I don't like that I try not to get too involved in. But from the actual A&Ring and decision-making and what records to release etc., I think I'm pretty damn good at that. But if I'm honest, I think my number one thing right now is the DJing. I think that after all these years of knowing, I wanted to be a DJ from the age of twelve to now, I really feel that I am really good at it. So, I don't know, sometimes I find myself trancing out on my own DJ sets. I still find myself doing it, and I'm very, very in tune with what I'm doing as a DJ at the moment, and I'm enjoying it very much.
I think a lot of people are enjoying what you're doing as a DJ. When you're DJing, where's your inspiration coming from, I'm always curious to hear this from DJs. You know was there a club, or was there a time, or some time period in your life that really kind of informed your understanding of how this music should be put together?
I think I'm kind of, you know, with every set, and in front of every audience in every environment, I'm constantly evolving and slightly mutating my music. I think I've got my style together, you know, technically, I'm really quite happy with the way I'm putting my music together and telling this story. But musically it's always evolving, so I'm trying to re-imagine clubs as opposed to hark back at how they used to be. But I draw a lot of inspiration from very strange places. I love anything that's a little bit left of center, anything that's a little bit odd, strange, bizarre. I like to throw some odd twists and turns into what I do and I like there to be the element of surprise sometimes. Not a massive surprise, not like I'm going to go from one thing and then completely turn it upside down and go into another, but I don't play the slightly monotonous techno, or driving techno, because I don't - for me it's very difficult to really tell an interesting story within that closed-shop format.
I'm constantly listening around for other styles of music. I listen to everything, you know - I'll listen to live bands, I'll listen to classical music. I make this Lazpod radio show where I get to show my influences quite clearly to people in the hope that they would kind of then get to realize a little bit more about who I am and what I do as a DJ. But there are certain clubs in the world that when I step in there to play, it feels like home and I guess I learned a lot from playing at those places, because it's at those places where I get to be able to experiment a lot more, and then from those experiments I take from that information that I've created there and see how far I can take that elsewhere. Places like DC10, Panorama Bar in Berlin, these are places where I can step in with any frame of mind and feel totally at home and be able to achieve what I came in there to do, which is just be me and do something different, but that thing that's different is coming from Damian Lazarus, you know?
So did you have that kind of, the acid house, '89, raves in the UK, did you have that kind of experience, was that something that was important to you?
Yeah I had that experience, I missed out on the very beginnings of it and I didn't come to it until like '91 or '92, but I wasn't part of the "circle" as it were. My young friends when I was growing up were not really into the same music as me, so I liked to go out and do everything on my own. And I did, you know, because I was feeling quite motivated to push myself to go out and experience this thing on my own, so that's what I did. But it meant that it took me a bit longer, because I didn't really have people to talk about it with or to discuss it with, and it was kind of like anyone I wanted to meet, I had to go up to a stranger in the club and introduce myself, as a very young lad. Like, "Hello, this is good! How can I find out more about this?" So I had a bit of a loner's introduction to it, but once I got a taste for it I was out all the time. I went to college to study law, and I only lasted a year because I was going to clubs in London like four, five nights a week, so I'd be getting in at five in the morning and I'd have to get up three hours later for lecture, which obviously was not going to happen.
It's been ten years of Crosstown Rebels, and I know you take a lot of pride in having fresh sounds and new sounds, so does it ever feel strange to hang a number, like ten years, on what you're doing?
Yeah, it totally does, and here's the thing: it wasn't until March of last year that I actually realized it was ten years of Crosstown Rebels. In fact no, it was later, I think it probably wasn't until the summer that I realized it was ten years, when Leon Oakey my label manager actually pointed it out to me. And I was like Leon, "fuck off," and he was like, "no, look." I think we even went to Discogs, we actually checked Discogs to look at the release date and it was staring me in the face. And I was like, "I don't think I want to celebrate it." And he was like, "what are you talking about?" You know, it feels like when you do something like that you're kind of putting closure on something. And he goes, "you know how many record labels have been trying to do what we've been doing for the last ten years, and do you appreciate how important this is for you, you know this is for you, you can respect the fact that you've actually pulled this off." And I said, "well I don't really want to make a big song and dance about it," but I guess in the end we decided, well one thing we didn't do is we didn't do a cheesy ten year compilation album, because I didn't really want to give it that look.
Any predictions what kind of music or sounds will be taking hold? I mean you always seem to be a little ahead of the curve with this kind of thing.
I can't predict anything right now, but I can only say that things have been getting so much better for so long, but house music essentially is very cyclical, it goes through a number of cycles. It could be really fucking great for about four or five years, and then for a couple of years everyone gets bored of it, and then it will go underground again and then people go back to the drawing board and they start experimenting again, they come up with things like dubstep, or they come up with whatever the new thing is. But essentially it always comes back to house music, and I think that's my job, keeping a focused level head on what music is worth playing to people without making it too commercial and making people feel that we're going to use this opportunity we have right now to get money out of them, because that's not what this is about, it's about the continuation of pushing your best possible artists and music to the masses.
Well we salute you for your dedication. Thank you.
-----
Damian Lazarus debuts at Marquee New York on Friday, July 5th.
For more on Damian Lazarus and Crosstown Rebels - http://www.crosstownrebels.com
For more on Marquee NY - http://www.marqueey.com
For more on Sleepy & Boo - http://www.basicnyc.com