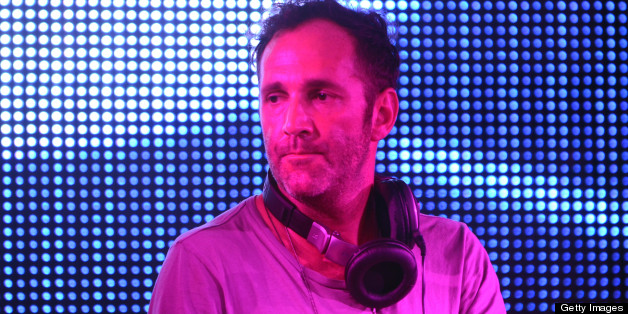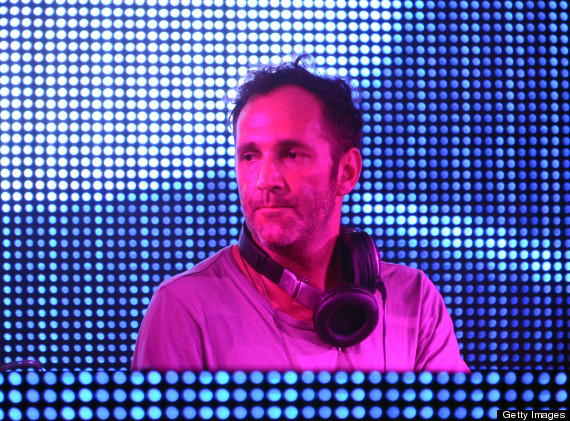 It's appropriate that Steve Lawler's record label is named VIVa MUSiC, because to him, music is life. It's his life, it's his family, it's, as he calls it, his "baby."
The Birmingham native is one of England's most accomplished veterans in the house and techno world, a globe-trotting DJ who is on the road nearly every weekend of the year. From a distance, his career might have all the trappings of DJ superstardom - summers in Ibiza, regular appearances at the world's top clubs and festivals, a lengthy discography of glossy mix CDs.
But listen to his music, and it's clear what sets Lawler apart from the high-energy, confetti-and-laser sounds that have become the hallmarks of the current "EDM" craze in the US: his music proceeds down a darker, deeper road, eschewing the obvious for the intricate. He is a master at steadily building a heady groove, creating a space where dancers can get lost within layers of percussion, body-shaking basslines, and hypnotic, abstract effects. With his sets, he strives to recall the primal roots of the music - the dark, illicit, strobe-lit warehouse parties of his youth where a diverse demographic of clubbers would unite as one under the disco ball.
On Friday, May 3rd, Steve Lawler will debut at Marquee New York, headlining the newly-relaunched club's Friday night series of underground DJs. Since the club re-opened in January, Marquee has featured some of the world's most acclaimed purveyors of these sounds, whose music - from deep house to techno - is the perfect match with the club's Funktion One sound system, and brilliant light and LED displays. Marquee is not a clubbing brand typically associated with underground music, but our Friday events have shown that these sounds are as welcome at the club as any others. DJs as diverse as Dubfire, Lee Burridge, Nic Fanciulli, Claude VonStroke, Hernan Cattaneo, Green Velvet and Steve Bug (among others) have all rocked the Marquee New York DJ booth over the last few months, bringing together new fans, music aficionados, and New York nightlife enthusiasts alike on the dancefloor.
We are Sleepy & Boo, resident DJs on Marquee Fridays, and the musical curators of the night. We conducted this artist-to-artist interview with Steve, the first installment of an ongoing series featuring direct conversations with some of our Marquee guest DJs. It's a chance for the artists to go in-depth and discuss their approach to music and their craft, their perspectives on the current state of the business, or whatever's on their mind as they prepare to come and play at the club. We thought Steve Lawler would be the perfect candidate to begin with, as he's not only a friend of ours who we have worked with before, but he's an industry veteran who has managed to stay at the top of his game throughout multiple cycles of house music's evolution. He's outspoken and doesn't mince words, and he's a self-described perfectionist who stays very hands on in all aspects of his operations.
As electronic music continues to cement its permanence in the United States, the next step in that process is for the less-obvious artists and sounds to become discovered and recognized. Steve Lawler - much like the rest of our Marquee Friday DJs - might be considered "underground", but he is an internationally beloved artist, with a loyal and devoted fanbase, who has been making and producing his own music for over 15 years. While it's unlikely that deep house, or techno, or tech-house - or any of the more "underground" minded sounds - will ever be embraced with the same kind of fervor as the more commercial and pop-minded DJs and tracks, it's certain that some of the new arrivals to electronic music will undoubtedly find an affinity for these deeper grooves as their connection for the music and culture matures.
Set to embark on his first extended tour since he and his wife welcomed their first child, their newborn daughter Avaida, Steve spoke about the challenges of being a new dad, while still juggling the many responsibilities and time commitments that come with being a DJ / label boss in this era.
Congratulations on the birth of your daughter. How's it going so far?
It's the most amazing experience anyone could ever have - and to all the fathers and mothers out there, they know exactly what I'm talking about. It's a complete, I mean, it is what everyone says it is , but until you feel it, you know, it's incredible. The love that you feel is just out of this world. It's just something that I would never, you can't measure - you cannot measure it. So you know, I've been totally blown away, and I'm totally in love with my daughter, and its the best thing that's ever happened to me - its made me feel complete.
On the flip side, having a newborn baby in the house, while I'm trying to finish my new single, and still hold down some touring dates - I've definitely pulled some dates back to make it more feasible. I'm kind of playing the role of daddy / DJ / producer / company CEO / brand manager, and it's testing. The sleep, with a newborn baby, you don't sleep right the way through which it can make it a little difficult. It is more than worth it though, It's the most amazing time of my life really, but it's not easy.
Well we're really happy for you guys.
Thank you.
You've had some weekend trips already.
I've had two weekend trips. But only one gig, not a whole weekend. To be honest with you, I pulled back a lot of dates in April because I wanted to be home as much as I could. She's now three weeks old, in those three weeks I've done two gigs, which was this weekend and the last weekend. I kind of pulled it back. In May, I have the tour over in the US as you know, and other dates in Ibiza and stuff. I've got to get back into work. and I do enjoy performing, so its kind of - it's my other baby, so to speak.
Did you miss being in Miami this year?
Yeah I did, I did miss it - but my mind was elsewhere, and the reason why was because there were some complications with my wife's pregnancy, and I wasn't going nowhere until I knew my wife was safe, and the baby was safe. So it meant that in March I had to cancel quite a few gigs leading up to the birth of my daughter, because, you know family comes first. I really appreciate the fact that most of my fans understood this and appreciated that I had other things to attend to. But I did miss it, I did miss conference, and I think it missed me!
We definitely missed you! It's not the same...it's not the same without Lawler lurking around
There was no trouble in Miami this year then, right? *laughs*
I mean, you're pretty much on the road every weekend of the year, right?
Yeah pretty much.
Is it something you ever get tired of doing?
I don't know whether it's force of habit, or if it was just meant to be, but the life of performing and producing for me, is, I don't know, it's as normal in my life as, you know, getting up and having breakfast I suppose. And when it's not there, my life starts to feel abnormal. When I don't tour - for example, at the start of every year, I do force myself to take a month off gigs. And I always do that, purposely. For one, to give myself some breathing space, and give myself a break. But also because I believe it's good to miss something now and again. You know, absence can make the heart grow fonder. So it's important for me - at least a couple of times a year, to take myself away from it all. And it just drives me harder when I come back to it. I don't know if it's a blessing or a curse sometimes. But I can't live without music being a big part of my life.
I am going to force myself to take some weekends off - because I have a new love in my life now. Before my whole life was really about music, of course my wife whom I love, but music was really my baby. And now I have another. Your heart is elsewhere sometimes. But I know I wont be able to live without either of them. I need to make space for both of them.
What's it like when you're not touring? Do you get restless? Do you like the routine of the traveling?
No, I don't like the routine of traveling. The only thing that gets me through traveling, and this is God's honest truth, as corny as it sounds. When I'm sitting on an airplane, let's say on my long haul flights to the States for a tour - this flight is easy,because you have a bed, you lie down, you go to sleep. The long haul flights are easiest. The short flights - like last week, I had to fly to Russia. I had to fly to Rostov, and I had to take a three and a half hour flight to Moscow, I was in Moscow Airport for three hours, and then another three hour flight. The only thing that drives me to get on these planes, and sit there, is the thought in my mind of the gig. I usually spend a lot of my time on airplanes, going through my music, preparing - sometimes doing edits and shortening tracks, or lengthening tracks. Just playing through my music because the more you know your music, the better you can and the more confidently you can perform it. So I'm preparing when I'm on these flights, all these wasted hours, I'm preparing for my gigs - and all I have in my mind is the gig.
And sometimes - and being honest, sometimes you take these really long journeys. Sometimes you travel 12 hours to get to a gig to play for two hours, and then have to travel 12 hours to go back or to the next place. When you do this, it's so important to me that the gig is good. because if the gig is not good, it doesn't matter how much money I'm earning, the travel is not worth it. That's just how it feels. And some people might think me saying that is almost like saying, you know, you don't know how good you've got it, or it's a little bit, whatever , but it's true. The important thing for me, what drives me, to be able to travel the way I do, is because I love to perform, and I love to get a reaction back from the crowd, and I love to feel the music where it was destined to be felt. House music was not really made for the kitchen, it wasn't made for the car. It was made for a warehouse, for a club, for a room with a fat sound system and the lights flashing. And I've always thought this way about music, and it's important that I get my feed - that's how I get fed. That's how I listen to promos next week and get excited by them. Because I imagine them in the club. That's what drives me. So If I go travel miles - and have a shit gig - I pretty much feel depressed about this. I might have earned some good money this week, and I have a good life because of it, but it's not what drives me. I'm sure you can understand that being a DJ yourself, and loving music the way you do, I'm sure that you would probably understand that more than someone that possibly works in a factory and thinks, you know, "Fuck you Lawler, you earn great money, for what you do, you can get on that 12 hour flight." You understand what I mean?
I totally get it, and we always talk about - you know, we travel. But we don't have the grind. we don't have the gig followed by the late night to the airport to the next gig and so on. I know exactly how important a good gig is and what it feels like, and to not have that happen, to go through that experience, it sucks all your energy out - it sucks your enthusiasm.
Yeah it does. you know one of the things that my wife, and my brother, and people that are close to me, that have had to - and this is why I said earlier, I don't know if it's a blessing or a curse, but I'll give you an example. If I've had a great gig, then I'm buzzing all week. and I'm the better person to be around. Because I give off good energy, and I give off excitement, and everything's positive. If I have a weekend and it's a shit gig, you know, it effects me. And I'm down during the week. and I wish it didn't affect me that way. I mean honest to God I wish it didn't effect me that way, because it's kind of ruled the patterns of my life.
When people say you're a DJ, it's not just a job - and it isn't for me. Because it does rule the patterns of my life, my moods depend on my music. I mean, fuck knows why it is that way for me, I don't know if it's the same for other people, I expect it is, but I don't know.
I feel like it is, because its such an up and down life. God bless everyone's that made a success out of it, because its a challenge. But I don't think that even the people, maybe for some of the people who are making tons of money and have just kind of come into it, that's what their motivation is. But I feel like for people who understand it more and it means something to them - they don't really have a choice.
Yeah absolutely. I never had a choice. I really feel like that. I really feel like, again, it sounds cheesy, but I think music found me as much as I found it. It kind of was something very early on, before I really understood what DJing was, and before I really understood what kind of career it could have for me. It gave me so much personally, that the rest kind of wasn't important. If I could get that much enjoyment out of something, then that's what I was going to do. And because I felt that way, it has kind of, you know, shaped my life. Because let's face it, it's not a job, it's a way of life. What we do is a way of life. I devote every hour outside of my time with my family on music. I'm either in the studio or I'm in the label office, or I'm talking with the artists, or developing new projects, or going through video projects, getting with the team - it's all about music. It's your life. It's not a 9-5 job. It's certainly not a two day a week job on weekends, which most people think DJs probably work. I work seven days a week. And luckily, because I enjoy it, and my life is surrounded with things that I like to be surrounded with, that it didn't feel that bad. But it's all I do.
What was it that really formed your experience and your outlook. Is there a time - or is there a club, or is there a DJ - that you still look back to as really cementing your understanding of this music and the culture?
I guess the first thing that really blew me away - and you wont be surprised to hear this - and I talk about this a lot. I don't know if it's fully understood. It wasn't a DJ. And it wasn't even so much just the music
that got me hooked to this: It was the atmosphere. I remember going to raves back in 1990, and what blew me away was how different it was to normal mainstream commercial pop music clubs, discos. we would go to these raves, or these illegal parties, or these illegal warehouse parties, and the music was different, the lighting was different, the atmosphere in the room was different - which was primarily down to drugs, lets be completely honest. Let's not shy away from the truths, and what I mean by that is, in the discotheque, you had people getting drunk. They wouldn't go on the dancefloor until somebody else did, so you used to find everyone standing around the dancefloor, there would be fights, there would be tension, guys only went there to pull chicks. When I went to this illegal warehouse party, I saw people together - blacks, whites, gays, straights, office people, construction workers, I mean it was everybody, everything and everybody felt like it was one. And what made that feeling was the fact that most people in these rooms would be on Ecstasy. And what that brought was a real togetherness, a real safety, a real closeness. And just the vibe of all this excitement, the energy, all these people giving off - mixed with the music and the lights - I mean this was what I walked in and saw, and was like, this just feels like the most beautiful and harmonic thing. Because you have all these people together that wouldn't normally mix, that are mixing, and are so happy doing it. And I think it was the real friendliness, and the genuine - it doesn't matter if it's a drug that does this. A drug is something that mixes a chemical in the brain and makes everybody act this way. To see people acting this way, whether it was through drugs or not, is a beautiful thing to see. And that's what first got me hooked - it was the atmosphere of what this scene was. And it's that very reason why this scene has gotten to where it is today. It's not just been because of the music. It's been because people go there and have the same experience that I did. And they're blown away by the whole aspect and everything. And I've always carried that through my career, it's a really important thing to me, the vibe in the room. You know that, you've worked with me many times. That is really important, and that's the reason why.
And as I kind of got more into buying the music, and started to understand what a DJ does, I think the first DJ for me that really I followed, was Sasha in the early days. I'm talking about 1991 at Shelley's at Stoke-on-Trent in the UK, I'm talking about 1992 Renaissance at Mansfield in the UK. And what Sasha did - DJs like Graeme Park, CJ Mackintosh and Frankie Knuckles were playing a great selection of music. Sasha was the first DJ that I noticed that tried to push the boundaries of mixing, the first one that I noticed anyway. And I certainly think he was, actually. Techno DJs mixed in a different way, but as a DJ he would start to layer songs over one another for three, four minutes. And just the way that he was scratching at that time, which was predominantly a hip-hop DJ thing. And he was doing all these elements and really pushing what you could do with two turntables. I remember Sasha playing two records, two identical records on separate decks, one just half a beat behind the other. So he could do this double beat thing, before the technology was created with Pioneer. You know, Sasha was doing that, and that kind of really made me realize there was a real art to DJing. So hands down, I owe my technical ability - really, really early on - to Sasha.
And then another DJ who blew me away was Danny Tenaglia. And the reason why he blew me away was because of how he programmed music. Now Sasha was by far for me a better mixer than Tenaglia, and Tenaglia was by far for me a better DJ as far as programming is concerned. I think Tenaglia was the master of programming and really understood how to make records work with one another and how to structure a set. And the reason why he did that was because the guy was playing 12 hour sets every Saturday night. He learned his craft through not rushing it too quickly, and doing this, and being able to take the music up and down, but doing it seamlessly. So you never really felt like you were jolted out of a vibe or a groove.
I think I learned a lot from these two DJs, and I think that I've always showed the techniques of both of them. Because I learned it from them. Or at least, I listened to them closely and appreciated what they did. And I think I''ma reproduction of both of those to be honest with you. Sasha obviously kind of went further through his career, turned into really predominantly a progressive house DJ - that wasn't what he was when he started. And I think i've always kind of had the roots of my own musically, but with those two styles I've kind of adapted a little bit from both - not musically, stylistically - if that makes sense.
I feel like time is something that's hard to come by these days for DJs. There doesn't seem to be too many clubs these days where there's time for anything. New York Clubs used to have DJs like Danny Tenaglia and Junior Vasquez play these long extended sets, and that's important because that's where a lot of people's understanding of what being a DJ came from. And without that experience around the world, where are people going to understand this from?
I mean look, this is the world we live in. Everything turns over a lot quicker now. We live in a digital age where Internet is king, everything's gotta be quick quick quick. And I think thats fed through to everything in the way that we live our lives. And a lot of the new music that we hear, and the new younger generation that are coming through - it's so important for their careers to happen quicker. And I think that's because it's the breed of how things are now. I was brought up in a culture where, like you said, there was more time, and things were more organic, less forced. Certainly less about the business. because the electronic world we live in, is now a part of the music business. Acid house and house music, 20 years ago, was not part of the music business. It was a scene. It was just that - it was a scene. It was just a scene of likeminded people that wanted something a little different and that's how it started. Now we're a part of the music business, so it's a different - it's a different world. But, that being said, I think the way that I've adapted my career - because you have to adapt, you have to - I don't know, embrace the future. And what I've tried to do is, I've tried to keep my integrity intact. I've tried to keep my ideas and my notions of what I think makes a good night and what I think is a good arrangement of music, and what I think is an experience. I've tried to keep that and adapt it to the present world that we live in, and the way that I tour, and the way that I produce.
I mean honestly, a lot of these new producers that are out there, the young generation that are coming through, are making a record in a day. Fuck man, it still takes me two weeks or more even to make a single record. And the new generation probably look at that and think, "What an idiot!" It's just I'm used to approaching music in the studio the way that I always have. And I'm trying to keep that and adapt that within the world we live in. And I think it meets somewhere nicely in the middle.
You are someone who's been able to stay relevant, and someone that everybody is still interested in and wants to see. You've had kind of a longer career now. You could say that you're a veteran, but you're not, like, an older act, you know what I mean?
I do know what you mean. I'm conscious of that. I'm conscious of the fact that I've been around a long time. and I don't want to survive off that. I don't want to live off the fact that I am Steve Lawler and I've been doing this for 20 odd years. I still believe I have to prove myself. I still believe that there's more from me. I'm glad that you said that, I really am, because it is the way that I view myself. It's difficult to view yourself because obviously you look at yourself different. But that's what I mean, I try to keep my experience and knowledge of what I do, but adapt it in a new way. So what I do is not old, because I'm excited by new. You know the amazing thing is - most of my gigs are busy and I'm blessed that way, and I'm glad. Because that's why I'm still doing it honestly. If my gigs changed, and I had a run of bad gigs for six months. I would retire. I would retire because I wouldn't be able to handle how much it would affect me. And I'm blessed that I still have great gigs. And when I play somewhere, it amazes me when I look out and I see a real young audience of people in their late teens, early 20s - and an older audience. and I think that's the best reward for me, because it's important that I appeal to new people coming into the scene. Because I want to, and they're important to me. As much as people that have been listening to me for 10 years, they're important to me as well. Honestly the appreciation that I have for my audience is really up there, more than they know honestly. It's more than they know. Because without them, I wouldn't be doing this - because I would have no desire to do it without the love that I get back from people, the fact that clubs are busy to hear me perform, the fact that I can push myself to make new music, the fact that I can push myself to go through all this new music, and to bring the best that I think I can bring. I wouldn't do that if I didn't have the love back, I would have no drive to do it.
But you're able to do that and you're able to keep attracting new people without jumping all over the place musically, which is equally as remarkable. You have a sound as a DJ, whether the sounds of the music is different that you're playing over the years, you're able to present something that people know, and they know that it's "Lawler." There's a consistency there. but at the same time, it doesn't get stale. And that's pretty impressive as well, because a lot of DJs get stuck, or they don't want to adapt, or they feel like they have to chase all over the place to play certain sounds.
The way that I've seen that is, music changes over the years, equally because the equipment that you make music on changes over the years. And you get new ideas, and as you go through life you get new inspirations and you hear new things. But I always try - I have a taste, and my taste is not just music. It's taste in the way that music can be played. And you can take the same record, and the same record can be played by Luciano, the Martinez Brothers, me, or Carl Cox. But how you play it? That same record can come over to the audience very differently. And that's really down to the DJ to - thats a real DJ you know. As far as I'm concerned, you're not just playing one track next to the other, you're making it your own with your style, the way that you're playing it, and maybe what you play it with, what track you play it next to. You can deliver a track, and it'll sound different in the mix. and I think that's what has perhaps kept the familiarity. But like you say, always bringing in something new. But it's also my taste - if you look back over the years, no matter what sort of music its leaned more towards, there's always an underlying theme for my music. and that is, my music has always been about a groove. Regardless to whether people want to call it tribal, electro, progressive, house, techno - whatever people want to call that - its always been about the groove for me. Right from 1989, when I was first buying music.
The one thing that I've always done, is I've always stayed true to myself. You know, there was a point in my career, and I'll put my hands up and admit this, there was a point in my career where I did drift off musically, and perhaps got a little lost in it all, and cared more about the things - well, I cared more about money and chicks. And it probably happened for about a year. And as a result, my music went shit, because I wasn't putting the time and the effort and the thought behind it. But it didn't last too long because it didn't make me very happy. So I'll be the first to admit that, and you can't turn off from this. And I'm not going to say any names, but I know a lot of DJs that switched off and stopped putting the effort in and you can tell. You can tell when a DJ doesn't put the effort in I believe, and the effort is all those hours during the week listening to 100s of records, in the studio playing around with stuff constantly. That's the preparation, that's the time that you put in that keeps you switched on, and being true to yourself within that work or that research, whatever you want to call it. You've got to stay on your game. It never stops. I work harder now than I've ever worked in my life. And you think after getting to a certain point in your career it would get easier. Let me tell you, that doesn't happen that way. I work harder now than I ever worked
Is it easier to be a DJ nowadays at this level, then say 10 years ago, before all these - distractions?
It isn't. It isn't. You know, there's more talent out there now, and really good talent, and there's more promoters, there's more clubs. There's more everything. It's an abundant world we live in. The world has gone a little crazy, everybody's in a rush, everybody's now now now, more more more. And you have to pick your - you have to choose your priorities. Whereas before you only had one priority, and then you had another priority that came after that priority, and then another one. Now you gotta choose which one because there's 10 in front of you. That's the difference. and I'm not ready to let go yet. And sometimes it drives me insane because I don't want anything that I do to be diluted or to weaken. But there's more to do, and therefore the only thing that suffers is my levels of anxiety. Or the time I get to spend with my family. Because I can't let go - I cannot deliver something unless I believe. Something my father has ingrained into me is, "Don't do something if you're not going to do it properly." And I think I was taught that at the age of four. And it's kind of ingrained into me. And that's the way I approach things, and that's why, sometimes over the years, I will say, I've been known to fall out with clubs or promoters. And the reason why that happens is because I give this my fucking all, and if somebody doesn't, and I go there, and the party suffers because of it, or the people that pay their tickets - I want them to see the best that I can give. And if someone doesn't - I don't like working for promoters that don't do what they say they're going to do or don't do things properly. I've always lived by this credo, if you're not going to do it properly, don't do it at all. And I've been known to fall out with people, and it's not because I'm being moody, or because I want to be problematic. It's because I just want things to be done the best they can be done, for everybody to enjoy it, the way it should be enjoyed.
You are someone who is able to say what he thinks. That's something we've seen over the years. Do you feel like its a political world being a DJ, and it's something that you have to be mindful of? Or is that something you don't really care about.
Honestly, there was a time in my career when I really cared what people thought of me. And really cared about what you should say and shouldn't say. But I've always been brought up to be honest, and to speak your mind about something. and if someone speaks their mind to me, and its done in a nice, and non-aggressive way then it's a discussion to be had and I appreciate that. But i've just always - there was a time when I didn't say what I thought. and it bothered me more to not say it, then it did to say it, and someone thinks something wrong of me. The thing is, when you stick your neck out in this world, then sometimes you get head your kicked. And that's a reality. But sometimes when you stick your head out, you feel proud of what you've done, or what you've said, or what you achieved, or something that you believe in. And I guess it's pride. I stick by what I believe in. And I know that deep down I'm a very good person, good to a lot of close people around me. And as I've gotten older as well, and I've lived the life that I've lived, I believe the world should be positive. And this is the life we live. But I do say what I think and I only say it for the better, for the good of something. I often get caught up in situations, of things that are going on around me. And I try to stick my neck out and say something to fix that, and end up getting shot down for it. That happens sometimes. This is the risk that you take when you are honest in a business that is not always honest. The music business is a ruthless business sometimes, and people like me can get hurt.
These days, o Twitter specifically, there seems to be DJs - more than ever, really - criticizing each other, and then there's this echo chamber, where a blog will write about it, and people write about it on Facebook. it's almost like there's all this drama that never had really surfaced before in the music scene. It's something that people really seem to cling to, which seems different for this kind of music, where DJs used to really keep to themselves in a way.
I see a lot of these battles going on, and I don't believe in dissing somebody. I remember one time, I made a joke - I posted a picture of a mop on my Facebook which someone had made to look like Skrillex and I thought it was funny. And it was no dig at Skrillex; I think Skrillex is a very, very talented producer and he makes some incredible music. and I've got a lot of respect for him - a lot of respect, especially where he comes from. Sticking this mop picture up was a bit of fun. You know, so many people in our scene slag off David Guetta. I would never slag off David Guetta. I don't like the music personally, but the guy has had a fruitful career, he's done some great things, he's achieved some amazing levels of - whatever you want to say about David Guetta, if his music is not your taste, then it is simply that - it's not your taste. I don't believe in shooting people down, because they believe in something different. that is just wrong.
You know I made a comment the other week, I played at Watergate in Berlin. I don't personally enjoy that club. I don't get the hype, I don't get it. Now, I'm the first to put my hand up, maybe its just when i play there the club is not good. But it wasn't great, so I said it wasn't great. Because I was telling the truth. But I also said that Berghain and Panorama Bar is one of the most amazing experiences that you can experience in this era today. There's not much around like that anymore. And, you know, I think it upset a few people. But I didn't see myself slagging anything off. It was my opinion about my experience. There's so much hype in the world right now in our scene. "Oh this guy's amazing, this guy's amazing, this venue is great, this club is great." And you go there, and for me it might not be, or for me, the artist might not be. Certain things are more hype-driven now than they ever were, and sometimes I think hype can get in the way of content. and that is not a good thing. And that needs to stop, because its not honest. And in my book if something isn't honest, then it isn't fucking good. I don't know, I don't believe in the hype train, and I think it needs to stop. And I've said those things, and I say it because it's what I believe. But it's not a personal attack at anybody. I don't think that's the way to do things.
Do you think that success is some kind of indicator of something? Or can success be manufactured these days. A lot of people in the "underground' scene specifically, there seems to be a perception that anybody who is successful must be pandering, or can't be doing something legitimate. But you just mentioned David Guetta as someone who - I don't know if it's admiration, well, it's respect - and I don't think thats something that a lot of people in the "underground" would be wiling to say.
It's not admiration. It's respect for somebody. Listen, if someone chooses something that they do, that they like, and they excel at that, then fair fucking play. And I have respect for that because its not easy to be successful. It's not easy to, you know, live the kind of schedule - the touring schedule - that David Guetta or Carl Cox or myself or Jamie Jones has to live. And I don't - its OK in America. In America, if you're successful, people applaud that. In Europe, if you're successful, people tend to go against you a little. It's kind of a dumb thing. If David Guetta likes the music he creates, whether he writes
it personally himself, or whether he sits in a room with someone who does it for him, whatever it is he does, he has achieved many things. And he will inspire new generations to come that like that kind of music. How can that be anything bad? I just don't see how you can hate on someone for doing well at something that they enjoy. It's not my cup of tea, don't get me wrong, I can't stand that kind of music, I just hate that kind of music - but that doesn't mean that I should hate on him because I don't like his taste in music. I just think that's a very negative way to be in life. You're not going to get anywhere thinking like that, you know.
Have you been paying to attention to what's going on in America with "EDM" and all the big business that's flowing into the culture?
Yeah I'm aware of it, yeah. Honestly, the problem with corporate - and I know because I've worked with sponsors over the years, and what you often find is, you know, where there is money, there's a real lack of integrity. And that is a problem. What I think the best way for this to move forward, and I believe is happening, if the big investors want to come in to the business, and this business to boom, that is OK. But they have to use - for lack of a better explanation - our people. If you take out the guy who knows - how do I explain this. If the blue chips come in and they try to do it themselves, it's going to fuck things up royally. I mean it's going to royally fuck things up. But if they come in and invest, but let the people that know what we're doing that have been working in this scene for 20 years, and that love this scene with every passion, then there's no reason why - I'll give you an example. Let's say there's a girl I know that's been working in the scene for 15 years as a PR, and she's been earning shit money but she does this because she loves it. and all of a sudden a big blue chip company comes in and plows loads of money into what they do. But as long as they use these people, then these people can still retain the integrity, but all of a sudden she can do better in life. She can put her daughter through a better school. She can now have a nicer car. She can now live in a bigger apartment. There's nothing wrong with that, as long as the money that's being invested is being invested in the right way. Because we're the people that have made this scene, the people that have been in this, and loved it, and breathed it, and eaten it , for all of our lives.
I think it's important. I don't think its bad for investments to come into this business. Because it's not a bad thing for people to do better. But the integrity has to remain. Otherwise, if you lose the artistic impression, if you lose the integrity, you can put a stop block on this business right there. I'm telling you, because if the blue chips come in and they try to run the show and they do everything, it's over. It's over. It will just turn into something completely different and it's over. And I believe that's important. I've seen it happen in other industries, so we have to retain our artistic impression here otherwise it's gone.
This is why I say it's great to have these big gigs and the festivals, but it's just as important to have these illegal warehouse parties, these basements. One cannot survive without the other. not anymore. If you take away the basements and the warehouses, the business will be over before you know it. If you take away the festivals and the big shows, then people aren't going to do as well as they deserve to.
We need to be able to have a happy medium, at least let each other flourish in their own way.
Exactly.
One of the big things that was interesting in Miami this year, and it's starting to happen in the States, is that a lot of people are saying that the big commercial music that made "EDM" popular, people are losing interest in it, and now everyone is interested in underground music.
Great! (laughs)
Do you think there's something to that?
I maybe wrong. But what I've seen with certain styles of music is, the more commercial it is, it's kind of a younger, more introductory level sort of thing. It appeals to the masses and it gets them into electronic music. And as they mature and spend more time going out to these parties. I think they start to look for something a bit more slow release, something with a bit more depth to it, a bit more patient. I think integrity starts to develop, and people want a bit more as they mature. Or as they get used to something, they start to search for something different. And I think that's what's happening in America, people are deciding actually, "Oh, I heard this the other day, and I really like it."
William Morris, the agency I work for, performed an experiment with me - one that I agreed to do. They did a festival called the Identity Festival, which was primarily a commercial festival. and they wanted to stick one guy that was playing underground music on most of these events, on this stage. I wasn't the only guy playing this music, but I was the only headliner playing it. So I was by myself on stage, with a lot of local acts, really talented guys, performing some great music. William Morris told me, Joel Zimmerman said it's your job to show these people, because when they walk towards the main stage to see Avicii, or whatever it was they were listening to, they're going to walk past your stage, and they might turn and say, oh, I actually enjoy this. And I think that did happen throughout the tour.
It kind of sucked for me to be an experiment because it worked more in some places. I would have for example 2,000 people in front of me who knew who Steve Lawler was and wanted to hear what I did. But then you'd have 9,000 people walking past me towards the main stage. And I think maybe 1,000 of them may have stopped an enjoyed what I did for half an hour, or an hour.
And I think Richie Hawtin has done something very similar with the whole Beyond EDM thing that he did with the college tour. I know that some of his gigs were, from what I heard, that some of them were a complete success, and some of them were a complete failure - well not a failure, that's a bad word, some of them were better than others. But again, that was Richie pushing our music to a bigger audience to show them, hey, you might actually like this. And I think a lot of people do. And then they have more choices, and that's a good thing. I hope that what we do does well, and succeeds. There's nothing wrong with success. I think I've made that clear in this interview. There's nothing wrong with success as long as success does not become your main priority and your goal. Your goal needs to be your art and what you believe in. And if success comes with that, then fucking great. And i've lived my life by that to be honest.
They really told you it was an experiment?
Well, it wasn't put in those words - but it was said to me, look, you're kind of on your own out there. You've got local acts to support you. And we understand that in some places - certain territories were better for me than others. But my goal, was realistically - I had my own stage, and I was put on the main stage. And the reason why I was put on the main stage was like an experiment. I was put in between dustup and Rusko, musically, what the fuck was I supposed to do to keep the same kind of energy levels as DJ Shadow, or Nero. I was in between Nero and Rusko, and I would go on playing house and techno. And house and techno is not meant to be played like that, it's not really meant to be stuck into that situation. And that was a very difficult job for me as a DJ, but one where I thought, fuck it, I'll give it a go, it's a challenge and I'll accept it. It kind of left me with mixed feelings. it was difficult but rewarding in some cases.
Tell us a little bit about what you're excited for in terms of coming back to New York, and what we can expect at Marquee.
Well I've said it a million times. I love New York. I've had a long career in New York, dating back to the days of Twilo. And I've always loved the fact that people like to go on somewhat of a journey musically with you. and the people of New York trust me. They trust me to bring the party in the way that I feel musically how I want to. And I kind of always feel that love from the New York crowd. So I really enjoy - It goes back to what I said earlier, I do this for what I want to get back from the crowd. That's why I'm really looking forward to it. And Marquee is a new venue, I've never played there before, I've seen the pictures, it looks great. and I can't wait to play a new room, but amongst a crowd that I'm very familiar with. A crowd that I know and love. And really adapt what I do into that room - and we bring the party basically. That's what this is all about essentially. It's all about letting go and enjoying, having that sort of together enjoyment over one thing, people like us.