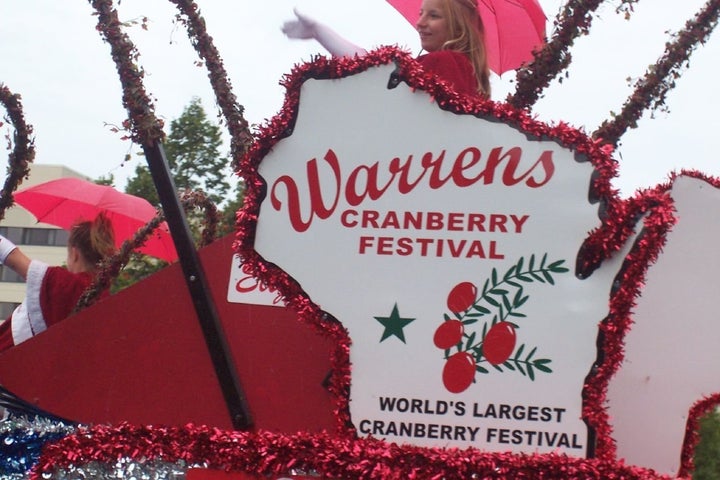 As soon as the air turns crisp, we can hardly wait to pull on a sweater and celebrate the new season at an outdoor festival. The country's biggest Oktoberfest and the 48th annual National Apple Harvest Festival were shoo-ins for this roundup of 10 fall festivals. But we also tracked down some quirkier fests worth the trip, including one where 1,500 sheep parade down a Sun Valley main street.
Here are our favorites this fall.
Warrens Cranberry Festival
When: Sept. 28 –30, 2012
Where: Warrens, Wisconsin
Every September more than 110,000 festival-goers descend on the tiny town of Warrens (pop. 400) to celebrate the cranberry harvest with marsh tours and cranberries prepared every way imaginable. The Warrens Cranberry Festival is the largest cranberry celebration in the U.S., an apt distinction for the state that is the country's top producer of the superfruit. This autumn, the festival celebrates its 40th year with a one-ton whoopie pie made with 300 pounds of locally grown cranberries. But be sure to save room for the cranberry cream puffs and chocolate-covered cranberries, too.
Don't Miss: The 1,300 booths of arts and crafts, flea-market items, and food vendors that spread across three miles, where the aroma of cinnamon roasted nuts and simmering cranberry potpourri swirl on the breeze.
When: Sep. 3–Oct. 8, 2012
Where:Killington, Vermont
It's hard to beat Vermont's Green Mountains for a scenic fall drive, especially during the five-week Killington Hay Festival when larger-than-life hay sculptures dot the countryside. Yes, the 30+ massive animal sculptures made entirely from hay are reminiscent of something you'd see on Monty Python. This year, you can cruise past a 15-foot giraffe, a 20-foot kangaroo, a wolf that weighs 4,000 pounds, and other hairy hay beasts. Stop in at the Killington Chamber of Commerce for a festival map and see the sculptures anytime until Columbus Day.
Don't Miss: The festival's other weekend events. At Killington Resort's Brewfest, you can sample more than 70 craft beers from 20 breweries. The Spartan Beast Race, an extreme obstacle course on Killington Mountain, has great parties and socials.
When: Sept. 22, 2012
Where: Shenandoah National Park, Virginia
One of the tastiest Appalachian traditions gets its day in the sun at this annual festival at Shenandoah National Park''s Skyland Resort. At the highest point on famed Skyline Drive, the Apple Butter Celebration begins at dawn, when fires are lit and the copper kettles are filled with apples for the daylong cooking affair. Take a turn at stirring as the boiling apples and spices reduce to a sweet spread, then try a sample or take home a jar fresh from the kettle. For kids, there are pony rides and crafts in a stunning mountain-ridge setting.
Don't Miss: Onstage Appalachian entertainment. See cloggers step dance to pop music, tap your toes to a contemporary bluegrass band, and hear mountain music played on banjos and hammered dulcimers.
When: Oct. 20 –21, 2012
Where: Banner Elk, North Carolina
For 35 years the fuzzy Isabella tiger moth caterpillar has been the star of the Woolly Worm Festival in North Carolina's ski country. Locals use the worm's markings to predict the severity of the coming winter. At the festival, the caterpillar that wins a series of hard-fought races up three-foot lengths of string is the official weather forecaster. Tradition says that more black stripes predict a cold and snowy winter while brown stripes indicate milder conditions. The competition is tough (around 1,000 entrants) but the owner of the woolly winner is rewarded handsomely (with a $1,000 prize). After cheering on your favorites, you can down a funnel cake, browse arts-and-crafts stalls, or enjoy live entertainment.
Don't Miss: The creative contestant names. "Patsy Climb" and "Dale Wormhardt"" were among the competitors in years past.
National Apple Harvest Festival
When: Oct. 6 –7 & 13 –14, 2012
Where: Arendtsville, PA
In a top apple-growing region just northwest of Gettysburg, the National Apple Harvest Festival pays homage to the juicy fruit with an old-fashioned, all-American celebration that's been on the calendar for more than 45 years. Get in on the apple-bobbing and pie-eating contests, see an old cider press, or watch applesauce being made from scratch. During the tractor square-dance event, drivers circle around and maneuver to the caller's commands as gracefully as couples on a dance floor. This popular festival draws more than 100,000 people to 24 acres of fairgrounds with plenty of room for live music on six stages, 300 arts-and-crafts booths, and even a petting zoo.
Don't Miss: Sampling apples in jellies, syrups, pancakes, pizza, sausage, ciders, cookies, and candied on a stick.
When: Sept. 21 –23, 2012
Where: Cincinnati, Ohio
The largest Oktoberfest celebration in the U.S., Oktoberfest Zinzinnati raises a stein to southwest Ohio's German heritage. Every fall the streets of downtown Cincinnati pack in 500,000 visitors, many decked out in lederhosen and corseted dresses, who wash down schnitzel, strudel, pretzels, and sauerkraut balls with more than 800 barrels of beer. Samuel Adams is the official sponsor, but several other breweries, including Christian Moerlein, Erdinger, Yuengling, and Hofbrauhaus, also have booths with souvenir mugs waiting to be topped up. The festival's gut-busting bratwurst-eating contest, chicken-dance tradition, and beer-stein race are perennial favorites. German music and entertainment also run nonstop on seven stages.
Don't Miss: The Running of the Wieners. In pursuit of the winning wiener title, dachshunds in hot-dog-bun costumes make a 75-foot dash toward their owners at the finish line.
When: Sept. 29 –30, 2012
Where: Estes Park, Colorado
This festival in downtown Estes Park coincides with mating season's peak, when large numbers of elk descend from the high country. During Elk Fest it's not uncommon to see several roaming herds bugling and parading their long antlers throughout city streets, parks, and golf courses. Break out your best mating call at the festival's bugling contests, where amateurs and professionals face off. You can get a quick elk tutorial at a seminar or gather around for elk-inspired Native American storytelling and music. Elk-viewing bus tours run in the afternoons.
Don't Miss: Elk-themed beer and burgers at festival booths. Try the Estes Park Brewery's Staggering Elk Lager and Samson Stout, named after the unofficial elk mascot of the village. The Stanley Hotel's Cascades restaurant serves gourmet elk burgers.
Trailing of the Sheep Festival
When: Oct. 12 –14, 2012
Where: Ketchum & Hailey, Idaho
Similar to the traditional "Almabtrieb" festivals in the Alps when cattle are driven from their summer pastures in the mountains to the valley for winter, the Trailing of the Sheep Festival celebrates herds making their return to Sun Valley. The weekend highlight is the parade with 1,500 sheep trailing down Main Street in Ketchum, Idaho. Once the historical sheep wagons and colorfully dressed folk dancers pass by, you can join the parade and walk with families herding the sheep toward their winter pastures. The three-day event also includes a folklife fair, a fiber festival, music and dancing, culinary events, and the popular sheepdog herding trials.
Don't Miss: The Lamb Dine Around and Foodie Fest. Ketchum and Hailey chefs compete for the most creative lamb dishes, and visitors can sample them throughout the festival.
When: Oct. 6 –7, 2012
Where: Santa Fe, New Mexico
For a historic fall celebration, the Harvest Festival at El Rancho de las Golondrinas is hard to beat. This early 1700s ranch-turned-living-history-museum was once a stop along the Camino Real. During the festival, you can bring in the harvest with "villagers" in period garb and see how they prepare for winter. Learn to string chile ristras, make candles, shear sheep, and spin yarn. The old agricultural village's molasses mill and cider press run all weekend, sweetening the autumn air. Listen to traditional music and watch folkloric dancing that recalls a time when this part of the U.S. was ruled by Spain and Mexico.
Don't Miss: The grape crush. Throughout the weekend, take a turn stomping grapes to make wine.
Sonoma County Harvest Fair
When: Oct. 5 –7, 2012
Where: Santa Rosa, California
It's no surprise that grapes steal the limelight at this Wine Country harvest festival, and the headliner is the World Championship Grape Stomp event. Come see more than a dozen qualifying stomps, which in years past have included brides and grooms in dresses and tuxedos. You can taste wines from 150 wineries at the Sonoma County Harvest Fair wine pavilion or meet winemakers at the grand tasting evening event. Throughout the fair, find chef demos, cooking competitions, art sales, musical performances, and a new pumpkin stage with themed activities. Sweet Lil's Farmery brings hatching chicks, barnyard animals, and a faux cow that kids can milk.
Don't Miss: The new Cheesy Beer School. Lagunitas Brewing Company gives you a quick intro course to five popular microbrews and pairs them with local cheeses.