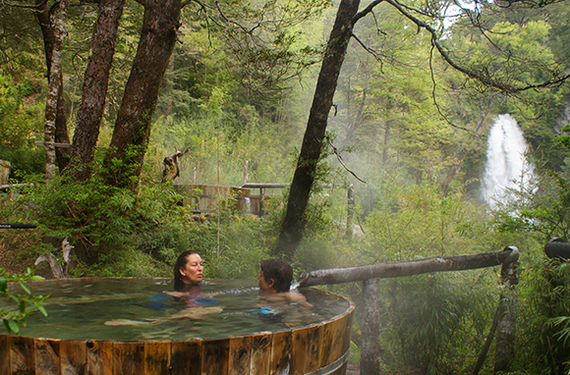 Termas del Rincon, Chile (Photo: Turismo Chile)
For an invigorating escape, one that renews your body and soul, head to a gorgeous geothermal hot spot. These destinations, where the earth's crust breaks open with bubbling mud, gushing hot springs, and steamy vapors, are gorgeous places to exhale. Soak your cares away outdoors in unforgettable settings, from the shadow of a volcano in the Pacific Rim of Fire to the fault line of the Rocky Mountains range.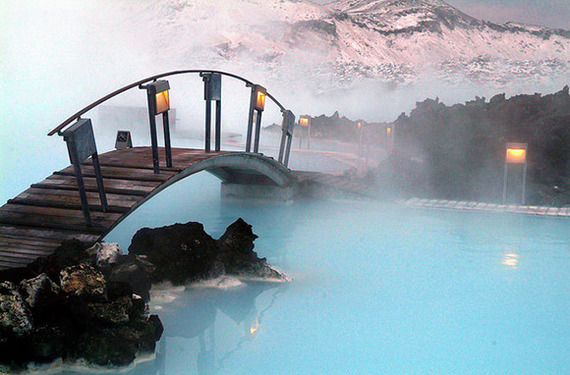 Blue Lagoon, Iceland (Photo: Greenland Travel via flickr/CC Attribution)
Iceland
In the land of fire and ice, there is so much geothermal water that homes in several towns are heated with it. Throughout the Iceland Highlands region, volcanic pockets bubble and mix with cool glacier water, creating countless little undeveloped pools no bigger than backyard hot tubs. Undeterred by a lack of facilities, bathers pull on swimsuits and dip into the pools or steamy lakes and rivers. Early morning soaks at hot springs spas are a tradition among Icelanders, who come together to discuss politics and world events before heading off to work.
Where to Soak: On your way to the Reykjavik airport, stop at the Blue Lagoon spa, where silica, algae, and minerals give the water a stunning ice-blue hue. People come to Laugarvatn Fontana Geothermal Baths to make rye bread in the boiling earth as well as unwind in the pools, natural saunas, and geothermal lake. The most popular of the undeveloped highland pools are in Landmannalaugar and Hveravellir, great places to watch the northern lights.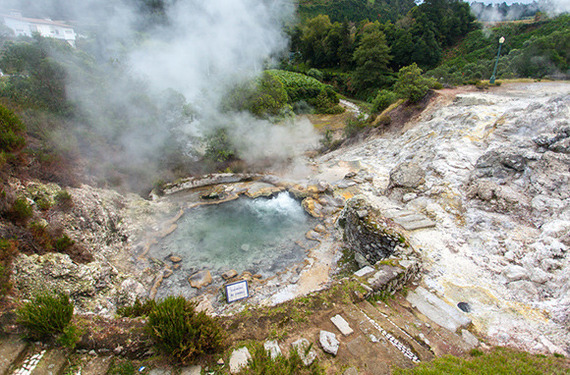 (Photo: Furnas, Sao Miguel, Portugal via Shutterstock)
Azores
About 850 miles west of continental Portugal, the Azores archipelago sits at the junction of three tectonic plates: the Eurasian, North American, and African. It's a fascinating place to see the result of the earth's crust shifting and opening up. On the island of Sao Miguel, the Valley of Furnas is known as "Zona das Aguas Quentes" (area of hot water). Here you'll find the Furnas volcano, hot springs, and geysers in the village of Furnas, the steam vents and mud pools of a crater lake, and several spas.
Where to Soak: The Poca da Dona Beija is part of a set of iron-rich hot springs connected to the volcanic phenomena of Furnas. You can sit in a natural hot spring (102°F) within a cave or in the stream that flows from it. At Terra Nostra Park, a botanic garden hems in a thermal water pool. Nearby, locals come to make a dish called codizo das furnas, a slow-cooked stew prepared by lowering a pot in a hot spring heated by volcanic steam.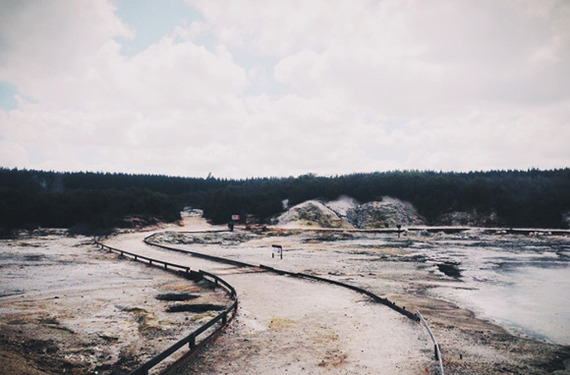 Hell's Gate (Photo: Getty Images/Christopher Wesser)
New Zealand
Clouds of steam hang in pockets over the thermal wonders of Rotorua, the most active geothermal area in New Zealand and one of the most active in the world. Since the 1800s, travelers have come to these southern reaches of the Pacific Rim of Fire to marvel at the marine volcano, bubbling orange hot pools, natural hot springs, mineral-rich mud baths, and geysers erupting almost 100 feet into the air.
Where to Soak: Rotorua's best-known geothermal site is Hell's Gate, a sacred Maori site with 50 acres of mud pools, geysers, hot springs, and the Southern Hemisphere's largest hot-water waterfall. The on-site Wai Ora Spa Resort incorporates the healing traditions and techniques of the Maori. Outside of town, sit in Kerosene Creek, where a hot spring flows through the forest, or take a water taxi to the wilderness of Lake Tarawera's Hot Water Beach. At Whakarewarewa, you'll find a Maori village and 500 hot springs. Wai-O-Tapu is also a popular thermal spot with mud baths.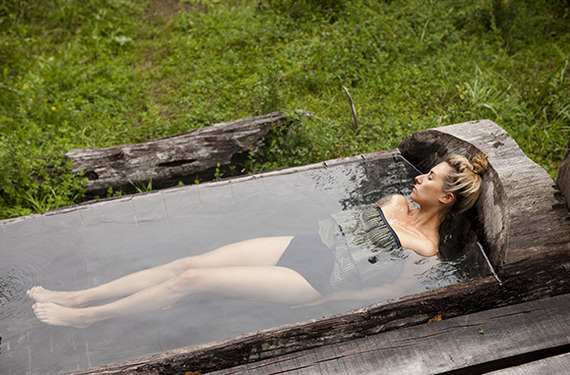 Pirihueico, Chile (Photo: Turismo Chile)
Chile
Volcanoes and geothermal features spring up nearly everywhere in this long, skinny country that hugs the edge of a tectonic plate. Hot springs abound south of Santiago in the Araucarnia Region, where there are also more than 170 volcanoes and volcanic craters. Drive the Volcano Route or the Hot Springs Route in the foothills of Araucania, and you'll pass through lush forests and curve around gorgeous lakes.
Where to Soak: Termas Geometricas, in the native forest of the Villarrica National Park, is a wooden boardwalk that follows a mountain stream where hot springs water fills 17 slate-covered pools. Bathers often gather around a communal fire pit here. There are indoor and outdoor hot springs pools at Termas de Peumayen. Termas Huife, a hotel, spa, restaurant, and coffee shop just east of Pucon, has three warm mineral-water pools.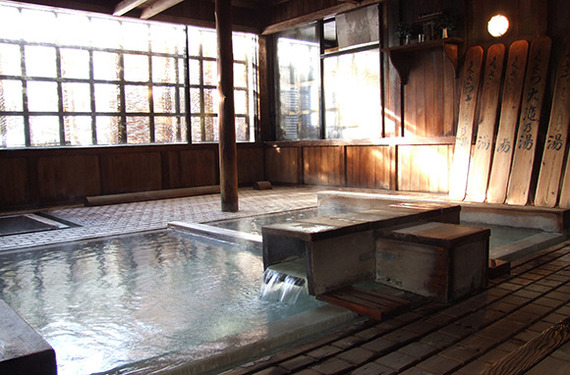 (Photo: Kusatsu Onsen Tourism Association/JNTO)
Japan
For thousands of years, the Japanese people have soaked at traditional onsen, bathhouses centered on the country's hot springs. The ritual continues today, and according to Spafinder research, a revolution is afoot to appeal to a younger, hipper demographic by transforming traditional onsen into luxurious resorts focused on wellness. At Japan's onsen, bathing naked with others is completely normal. Bathers usually wear a yukata, a cotton kimono robe, before and after the experience.
Where to Soak: There are hundreds of hot springs baths throughout the country, but the best region for enjoying onsen houses is the Japanese Alps, an active volcanic area. Here, in the spa town of Kusatsu, there are small onsen houses and several large outdoor baths, both public and those affiliated with ryokan (traditional inns). For a more luxurious and modern onsen experience, head to Hakone. On an InsideJapan tour, you can stay in a Hakone ryokan with private onsen or outdoor baths attached to the room. Atami is a less expensive and less crowded alternative to Hakone, with a Tokyo-style traditional geisha experience.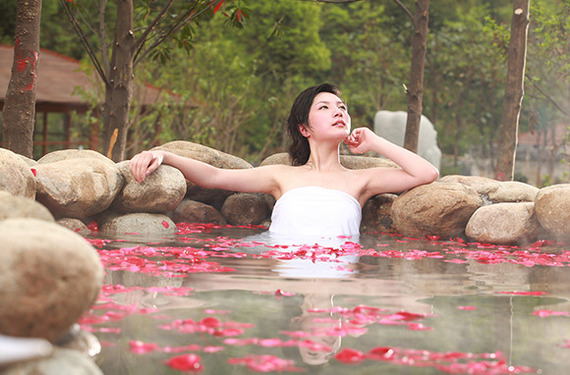 (Photo: Taiwan Tourism Bureau)
Taiwan
Formed by volcanoes that are now mostly dormant, Taiwan's landscape is dotted with hot springs. In nearly every hot spring here, you can soak outdoors. Some springs have been converted into bathhouses and health spas, some are public hot springs resorts or parks, and others, including Ba Yan Wild Springs in Yangmingshan and Wenshen Hot Spring at Taroko Gorge, remain untouched. Head to northern Taiwan, where the country's highest concentration of hot springs can be found near the Datun (Tatun) Volcano.
Where to Soak: The closest hot springs to Taipei are a short train ride away in the town of Beitou. See the source of the bubbling sulfur springs of Hell Valley, and bathe among the trees farther downstream in Millennium Hot Springs. In the Yangmingshan area, close to Tatun Volcano, you can enjoy hot springs beneath cherry blossoms in springtime and under maples in autumn. The Wulai hot springs, along the banks of the Nanshi Creek where the Atayai tribe lives and sells handicrafts, are colorless and odorless.
Arenal (Photo: Costa Rican Tourism Board)
Costa Rica
In Costa Rica's Northern Plains region, you can soak in magma-heated springs while taking in an unobstructed view of the volcano that keeps the water toasty. The constantly erupting Arenal Volcano in Arenal Volcano National Park has created a geothermal playground of hot springs, fumarole lagoons, mud pots, and steam emanations on the volcano's southern side. Find more of the same in Rincon de la Vieja National Park, a three-hour drive northwest, where a still-steaming volcano spreads across nine separate but contiguous craters.
Where to Soak: The luxurious Tabacon Grand Spa Thermal Resort near Arenal Volcano includes natural thermal mineral springs that cascade into tranquil pools and ponds. At Rincon de la Vieja, the Vandara Hot Springs and Adventure center includes a thermal springs pool and a nearby mineral-rich mud basin. In the north shadow of Rincon Volcano, in the rainforest, is the green-tinted natural hot springs at Blue River Resort & Hot Springs.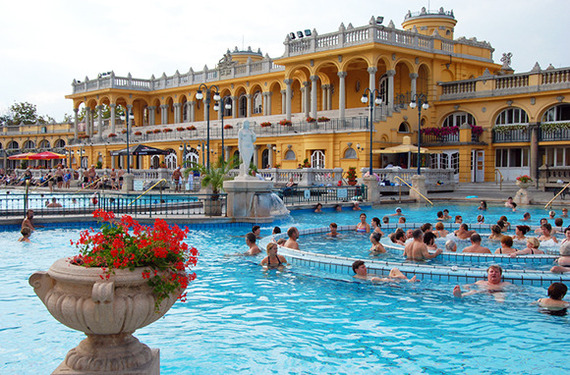 (Photo: Szechenyi Spa, Budapest, Hungary via Vacclav/Shutterstock.com)
Hungary
Thermal waters simmer beneath almost the entire country of Hungary. Here, the earth's crust is surprisingly thin, so waters easily break through the surface, making this a land of more than 1,000 hot springs and enough spa facilities to accommodate 300,000 people at the same time. Visitors come from around the world to experience Hungary's spa culture and the unique medicinal effects of the waters, said to remedy everything from skin problems to infertility. The spas employ rheumatologists, neurologists, dermatologists, cardiologists, and other specialists who work together to treat bathers' ailments.
Where to Soak: Budapest and the Heviz hot springs lake, just two hours away, are major geothermal wellness destinations fueling the country's tourism growth. Don't miss the outdoor pools in the enormous neo-baroque courtyard at Budapest's Szechenyi Bath complex, one of the largest in Europe. The famous Gellert Baths, also in Budapest, are art nouveau-style landmarks. Check out Hungarian Tourism's winter promotion for free admission to three Budapest historical baths.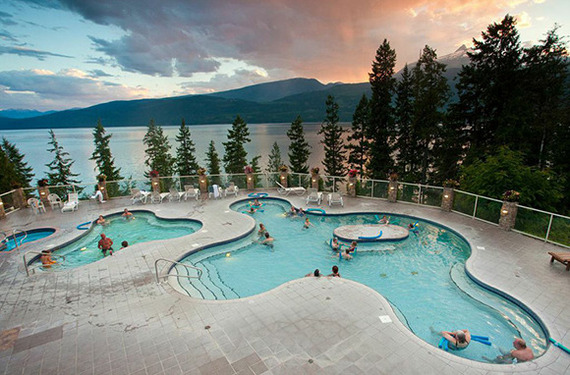 (Photo: Kootenay Rockies Tourism)
Canada
Follow the Rocky Mountains north into Canada for the country's highest concentration of accessible hot springs: a string of them along the fault line. British Columbia's mountainous Kootenay Rockies region is home to six geothermal resort towns and three wilderness hot springs, including some so remote they can be reached only by hiking, paddling, or chartering a boat or float plane. The scenic Kootenay Rockies Hot Springs Route, a 600-mile loop that starts and ends in Cranbrook, takes you to all of these great places to soak. After a day spent mountain biking, golfing, or skiing, you'll need it.
Where to Soak: Radium Hot Springs' natural mineral pool is set among the red-rock canyon walls of Kootenay National Park. Lussier Hot Springs, in Whiteswan Provincial Park, are natural pools created by bathers moving rocks. Soak in a hot springs cave lined with stalagmites and stalactites at Ainsworth. For a luxury resort experience, combine golf or skiing with hot springs at Fairmont Hot Springs.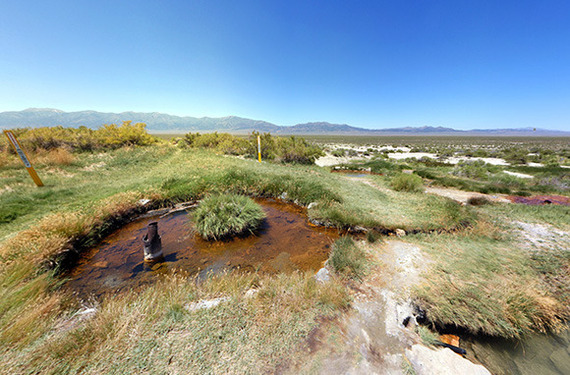 Spencer Hot Springs (Photo: AllAboutNevada.com)
United States
The under-the-radar hot springs of California's Eastern Sierra are delightfully rustic departures from the more commercialized historical American spa towns. Here, at the eastern edge of Yosemite National Park, hot waters gush to the surface in abnormally high concentrations between the towns of Bridgeport and Mammoth Lakes, 60 miles south. Finding these tiny, tucked-away pools can be tricky, and that's part of the adventure. Most of the wilderness hot springs sites sit at the ends of hiking trails that are accessible from the two-lane Highway 395. Just south of Mammoth Lakes, the Hot Creek geothermal site has colorful sulfur formations and ideal warm conditions for egg incubation at a nearby trout hatchery.
Where to Soak: A dirt road leads to the Travertine Hot Springs pool, which offers incredible mountain views. From the Buckeye Hot Springs, you can see a waterfall cascading over a cave. At the historical Inn at Benton Hot Springs, each campsite offers guests their own personal hot tub filled with hot springs mineral water.
Read the original story: Soak in These Amazing Geothermal Hot Spots by Jamie Moore, who is a regular contributor to SmarterTravel.
You Might Also Like: