Summer's coming and you know what that means! Zucchini's going to be in season. For you lucky ducks who have the real estate to plant a garden, that means you're going to be up to your ears in zucchini. For the rest of us, that means inexpensive and abundant summer squash. What better way to desecrate a vegetable than to grate it, mix it with sugar and flour and make it into a sweet quick bread? But here's a thought. You know what makes bacon better? Chocolate. What makes ice cream better? Chocolate. What makes zucchini bread better? You know it, the answer is chocolate.
This moist, decadent quick bread should really be called a cake because that's exactly what it tastes like. Although more dense than cake, this fudgey loaf could easily be topped with a scoop of ice cream and eaten for dessert. But because there is a vegetable in it, you could probably get away with eating it for breakfast with an ice cold glass of milk.
Don't let this recipe fool you. Even though it is time consuming, it's also easy. Most of the time spent on this recipe is the bread baking in the oven, which will leave you time to take a shower, check your text messages, and feed the cat. Also, you're making 2 loaves at once which means the time you have spent will yield a good amount chocolatey cakey goodness. Whether you have a glut of zucchini, are trying to eat more veggies, or just love chocolate, this is a great quick bread recipe to try. Trust me, zucchini never tasted so good.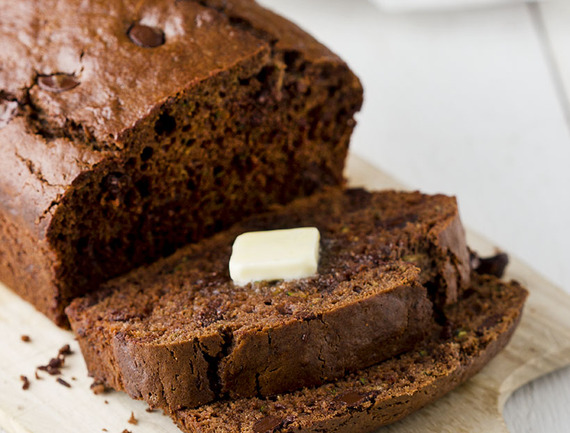 Chocolate-Chocolate Chip Zucchini Bread
Yield: 2 loaves
Prep Time: 30 minutes
Cook Time: 1 hour
Total Time: 1 hour and 30 minutes
Ingredients:
10 ounces semisweet chocolate chips, divided
3 eggs, lightly beaten
1 cup sour cream
2 cups sugar
1 cup vegetable oil
1 teaspoon vanilla
2 1/2 cups grated zucchini
2 cups plus 1/2 tablespoon all purpose flour, divided
1/4 cup cocoa powder
1 teaspoon baking soda
1 teaspoon salt
1 teaspoon ground cinnamon

Instructions:
Get Ready, Get Set!
Preheat the oven to 350 degrees F. Generously grease 2 (9x5-inch) loaf pans and line with parchment paper. You can also place a sheet of greased parchment paper in the bottom of the pan to prevent sticking. Simply make it long enough so that it overlaps on the longer sides of the loaf pan so that you can easily lift out the loaf when ready.
Make the Batter
Over a double boiler or using a microwave in 30 second bursts, gently melt 4 ounces of the chocolate chips. In a large bowl, whisk together the eggs, sour cream, sugar, vegetable oil, vanilla, and melted chocolate. Fold in the zucchini and set aside.
In another medium bowl, sift together 2 cups of the flour, cocoa powder, baking soda, salt, and cinnamon. Place the remaining 1/2 tablespoon of flour in a small bowl with the remaining chocolate chips and toss to combine. Add the dry ingredients to the wet and stir just until combined. Over-mixing will yield a tougher loaf, so try to avoid this. Gently fold in your flour-coated chocolate chips.
Bake It
Pour the batter into your prepared loaf pans and bake until an inserted toothpick comes out clean, about 1 hour. Allow the loaves to cool for 15 minutes, then gently lift out of the pan and cool to room temperature.
Serve
Slice the zucchini loaf and serve with butter, Nutella, peanut butter, or leave it naked. No matter how you slice it (har har), it's delicious!