Who doesn't love Spritz cookies? You know, those crispy, buttery squiggly things filled with sugary goodness? Spritz cookies is actually a type of German Christmas cookie made of flour, butter, sugar and eggs.
Butter and eggs, so where in the world did the name Spritz come from? Well, the full name for these German goodies is Spritzgeback. The word spritz originated from the German word, "spritzen," which means "to squirt" in English. It will all make sense once you find out how these cookies are made. They're made by literally squirting the dough through a pastry bag or cookie press, pretty fun right? Once spritz cookies made its way to the U.S., the name got shortened to "spritz", becoming the popular treat we know and love today.
Being a holiday cookie, it's no surprise that Spritz is an essential to the Christmas season in Germany. It's a tradition for parents to gather together to make these sweet treats for their children, usually using their own original recipes. Aw, how sweet. But why wait until Christmas? My friend and I present to you an original recipe, so that you can bake your own Spritz and share the love.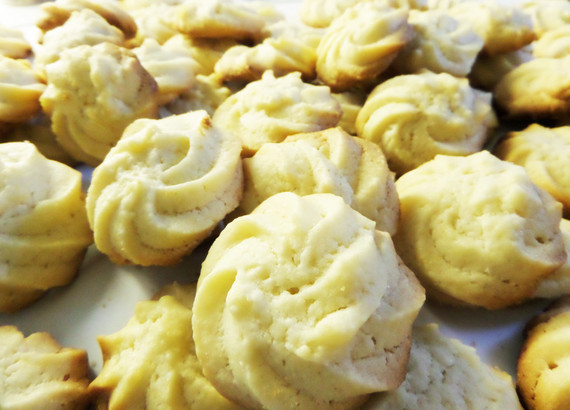 Cuisine/Recipe Type: German Dessert
Total Time: 1 Hr. 30 minutes
Servings: 32 people
Ingredients:
-Four (10 oz.)
-Sugar (4 oz.)
-Unsalted Butter (8 oz.)
-Eggs (1.6 oz.)
-Vanilla (0.16 oz.)
-Salt (0.04 oz.)
First off, preheat the oven to 400 degrees Fahrenheit, then cream the butter in a mixer set at the lowest speed

Once the butter becomes light and fluffy, add in the sugar and mix at medium speed. Keep mixing for another minute, then add in the vanilla and eggs. No rush, make sure to add the vanilla and eggs a little at a time, separated to about three to four times.
Afterwards, sift the flour

Pour the flour into the mixer.

Quick tip: If you don't want your kitchen to look like it had a flour explosion, make sure how much flour you have before turning on that mixer, or you'll have some major cleaning up to do, we learned the hard way.

You'll know you're done mixing when all the flour bits have disappeared.

Time for the fun part, squirting.

Spray a baking mat or parchment paper with oil, then scoop the mix into a pastry bag and squirt pieces onto the mat. Size and shape is completely spontaneous, get creative!

Once all the pieces are laid out, pop the cookies into oven. After baking for 10-15 minutes, you'll know it's time to eat once you smell that creamy buttery goodness. A tempting suggestion: enjoy these crispy goodies piping hot out of the oven, Mmmm!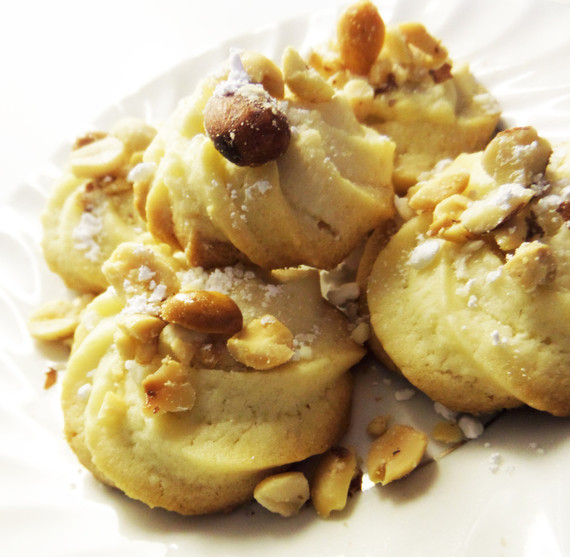 Simple to make and fun to eat, share these holiday cookies all year round and make everyday a reason to celebrate.
Sweet tooth still calling? Check out other
dessert recipes
!