On Monday, Popeyes re-released their most controversial product yet: deep-fried mutant hands.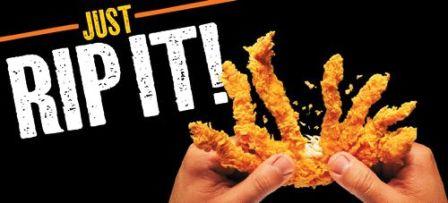 Okay, so it's not Chernobyl hands, but it definitely looks that way. In reality, it's Rip'n Chick'n, which is described as such:
A whole chicken breast cut into tenders only partially, and left intact at the base for rip-able strips. It's marinated with a blend of cayenne, habañero, white and black peppers, and then is hand battered, breaded, and cooked up in Popeyes signature crispy batter.
Why they chose the shape they did is beyond me. And what's the appeal of ripping it apart in the first place? It might be fun for children to rip pieces off, but if it's for kids then why would they make it spicy? The whole idea of Rip'n Chick'n makes no sense to me. Was there a demand for pieces of chicken shaped like human hands? If you have any insight into this matter, I'd love to hear it in a comment.
Nonetheless, I set out to get me some Rip'n Chick'n on a rainy day, which are few and far between in the Pacific Northwest. In fact, we get a mere 154 rainy days per year in these parts. But I wasn't going to let a few nettlesome nimbus clouds ruin this for me.
I forked over $3.99, and received a box containing Rip'n Chick'n, a good portion of Cajun fries, and a biscuit. Also included were Ranch and Blackened Ranch dipping sauces. My piece of chicken had about 7 appendages (I didn't count, but I think it was seven), ready for some rip'n and dip'n.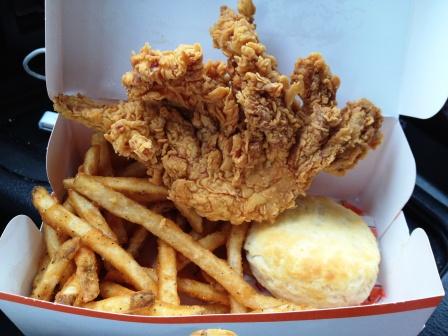 When I took the first bite, I was taken aback by the piquancy of the chicken. You see, I was unaware that it was marinated in a four-pepper blend. I thought it was just regular Popeyes chicken in a weird shape. But I soon realized that Rip'n Chick'n packs a major punch. The ranch dip was key in quelling the heat, which had me reaching for a drink after nearly every bite.
I have to say, Rip'n Chick'n is delectable. Juicy, tender chicken covered in crispy batter. I would have enjoyed it without the seasoning too, but it certainly added a ton of flavor thanks to the cayenne and habanero peppers. I wasn't as annoyed by having to rip the chicken apart as I expected, so that's a positive.
For the record, the Cajun fries were decent; very crispy, but not all that flavorful. Some flavor from the black pepper in the coating, but that was it. The biscuit was awesome. It was super buttery with a crispy exterior and fluffy interior. As far as the ranch sauces, the regular ranch was pretty standard - a little sweet, a little tangy, nothing spectacular. The Blackened Ranch on the other hand, was really good. It was more heavily spiced and had a reddish-pink hue, likely from the paprika. Black pepper was the most prevalent flavor.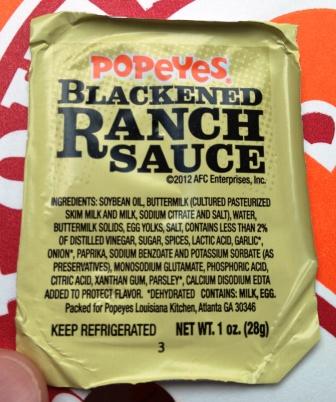 I definitely recommend giving Popeyes Rip'n Chick'n a try, especially if you have a penchant for spicy fare. It's super-flavorful chicken, and for $3.99 it comes with fries and a biscuit. You could do much worse with 4 simoleons. You'd better hurry though, because this is a very limited time offer (until June 24 to be exact). Giddy up!
Review by Peter Garrow.