Hi friends! Social Smurf here, the most social Smurf in Smurfs' Village, back with more tips on how to keep you and your kids safe online!
Last week, we talked about Internet safety 101 and this week I'd like to show you how you and your kids can be safe AND social in the big Internet world with a few of my #followfavorites!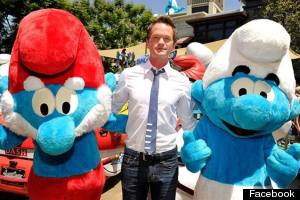 At three apples high, the Internet world can seem really big! We know you want to be social online while also protecting yourself, whether it's finding a new friend on Facebook to connect with, or identifying someone on Twitter who you want to follow. Sure, in most cases, it's best to follow people you know, like close friends and family members (NPH and I? We're pals!), but that shouldn't keep you from branching out your social network!
That said, I have a few friends I can rely on for keeping me up to date and entertained with the things I care about. Here are some accounts I feel good about recommending for any parents and kids starting out on social media.
The Internet may be massive with plenty of fun to explore, but no Smurf should forget the natural wonders that are our nation's forests! Sites like Discover the Forest are great educational resources for outdoor activities for you and the whole family. And to think, I once believed my backyard was limited to the Smurfs' Village! Learn about your own backyard and all the great outdoors by liking this page run by the U.S. Forest Service.
Twitter, meanwhile, is a fast-moving public conversation, so you really have to pay attention. Start by following a trusted personality and then join the conversation! And don't forget to use #hashtags so that your voice is included in the conversation!
Among my list of kid-friendly, Social Smurf-approved Twitter feeds, I recommend my good pal Cheecker the Squirrel, who has an AWESOME Twitter feed, and can provide all the outdoor inspiration you need, not to mention plenty of nutty trivia and facts about the forests all around us.

If you're like me and have photos to share, there's plenty to explore on Instagram. When you're not giving your pictures the perfect photo-finish filter, you'll want to follow trusted friends and names you recognize.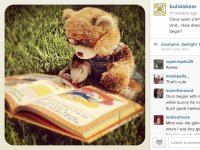 One of my favorite accounts I use to inspire my own creativity is the Build-A-Bear Workshop. Featuring some of the coolest customized creations by the kids at Build-A-Bear, you can browse just a number of different ways you can build your next best friend. And don't forget; you can upload your own bear builds and share them with friends, or even search #hashtags like #buildabear to find other kids' creations from around the world!
Those are my favorites, but what are yours? Share your most-visited kid-friendly accounts with other parents in the comments below, and remember, I'm here for you to follow me, Social Smurf, on Twitter and Instagram!
In the meantime, have fun, Smurf the Web safe, and remember to like our page on Facebook for updates featuring all of us Smurfs including info about "The Smurfs 2," now playing!