Driving back to Paris on a recent afternoon, I received an email from a friend asking me if I would walk in a fashion show that he was styling. I agreed, and so, found myself a couple of days later on the sixth floor of a former factory building in the cramped atelier of fashion label known as the Y/Project.

It was the day before the show-time to fit models to their outfits. As I came in, the studio was a frenzy of activity: sewing machines whirring, last-minute stitching being carefully sewn, steaming, pressing, cutting, and trimming. It was approaching 10 p.m. as I was waiting for my own dress to be finished. Only hours before the show the following day, and dresses were still being cut, shaped, and altered.

Through the haze of cigarette smoke, amidst countless empty coffee cups, I watched the equipe begin their nuit blanche. To see people sewing buttons and cutting fabric seemed practically antiquated in our modern world of far-flung clothing factories. How reassuring, I thought, that this craft has not yet been completely wiped out!
Since beginning my career as a model, I have wanted to find out more about the process of actually making clothes. Where do fabrics come from? Who puts them together? Clothing is such a fundamental human necessity, yet its production seems to have developed into an abstract, often murky, mysterious process.

After the show, the following week, I sat down over a drink with the brand's designer Glenn Martens. I wanted to find out more at least about his role in the fabrication of his clothes. The label, which is called the Y/Project after its founder Yohan Serfaty, was started some four years ago in Paris. Glenn, who previously worked as a junior designer at the fashion house Gaultier, took over the label just last summer. This handsome, young Belgian was full of energy as he tried to give me a brief glimpse of his world as a fashion designer.

Their factories, he explained to me, are spread out in several European countries as well as Tunisia and Turkey. Each country has its specialty; Italy for knitwear, leathers in Istanbul, silks in France... The process of fabrication begins by an idea, an inspiration drawn from fashion history, combined with modern street style. This idea then becomes a drawing, a sketch, a kind of architectural outline. The next step is then to select the fabric. Most fabrics have been carefully chosen from thousands of different varieties at the biannual fabric fair in Paris known as Premiere Vision. Now begins the tryouts, les essaies; trying to bring the two-dimensional into three dimensions. After many of these tryouts, many failures, a final product emerges: a dress, a shirt, a jacket something that I or any other model will wear to walk down the runway. The final presentation.

This intense, laborious process seems somewhat comparable to a painter testing and countlessly retesting the construction of his painting. Dare I say that clothes can be considered as artwork? I would say yes, in so much as they can be beautiful and give the wearer a sense of elegance and composure. Reversely I would place clothes in a similar world as art in the sense that there is also an overwhelming quantity of knock-offs, copies, reproductions of the original such that we often no longer really know what we are wearing, let alone where it comes from! Indeed, who really has the time or energy to meticulously research the exact origins of their clothes? Especially when options may vary from $10 vs. $100 the former is certainly more appealing. Easiest to turn a blind eye on the backstory. I asked Glenn what it was like to try and turn a profit using such precious methods (such as fairly paid labor). He paused and smiled discreetly. We moved on. I realized that this was a labor of love, a purely creative project. How beautiful I thought, how wonderfully human in such a seemingly inhumane industry that is clothing manufacturing. A project, I think, that has its own answer.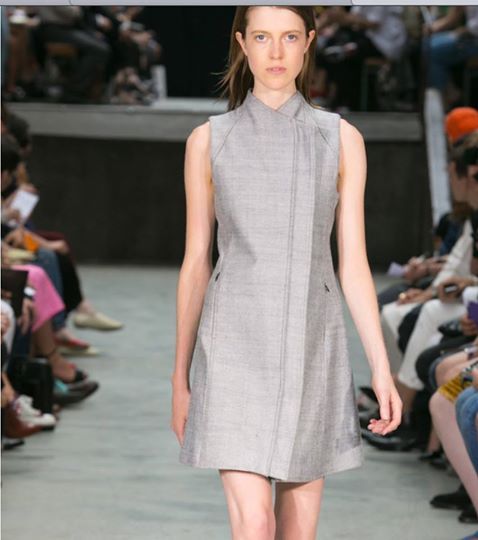 http://www.yproject.fr/