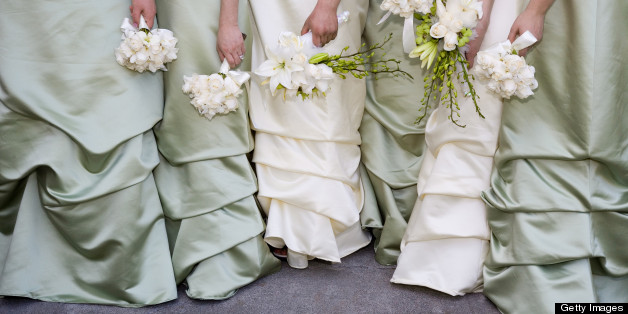 It's an age-old story: boy meets girl, boy asks girl to marry him, girl asks you to be a bridesmaid, girl turns into a self-consumed bride with an eye for unsightly bridesmaid dresses.
Yes, it's "her day" and her big red carpet moment. Chances are, despite the horror stories and movie clichés, she doesn't actually want you wearing a cupcake contraption. Planning a wedding is complicated and she likely needs a little help (maybe a friendly kick in the butt) from a friend. She'll thank you for taking something off her plate. The dress selection and purchase experience can be perfectly normal and -- dare I say -- enjoyable. Follow these tips, and you'll be walking down the aisle in style.
If the bride suddenly changes her fashion sense... for the worse
Ruffles galore. Colors that make your eyes bleed. Fits that just don't... fit. Sometimes brides can be blinded by a "vision" that doesn't make for such a great reality. Often, that can result in her being completely removed from what is considered acceptable in the current fashion world. If your bride is going in a direction that makes you want to cringe, don't fight it -- at least not at first. This may sound counterintuitive, but the second you complain, the more defiant she will become. Instead, get inquisitive. Find out exactly the vision she is looking to achieve. Is there a specific style? Colorway? Silhouette? Find out as much as possible and then do your own research. If you can find another option that closely fits her vision, you will have much better luck in swaying her than if you try to find options that you like better but don't take her vision into account.
If the bride is completely indecisive
If she can't come to a decision on a bridesmaid dress, it's most likely she's having a hard time envisioning her wedding all together. As her bridesmaid, step up to the plate and invite her over for a "Bridal Brainstorm." Get as many wedding magazines as possible, cue up picture sites like Pinterest and Lover.ly, grab some wine and cheese and hunker down for a night of inspiration. You can then help her tear out pictures that speak to her, create and organize online accounts that save images for her to refer back to, and even make inspiration boards with good ol' scissors and glue. She will appreciate your willingness to help her organize her thoughts, and since you've played such a significant role in helping her hash out her vision, you may have the bonus opportunity to direct her towards a bridesmaid dress that makes you happy.
If the bridesmaids have different tastes
What's worse than a bride with bad taste? A fellow bridesmaid who tries to hijack the whole thing and force everyone to wear a dress that's way off base or way over budget. While dealing with conflicting personalities in the bridal party is certainly a bummer, it's important to keep the eye on the prize (happy bride, seamless wedding) and remember that once the wedding is over, so is your obligation to get along with all the other girls. In the meantime, your goal is to get through the planning process as smoothly as possible, which means setting aside your differences and channeling your best Emily Post when your friend's college roommate really starts to get on your nerves. After all, nothing will frustrate a bride more than a bridal party that refuses to agree on a look. Instead of inundating the bride with individual requests, organize a bridesmaid-only get-together before the dress process begins to talk about strategy, toss around ideas and share personal preferences. Once you've each had a chance to put in your two cents, figure out a solution that best serves all of you and present it to the bride together. Not only will she be happy to see you getting along, she will also be more likely to pick a style that makes you happy if you make the process easier on her.