Ever experience the kind of excitement in life, where you can't wait to get up and don't want to go to bed? The adventure of turning a dream into reality is seasoned with this kind of excitement. You know something special is happening. You may not always be able to put it into words but you know you will reference those moments by saying, "Remember when...?" Welcome to my world for the last month. I will tell this story by saying, "Remember when I had a head rush from meeting Alan Alda while hosting his interview for the first ever documentary film about Ruby Dee and Ossie Davis?" I would take a breath, and go on to share how the filmmakers, Muta'Ali (their grandson) and NJ Frank, and I sat in a Harlem coffee shop and talked about possibilities, Kickstarter and well... the dream of making Life's Essentials with Ruby Dee, the documentary film, a reality. Before I tell you any more, it is better to let Muta'Ali and NJ Frank tell you why Alan Alda took time from his schedule to support the film by talking about his lifelong friendship with Ruby Dee and the late Ossie Davis and their love, their art and their activism. -- Sonya Denyse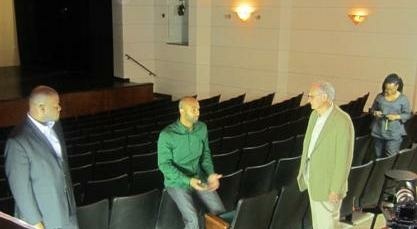 We interviewed Mr. Alda last week at the Schomburg Center for Research in Black Culture for our film, Life's Essentials with Ruby Dee; it is a life story documentary celebrating the love, art and activism. Before the cameras were rolling, Mr. Alan Alda began to interview us.
A grandfather of seven, he talked about the importance of sharing and telling these stories. I agreed. I didn't seize the opportunity with my grandfather, Ossie Davis, to explicitly sit with him as a hungry student would and learn from him about life's essential questions -- questions that I didn't know I would eventually need the answer to -- questions that I didn't have until now. Having missed the chance with my grandfather, I am determined not to make the same mistake with my grandmother, Ruby Dee or, as I know her, "Gram Ruby."
I grew up with grandparents who had become household names to many people for many different reasons. As their dual autobiography With Ossie & Ruby: In This Life Together tells their life story in relation to the historic happenings of the 20th century, I need to capture their story visually and aurally by connecting in-person with the forces of nature who crossed paths with my grandparents over the past 90 years of their lives.
Last week, a force came in the form of the artist, Mr. Alan Alda, and it was through Mr. Alda's eyes that I viewed another facet of my grandparents' dual life and love. Muta'Ali --Director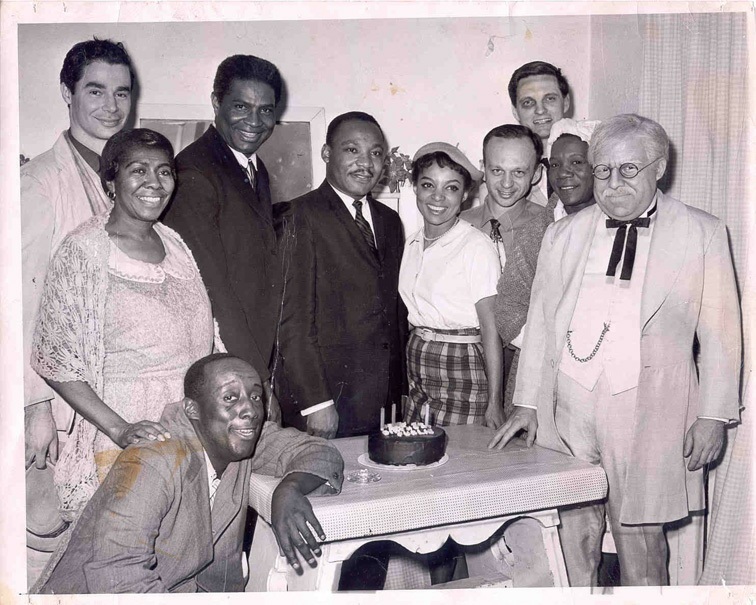 It was 1961, when a "20 something" Alan met a "40 something" Ossie and a "30 something" Ruby; in rehearsal for Ossie's play, Purlie Victorious, which opened on Broadway at the Cort Theatre. To hear Mr. Alda tell it, he was in awe of their humble brilliance which gave no clue to their powerful theatrical presence. He would stand in the wings off stage watching, appreciating and studying Ossie as he had done when he was child watching his own father, Robert Alda, a burlesque performer. I did the same, as I filmed Muta'Ali's interview, watching Mr. Alda reminded me about the importance of arts and activism, of answering the call.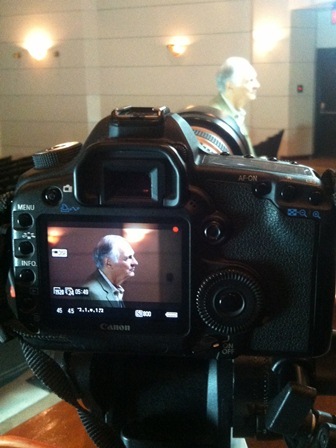 It is at moments like this, when you live in the zone. Knowing that I am doing something I will tell my children about. In so many ways, that is why I am producing Life's Essentials With Ruby Dee. Legacy is fertile. It calls and we must answer. When I look at the picture of Dr. Martin Luther King, Jr. visiting the set of Purlie Victorious to celebrate the 100th night, I see Ossie, Ruby, Alan and the other cast members answering a call through their artistic commitment. I can't say it as well as Mr. Alda says here:
Ms. Dee will turn 90 in October of this year. We intend to "gift" a preview of the documentary at a celebratory screening in conjunction with Ms. Dee's 90th Birthday. Fans have been invited to help back the film through Kickstarter, and our campaign ends on June 30th at 12:09 am. Ossie and Ruby have made their lives an offering, playing the role of activists almost as much as they have played roles in film, television and stage. With a goal of $50,000 and over 47 percent of it raised, we believe we will be able to tell the story Alan hopes we will.
We were honored that he played his part and answered our call. NJ Frank --Producer
Watch to hear what Muta'Ali shared with Mr. Alda.