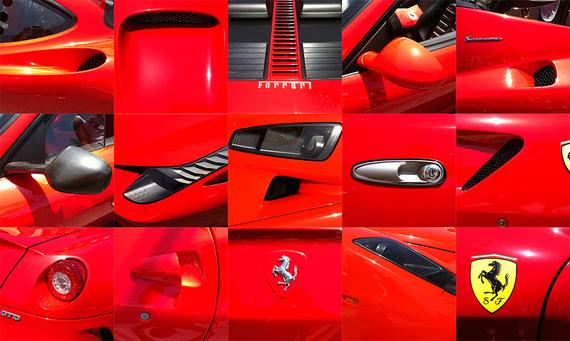 Ferrari-red is a color like no other. The Italian racing color has a slight orange tint to it, which when applied to a car body, makes it radiate passion!
On a Sunday in May, the main drag in Pasadena, California, was closed down for five hours and was littered with Ferraris, with models ranging from the 1950's all the way up to 2010's. Though in the middle of a heat wave, Colorado Boulevard was jammed with car aficionados, taking photos and drooling over the gorgeous machines. It would be hard to stay cool anyway with that much eye candy in the street.
Let's face it; no little boy or girl goes to bed at night dreaming about one day driving a Toyota or Hyundai. That level of imagination is reserved for prize possessions that are quite out of the ordinary. When it comes to cars, Ferraris and other super car competitors, such as Lamborghini, Maserati and Porsche, are what ignite our desires.
When enjoying automotive thoroughbreds, one customarily takes a step back and first admires the overall proportions. Including the relationship of the main forms (such as the wheel size to wheel distance to wheel overhang, ground to underside to beltline, arrangement of roof, hood, trunk and glass area) and how they change dynamically as one walks around the automobile. The prototypical super car looks it's best at knee level.
Then the attention switches to the control of surfaces - delineating direction and expression. How do they alternate and transition between concave and convex forms and how do these transitions look when observed from the various angles? Super sports cars are styled to look as though they go one hundred miles an hour even when they are standing completely still.
Finally, the attention is inevitably drawn to the exquisite details. Exclusivity is derived from the jewel like treatment of the headlight, taillight and indicator light as well as the integration of air intakes, side mirrors, door handles and the application of badges and graphics. What materials are selected for these visual touch points? What color differentiation, combination and contrast are used to draw attention and create visual interest and what texturing has been applied to provide a feeling of richness? "God is in the details!"
Never thought about or contemplated the ingredients listed above as making up an exotic road racer? Rest assured, the unconscious inner eye is highly attuned to such elements in superb harmony. This is what makes our heads turn automatically when a Ferrari passes by in the street or when suddenly stopping to take a second glance at one parked among a row of otherwise undifferentiated vehicles.
Though one may never be able to afford a Ferrari or one of its siblings, these creations, like world-class paintings, sculptures and architectural marvels, provide potent dreams and inspiration for our culture and keep raising the bar for what performance, beauty and innovation can be. Like athletes and performers, they make all of us want to be just a little better at what we do.