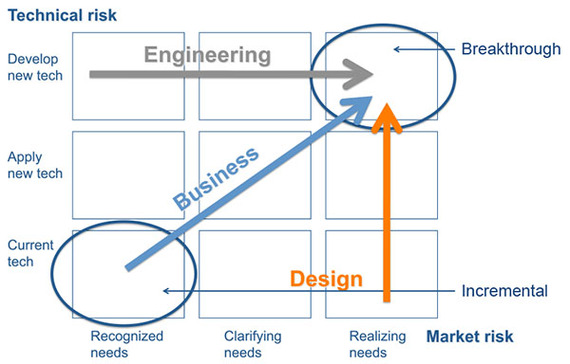 Startups' biggest challenge is designing a Minimum Viable Product (MVP) and using it to prove that a niche with paying customers can be profitably acquired. Seemingly, the more innovative the product is, the harder the initial early adopters are to locate and learn about their needs, wants and desires. For example, few knew they needed a Facebook page or a Tesla sports car before they experienced them.
Early inclusion of design in new product development has been proven time and again to increase the likelihood of successful product adoption and profitability. However, being relative inexperienced and blinded by their shoe-string-budgets, startups usually engage in "too little and too late" design.
While studying entrepreneurship during the past five years and engaging with hundreds of startups, accelerators and incubators, as well as speaking with the experts, one of the things we learned is that design is usually the last thing on an entrepreneur's mind.
The decision-bias "curse of knowledge" traditionally has business and engineering receiving the bulk of attention at the expense of design. This results in a lopsided understanding of the MVP that excludes a thorough understanding of the user. In effect, the MPV ends up becoming an unstable two-legged chair.
Assisting startups in integrating design economically in the early phases, we collaborated with Stanford, Art Center College of Design, Innovate Pasadena and a wide range of entrepreneurs to establish how they might profit the most when applying design. Our collaboration resulted in the creation of the following Seven Steps for Economically Applying Design in Startups. We pared it down based on the Pareto optimization principle that says "twenty percent of the effort results in eighty percent of the result:"
1. Identify the organization's Cultural Identity (Values, Beliefs & Attitudes) - translate these into clear design directions for communicating the brand
2. Design & Business Model Experimentation using the Business Model Canvas (especially: Value - Proposition, User & Relationship, Activities) - Ensuring these are actually relevant for the users and actionable
3. Determine the offerings position in a Market - Technology - risk matrix (Innovation level incremental or breakthrough) - managing expectations and evaluating and mitigating risk
4. Evangelizing (Unique, Credible & Recognizable) - get the message out to all stakeholders though the appropriate media, while making the message Simple, Unexpected, Concrete, Credible and Emotional through "Made to Stick" Story Telling
5. Design Strategy (Internal vs. External & Strategic vs. Tactical) - devising a comprehensive and cohesive approach to creating concepts that balance the most important criteria for the selected innovation level (incremental or breakthrough)
6. Inspirational Design Brief (From Business Model Canvas to Brief) - ensuring that the plan is translated into Design Quality Criteria that will inspire the design team and can be executed
7. Design Process (Design Thinking) - assist management in outlining a process for an executable schedule and budget that arrives at realistic deliverables

Entrepreneurs rated the seven steps, on a scale from one to five (with one being least and five being most.) This revealed that they were almost equally useful, with a slight preference for design conveying the startup's identity (branding) and slightly less for supporting market - technology risk decisions.
Now that we know what design startups can successfully leverage within their means, the question is what kind of engagement makes the most sense: Crowdsourcing, hiring a freelance designer, partnering with a design consultancy or bringing design in-house as a staff function?
The tradeoff is to command one's design strategy at a higher up front cost and long-term value or leave it to external forces at a low up front cost and short-term value. Without the early inclusion of design, a startup may not live long enough to learn the difference.