For performance night last Wednesday I styled the finalists for three looks. Each #Idol had three performances: one song selected by the judges, one song of their own selection, and one of Jimmy Iovine's choice. If you saw some looks that you loved, you're in the right place! Scroll down for the complete #fashion credits.
(Have style questions? Have you seen something you #loved? Find me on Twitter: @SoysFashion.)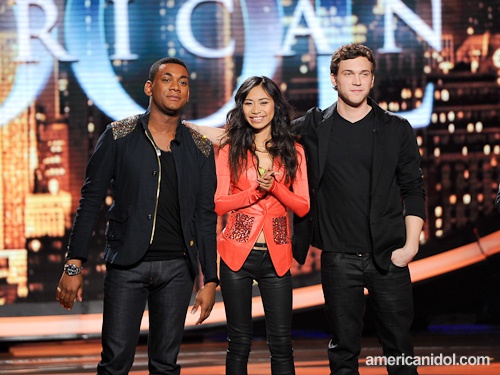 JOSHUA LEDET
For Etta James I wanted Joshua to look super classy. A three-piece suit was in order, but I wanted to give it a little twist. The white stitch detail on the black jacket with the gray double-breasted vest gave it the fashionable twist I was looking for! For "Imagine," Joshua began with a white blazer with a crystallized collar, but I decided to save that for the finale. Nigel Lythgoe (AI's executive producer) asked for a more demure style. So, I put a tuxedo jacket on Joshua, and, I have to say, it was a nice clean change. For Joshua's last look, I wanted to keep him cool and fabulous. How could I keep him in blazers and suits all night?! I crystallized his shoulders with Swarovski crystals and made sure that, even with the dark slick colors, he popped on that stage!
(LEFT, 1st look for "I'd Rather Go Blind" by Etta James)
Joshua "brought down the house" for Randy's song choice in an Express shirt, D.Gnak by Kang.D vest, Moschino jacket, Zara pants, and Aldo shoes. He wore a Christian Tse watch.
(CENTER, 2nd look for "Imagine" by John Lennon)
For his personal song choice, Joshua wore a Paul Smith top and Zara pants and jacket. He wore Aldo shoes and a Christian Tse watch.
(RIGHT, 3rd look for "No More Drama" by Mary J. Blige)
I styled Joshua in an American Apparel shirt topped with a G-Star jacket with Kizmit customizations, J Brand pants, and Hudson shoes. Accessories included a Nashelle necklace, Rodeo belt, and Oceanaut watch.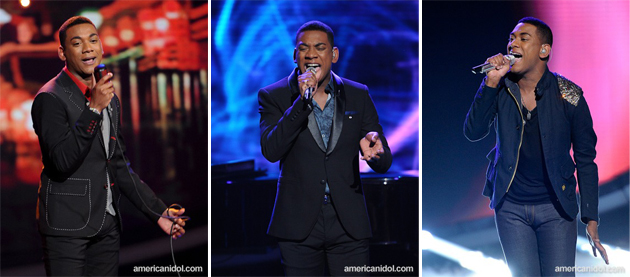 PHILLIP PHILLIPS
Why is Phillip wearing the best of the best? Because of the fit and the quality of each garment! This night I wanted to give a recap of all the different looks Phillip has worn so far with a button-down shirt, t-shirt, and blazer. I love working with artists that know what they like because you can really explore other options within the same vein of style. Finding the perfect jacket, pants, shoes, and shirts is always a #FUN challenge with Phillip.
(LEFT, 1st look for Steven's pick of "Beggin'" by Madcon)
Phillip wore a top by AG Jeans paired with a Hartford button-up shirt, 7 For All Mankind jeans, a J. Crew belt, and shoes by The Frye Company.
(CENTER, 2nd look for "Disease" by Matchbox Twenty)
Phillip wore a Gap tee, John Varvatos button-up shirt, 7 For All Mankind pants, and a J. Crew belt. Accessories included shoes by The Frye Company and bracelets of his own.
(RIGHT, 3rd look for "We've Got Tonight" by John Seger)
I styled Phillip in a Supima shirt, Theory jacket, Dylan George pants, and shoes by The Frye Company.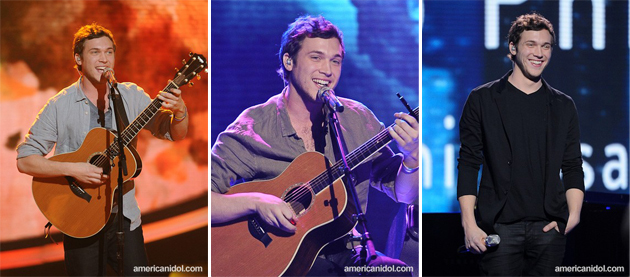 JESSICA SANCHEZ
This was the night I wanted Jessica in a gorgeous gown. Last girl standing, I wanted her to be a dream! The designer of her first gown, Oliver Tolentino, sent me an email telling me how Jessica's grandfather lives across the street from him in the Philippines; how could I not go and visit his showroom in LA? Thank goodness he had that dress that stood out to me amongst all his beautiful pieces... It was nice to know Jessica was wearing a piece from part of her heritage. Her jumpsuit for Steven's song choice was absolutely perfect, with the huge pants and fitted top. I wanted the outfit to be muted and her voice, face, and statement jewelry pieces to take the limelight. For the Jackson 5 outfit, I had to style her up street chic and, of course, the coral red jacket was perfect! Can I just say... I #LOVED her Jeffrey Campbell boots!
(LEFT, 1st look for "My All" by Mariah Carey (chosen by JLo))
Jessica wore an Oliver Tolentino dress and Bebe shoes. Jewelry included earrings, a bracelet, and rings by Erica Courtney.
(CENTER, 2nd look "I Don't Want To Miss A Thing" by Aerosmith)
For her song selection, this fashionista wore a skin tone-matching Zimmermann jumpsuit (here's the one she wore before), a Zara belt, and Bebe shoes. Jewelry included this Bijou Tresor necklace and Erica Courtney earrings, rings, and bracelet.
(RIGHT, 3rd look for "I'll Be There" by the Jackson 5)
Jessica wore a Silence & Noise shirt topped with a Cut25 jacket, jeans by Robin's Jean, Express belt and necklace, and Jeffrey Campbell shoes. Other jewelry included Erica Courtney earrings and rings.