I was fortunate to field a few questions with local game developer Jacob Pollock, the creator of Grenade Fishing Jr. The game was launched on November 2nd, and has gained early acclaim as a featured app on the iTunes App Store, as well as the number one sports game on Toucharcade. Jacob was kind enough to share some of his insights in bootstrapping an app launch as an independent game publisher.

My questions are in bold.
Can you explain Grenade Fishing Jr, and why it's fun?
In Grenade Fishing Jr, you control a bear in a rowboat who has gone fishing with grenades. Players swipe the screen to toss grenades into the water and tilt to steer the boat in order to catch the falling fish. It is a skill-based "quick-fix" action title with 18 levels and a "hand-drawn" feel.
The fun of the game comes from the thrill of blowing things up and the challenge of the engaging live-action gameplay. It features realistic physics simulation, water dynamics, and fish behavior and uses the device touch-screen and accelerometer. Things get pretty interesting when the waves get big and the fish get smart. We are excited to launch the game on the Apple App Store.
What inspired you to pursue making a game?
I have been making games since I was 8 years old when I was programming text-based adventure games in BASIC on a Commodore-64 computer. This was before I picked up an ATARI-2600 game console at a garage sale for $20. I always found game-making fascinating and pursued it as a hobby. I had the idea for Grenade Fishing about 10 years ago and started to build it in Flash for a web-based game. I finally picked it up again last year after I got an iPad and realized that I could actually write apps for it.
What were some of the challenges you've encountered in making Grenade Fishing Jr.?
The largest challenges were refreshing my C++ skills and diving into the OpenGL API. The game actually does a large amount of calculations for the wave and fish motion and displays a large number of characters at once, so optimizing the graphics performance was a major challenge. I wanted it to run at high FPS, even on older devices.
Living in Hawaii, do you think our physical isolation makes a difference?
Not from a software-development stand-point. To me, it seems that it can be done in relative isolation and the physical location is not as important. Besides that, there is a supportive tech community here along with a lot of undiscovered talent in development and design.
What challenges do you feel Hawaii's tech community faces in developing and releasing products that are unique to our community and culture?
I think that the challenge there lies in making products that have both a local and global appeal. We want to support and represent our culture, while making something that will be adopted by the masses.
How do you think we may be able to overcome these obstacles?
One way may be to harness the mass appeal of Hawaii itself. If we can make products with an "aloha" feel that truly provide value to customers, then we have differentiated ourselves. Another way is to pursue continued investment in Hawaii tech start-ups, through the State and other avenues. We really have a supportive and growing tech community here that is producing some great ventures. An important thing is to continue to aid each other.
What are some of the best insights you've gained from building and releasing a product?
One of the biggest for me was "don't get distracted by the funding". There are a lot of opportunities for investment out there, but it is easy to get caught up in pursuing that funding and let product development slip to the wayside. This is especially true for a small team or one-man-operation. I think it is important to keep things moving despite the potential opportunities.
I am still learning a lot about social media marketing and the App Store environment. I have learned that click-through-rates and post/link/page engagement do not necessarily translate into conversion. You may have very strong interest in a product and a lot of web traffic and interaction that does not actually bare any real fruit. For the App Store, you want to build something that will appeal to Apple in order to get them to feature/promote it. It should be making them money, through ads, in-app purchases, or paid downloads. It seems to me that they look for something that essentially would make someone want their newest product so they can use your app on it.
Finally, take advice and seek feedback wherever you can, even in unlikely places. Some of the best ideas come from where you least expect.
Do you have any advice for other tech startups in our community?
Support each other and believe that you can make new tech happen in Hawaii. Fail early and fail often, those lessons are invaluable. Make the physical location/isolation a non-issue for clients and customers from the start.
Do you think that developing tech is important to Hawaii?
Absolutely. Hawaii has the opportunity to establish itself in the global tech ecosystem. This not only makes the State more competitive when it comes to attracting new companies and investment, but it will take advantage of the talent that already exists here, building jobs and opportunities. It provides the opportunity for people in Hawaii to work in the tech realm rather than the hospitality industry that dominates our state.
What would you like the tech community of Hawaii to do to better support one another?
I really think that we are doing it and we are on the right path. We are all together here, so we need to avoid in-fighting and identify synergies. There are so many exciting things happeniing with tech in Hawaii right now, I am just happy to be a part of it. Aloha!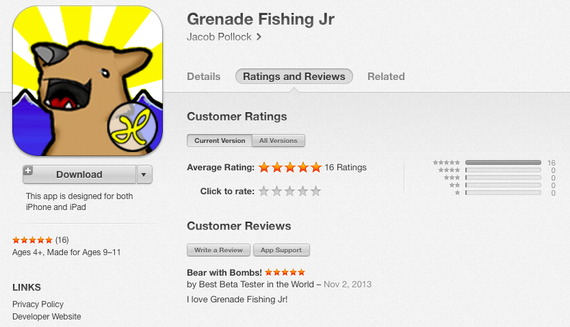 The reviews on the iTunes store have been nothing short of glowing, and looks to be on the right path to join the ranks of Fruit Ninja and Angry Birds as a classic game with solid gameplay, appropriate for anyone that has the ability to hold a mobile device. It's inspiring to see local developers stepping up and bootstrapping hit projects like Grenade Fishing Jr, and hopefully others will be able to follow in their footsteps.