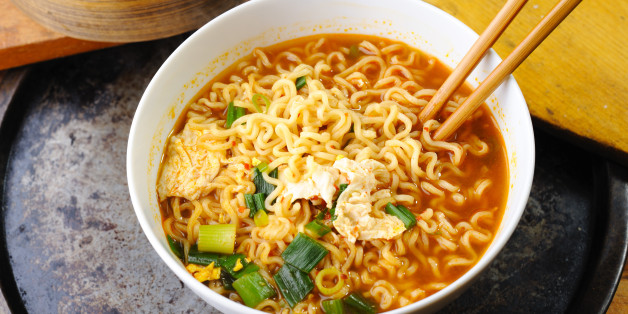 Some poetry is universal: we all know the Robert Frost poem about the road not taken; Shel Silverstein was a straight-up guru; Dr. Seuss was either a genius or tripping on acid or both; and chances are you're familiar with good ol' William Shakespeare, even if you hated having to act out scenes from Macbeth in class.
But only one poem truly resonates with all college students, English majors and non-English majors alike. And it's this one:
"Peel off the lid.
Pour boiling water into the cup.
Let sit for three minutes.
Stir well and serve."
To a college student, nothing is more poetic than the directions for making Cup Noodles. These noodles are a member of the College Food Holy Trinity, alongside Easy Mac and Nutella. And it's all thanks to the hard work and perseverance of Momofuku Ando, Taiwanese-Japanese inventor and entrepreneur.
Ando created Instant Ramen, a flash-fried version of the classic Japanese noodle dish, as a cheap solution to post-World War II Japan's hunger problem. Since then, it has evolved into the reliable solution for chronic starvation in college. Apart from being hot and comforting, it's also impossible to screw up, which you probably can't say about your last Orgo midterm.
So in honor of our noodle patron, check out this definitive guide to pimping out the ramen you'll be inevitably having for dinner in the library tonight.
1. Ramen Cacio e Pepe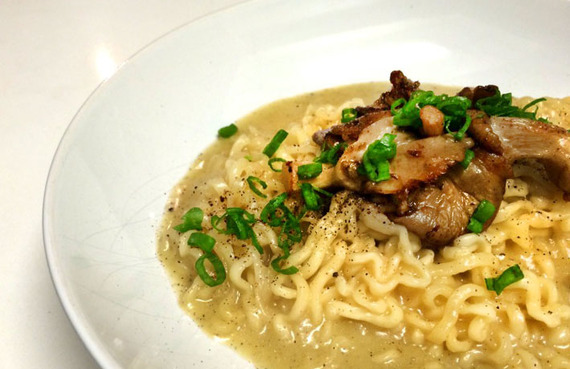 Photo by Andrew Seah
Some people are blessed with Italian grandmothers who can make homemade pasta. Other people are gifted with a knack for cooking. And for the rest of us, at least there's this cacio e pepe recipe.
2. Ramen Salad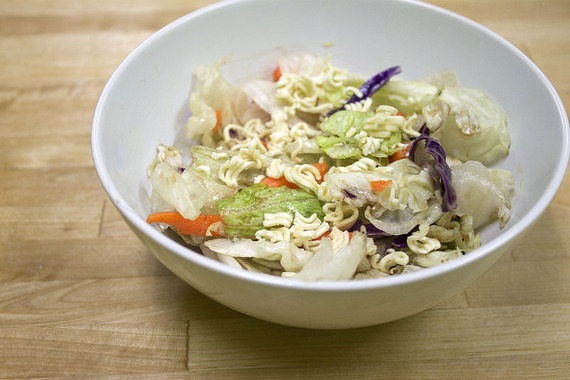 Photo by Meredith Marcus
Next time you're paying twelve dollars for a salad you're just going to eat the toppings off of, imagine yourself eating this ramen salad instead. And then go make that dream a reality.
3. Hot & Spicy Ramen Chili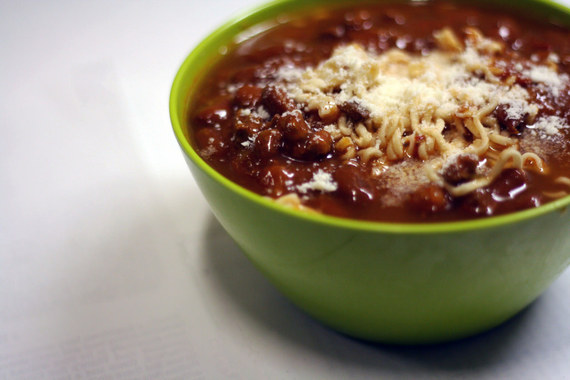 Photo by Caitlin Wolper
Just bomb an exam? Feeling homesick? Love interest hasn't texted you back in like FOUR hours? Let this ramen chili take you in its warm embrace and tell you that everything is going to be okay.
4. Chicken Ramen Noodle Soup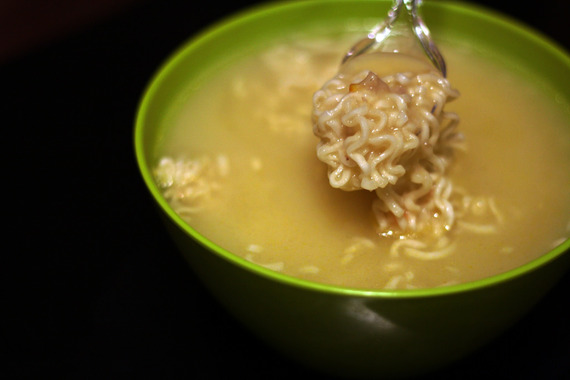 Photo by Caitlin Wolper
Because chicken noodle soup is the ultimate cure for everything: whether it's the flu, Seasonal Affective Disorder or a killer hangover, this soup recipe is here for you.
5. Egg, Bacon and Ramen Scramble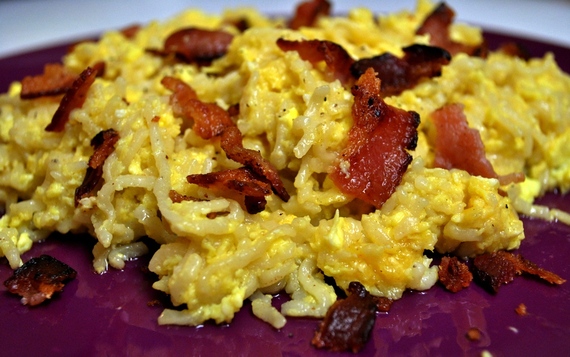 Photo by Justin Shannin
The early bird may get the worm, but the late-for-class bird gets this ramen scramble. Which I'm gonna go ahead and say is conclusively better.
6. Cheddar Broccoli Ramen
If you're that person who is chronically running low on dining dollars, invest in a huge pack of Cup Noodles. This cheddar broccoli ramen recipe is sure to fill you up for at least a few hours.
7. Ramen Veggie Stir-Fry
That's right. The easiest, quickest dinner idea ever just got easier and quicker with this stir-fry recipe. Because ain't nobody got time to cook rice.
8. Ram n' Cheese
Chances are you're going to eat both Easy Mac and Instant Ramen today, so save some time and just do both simultaneously. This hybrid ram n' cheese dish will satisfy every stereotypical college craving you could ever have.
9. DIY Gourmet Ramen
You probably don't have these eclectic ingredients just lying around, but if you do, this DIY gourmet ramen is for you. Also, you're a freak.
10. 10-Minute Egg and Spinach Ramen
Ten minutes is a little longer than it usually takes to make ramen, but a lot shorter than it takes to make anything else. But this ramen recipe's potential for yolk porn is totally worth the extra time.
11. Parmesan Ramen
This bowl of parmesan ramen screams, "I literally just needed a vehicle for cheese to enter my mouth and I obviously had instant noodles lying around." But it's effective, so whatever.
12. Deceptively Simple Poached Egg Ramen
Confuse your fellow library-dwellers by turning up with these upgraded ramen noodles. Everyone will think you smuggled in a personal Japanese chef. We won't tell anyone the truth.
13. Ramen Egg Drop Soup
The Chinese restaurant version of hot, comforting soup just got a desperate-hungry-American-college-student makeover. But damn, does this ramen egg drop soup hit the spot.
14. Ramen Egg Stir-Fry
Your parents would be so proud if they knew you were getting all your food groups in. Unless they're concerned that you're sending them a photo of this egg stir-fry at 4 a.m. in the morning after a hard night of cramming for midterms.
15. Dessert Ramen
TREAT YO'SELF. When your sweet tooth is acting up, make yourself this less alarming, actually delicious dessert ramen version of Buddy the Elf's terrifying spaghetti monstrosity.
Original post by Tarika Narain for Spoon University.
For more posts like this, like Spoon University on Facebook and check out the Spoon website.
Follow Spoon University on Twitter: www.twitter.com/SpoonUniversity