Original post by Libby Perold on Spoon University - WashU.
Passover is fast approaching (April 14-22), which means eight whole days of nonstop matzo eating. Because the typical matzo-with-jam combo can get a bit dull after it becomes your breakfast, lunch and dinner, here are nine bread-less ideas that won't leave you running bread-crazed to every bakery in town.
1. Matzo for breakfast
Wake up to this Passover creation. Just place a fried egg, some avocado and cheese on your matzo and you won't miss your toast or bacon, egg and cheese on a bagel.
2. Matzo pizza
With this one, just pretend you're eating thin crust flatbread pizza. Either keep it simple by melting a layer of cheese and then spreading on marinara sauce, or get creative by topping with olives, spinach and red onions.
3. Matzo Toffee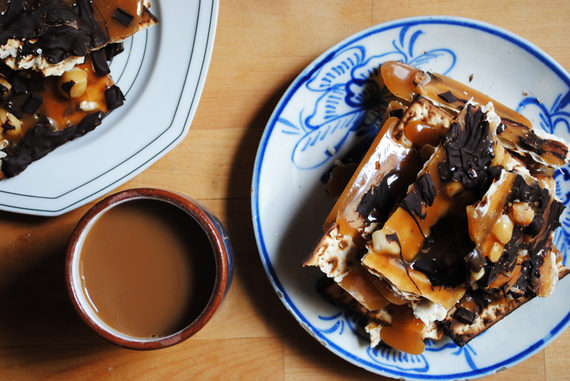 Photo by Nina Lincoff
Transform matzo into a sweet, chocolatey, caramelized dessert in just a few simple steps. Get the recipe here.
4. Matzo sandwich with apples, honey, spinach
Photo courtesy of wegmans.com
The honey and apples naturally sweeten this creation, whereas the spinach balances it out as a healthy green.
5. Matzo Bruschetta
Photo courtesy of granolalola.com
Can't make it to Italy? Wishing you could still bite into some delicious bruschetta? Well you're in luck. Throw on some tomatoes, herbs and other veggies and you have a Passover appetizer. Add some matzo-rella to be extra fancy.
See four more ways to amp up your matzo this Passover here.