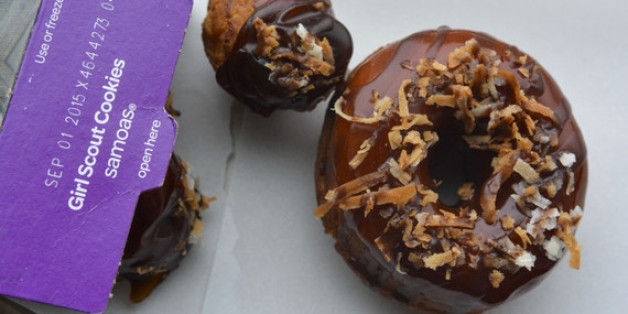 Girl Scout Cookie season may be over but our craving for these magical cookies never ends. Luckily, we don't need to wait around for Girl Scout Cookie season anymore. Say hello to Girl Scout Cookie inspired donuts!
They are everything you absolutely love about your favorite cookies but on a donut (which makes them so much better). What are you waiting for? It's time to start baking.
Prep Time: 50 minutes
Cook Time: 10 minutes
Total Time: 60 minutes
Servings: Depends on the size of your donuts
Ingredients:
For the donut batter:
1 cup milk
1 cup sugar
1 tablespoon unsalted butter
½ teaspoon salt
3 eggs, beaten
4 teaspoon baking powder
1 cup plus ½ cup of sifted flour
Oil for frying
Toppings and Glazes:
For the chocolate glaze:
8-oz. dark chocolate chips
1 cup confectioner's sugar (you may need more)
1 teaspoon vanilla extract
1/8 teaspoon salt
1 cup heavy cream
1 tablespoon unsalted butter
For the caramel glaze:
1 package caramel candy pieces
1 tablespoon unsalted butter
For the peanut butter glaze:
1 cup peanut butter
2 tablespoons unsalted butter
Toppings:
1/3 cup crushed peanuts
1/3 cup crushed Oreos
½ cup shredded coconut
1 package fresh mint leaves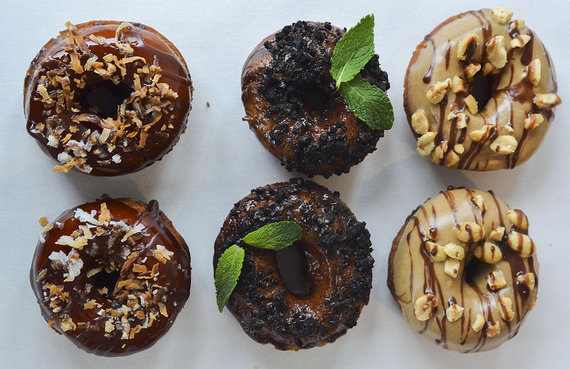 Original post by Na'ama Landau on Spoon University.
Like Spoon University on Facebook.