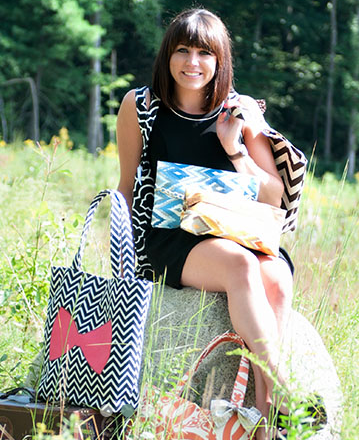 Look out, Vera Bradley. An entrepreneur was recently born and she's about to give you a run for your money. Having personally witnessed the phenomenon called Lindsay Tia, the fashionable handbag trend that has swept through Boston, and is now making its way to other states, I had to get inside the mind behind the passion; the woman that's creating a fashion movement with her totes, clutches, and purses.
If you have had the opportunity to browse around the trendiest Boston boutiques, then no doubt you have made your acquaintance with Lindsay Tia. Not her personally, since she is usually back at her home base designing and making bags, but there's a good chance you have met the high spirited, fashion friendly, Lindsay Tia via one of her designer totes or clutches. If you have, then no doubt it was love at first sight. These are not your ordinary bags. Once you lock eyes on one, it's hard to walk away. Like an animal lover at a dog pound, women can't stop ogling over each bag, often leaving the boutique with more than one.
As a business strategist for large and small brands alike, I've always enjoyed watching when a new business pops up in a marketplace, giving longtime established brands a run for their money. Having seen Lindsay Tia elbowing her way into the competitive handbag market with gusto has been akin to watching the iPhone and iPad market crop up out of nowhere in the last decade. It's fascinating to watch, and even more intriguing when you get into the mind behind the movement. Let me introduce you to 22-year-old Lindsay Tia.
Lindsay Tia is young, beautiful and totally focused on growing a world class brand in handbags. What's her secret? You are about to find out.
1. Be Unique:
This is the core of who Lindsay Tia is, and this philosophy trickles down to the handbags she designs. In 2011, Lindsay studied fashion abroad in London, getting schooling from greats, like shoe designer Jimmy Choo. Interestingly, it wasn't the schooling that changed the trajectory of Lindsay's life, but rather her experience of buying a gift for her mom while she was away. While touring Italy that year, Lindsay visited a boutique where she bought matching handbags for her and her mom. She wanted to buy herself and her mom a gift from this gorgeous province that would forever bring back special memories for Tia, of her time away. She handpicked two beautiful purses that would represent her fondness of her trip forever. Or so she thought.
Upon arriving back in the United States, Lindsay was crushed when she ran across the same purses she bought in the boutique in a hillside province in Italy, at a large retail clothing store like Marshalls. Her unique, "one-of-a-kind" gift had lost its magic, because anyone could buy the same handbag, and they could buy them right from any retail giant in the U.S. The magic of the two handbags she had purchased was forever gone, but Lindsay Tia the entrepreneur was born.
Recognizing a need for unique purses, clutches and totes, made from high-quality fabrics, and made by people, not machines, right in the United States, Lindsay went to work creating a plan. Now, less than two years later Lindsay Tia handbags have infiltrated many of the boutiques in metro-Boston, and have begun to garner attention in stores across the country. Lindsay Tia revels in her uniqueness. It is the core of her business model. It is why her business was born. She notes that we live in a day and age where virtually everything is mass produced and so the number one value proposition she offers is that her high quality, textured, handbags are unique. She personally shops for fabrics that are different and when she finds them, she doesn't buy enough to make hundreds or thousands of bags, but rather a handful of them so that the odds of someone running into a stranger with that same handbag are virtually non-existent.
2. Mentors:
When questioned about her passion for sewing and building a business, Lindsay pays tribute to her mentor, Karen Smith, from whom Lindsay learned how to sew. Lindsay began sewing with Karen when she was six-years-old, and from Karen, she learned how to express herself using fabric and thread. Lindsay is all personality, and even if you've never met her, it shines through in her bags. Lindsay's mentor also taught Lindsay that it is 100 percent possible to build a life and business around something you love. After all, Karen had done just that buy building a sewing school and educating others on the love of creating beauty at the sewing machine.
3. Delegation:
There are lots of creative people in the world that have great ideas and products, but never actually launch a business. So, how has Lindsay managed to do it? Delegation. There are many pieces of the daily business that she doesn't run. Her best friend Kayla runs the business side of things so that Lindsay can continue working on the part she loves, designing and making handbags. Kayla handles the marketing, website and brand management. Together, Lindsay and Kayla meet with clients and potential ones to talk about their value. Lindsay recognizes already that amazing businesses are not built alone, but rather with and by invaluable team members who become the army of advocates who are as committed to building the brand as you are. While many business owners would fret that hiring a best friend could cause complications, Lindsay says that Kayla is the best one for the job. Kayla knows Lindsay enough to point out when she's focusing on the non-essential parts of the business, rather than doing what she's doing best, making world class bags.
4. Disappointments:
From the outside looking in, it seems that Lindsay is doing everything right. She prospects daily for new business, while also remaining focused on getting bags out every day. I asked her if she's had any disappointments, to which she said that there have been many. She said that she has a story to tell the world with her bags, and it's disappointing when there are days when nobody wants to hear it. She said she gets past these days in two ways. First, she revels in the fact that she has already built an amazing buying base of boutiques and end customers who love her bags, and so Lindsay knows that when a bag goes out into the world, it is creating a new opportunity for her story to be told. Secondly, Lindsay uses the difficult days to fuel her passion. When someone doesn't care about or want to hear the Lindsay Tia story, she works harder to tell it to the next person.
5. Future:
Lindsay Tia handbags are entering the marketplace now at a pace of a few hundred bags a year. Her goal in five years is that there will be millions of bags being launched into the hands of deserving buyers each year. Lindsay looks forward to the challenge of balancing her uniqueness in bag identity, with the ability to produce larger volumes. As well, Lindsay plans on eventually launching a line of bag bars, a place where women can get together and experience the fun, exhilaration and meaningfulness of designing and making their own bags. Lindsay says that as much as she loves coming up with new ideas and designs, there's nothing quite like allowing a woman to do it all on her own, and that's exactly where Lindsay is heading with her business.
Some say that the millennial generation is one that was born with a sense of entitlement. There's nothing to indicate that when you meet someone like Lindsay. In fact, if Lindsay Tia is an example of what the next generation is about to bestow upon us, then we are in for an exciting ride. She is passionate, driven and ambitious to say the least, and certainly an entrepreneur to keep your eye on because this girl has got reach!