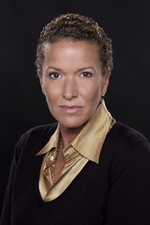 Like the ocean, there are people in the world who are themselves a force to be reckoned with. They don't sit back to see where life will take them. They steer their destiny, often past difficult terrain. They forge ahead and find greatness within often by testing and daring themselves to reach higher. Recently I stumbled upon a rare opportunity to interview one such force. In fact, an interview of this woman was furthest from my mind, until I started talking to her. Within moments I knew I had fallen upon a self-made entrepreneur extraordinaire. A single mother, lover of animals, and worker-bee who grew up in public housing in South Boston with a large family, this woman has created a multi-million dollar real estate empire, selling developments right in her own back yard. She started with nothing but a vision and now sits on top of the world. Meet Joyce Lebedew as I share her five keys to unleashing your greatness upon the world.
Unleashed - If you know Joyce at all, you'll realize that the title of this article is fitting. Joyce is a lover of animals. In fact, when you visit her glass enclosed office in South Boston you'll see a sign out front that announces they are pet friendly. There are white ceramic dogs sprinkled throughout her art-deco workspace and, according to her website, her dog Cassco is the Vice President of the firm. Joyce says that animals offer humans a wealth of lessons about life. For example, she says dogs are the best judge of character. If your dog doesn't like someone, pay attention, take it as a cue that something is amiss. She also says that dogs make us better because how we treat animals is a reflection of how we treat other humans. Cassco was a dog that belonged to one of Joyce's clients. She would visit the condo listing regularly and would notice that the dog never got out much to exercise so she asked her client if she could walk him. Before long a bond was formed. Joyce asked the client if he would be willing to let her keep the dog and he said yes. Cassco has a bed at the office for his visits and he has become part of the culture at Joyce Lebedew Real Estate. Joyce has a close connection with animals and is an avid supporter of the local shelters. She is as passionate about matching pets with potential owners as she is of matching homes with the right families. Joyce, in her career as an entrepreneur has had some avid supporters who have given her a boost, or opened a door for her along the way. She now does the same for others, whether they have to two legs or four.
Stay In Your Own Backyard - Joyce says that greatness requires one to find her niche. For example, Joyce is a one of the top 50 real estate agents in Boston based on her massive sales production. Interestingly, however, she turns away more business than she keeps. Joyce grew up in South Boston. She is a third generation South Bostonian and she literally knows the streets and the people of South Boston better than that back of her hand. Her expertise lies within two square miles. She has sold huge condo complexes, single family homes, and multi-units in South Boston. She is a master when it comes to staging, and usually the properties that she lists look nothing like she started with once she rearranges furniture, paint color, and art work. It is because of her ability to transform properties that she is often sought out by developers throughout the city. Joyce declines this business, and refers it to other real estate agents at firms that can better serve those clients. Joyce understand that greatness is built by being really, really, focused at perfection in one area, and for Joyce her niche is South Boston. When you are everything to everyone, you become nothing to no one. Stick with what you are awesome at.
Love What You Sell - Joyce has one standard for determining whether she will take on a new listing at her firm. Her standard: "Would I let my kids live here?" Joyce has two kids, a daughter who is also an entrepreneur and son who is a United States Marine. Joyce raised them on her own and she admits that her world revolves around making a better life and setting a strong example for her kids. Joyce won't take a listing if it isn't something she would sell to her own kids. The reason for this is that she views every potential buyer from a different type of lens. She doesn't see them as a paycheck or just another sale. She sees them a new family member in her South Boston community. They are people she will be with for the rest of her life. If she wouldn't sell a property to her own kid, then she wouldn't want to sell it to someone who will be part of her South Boston community. To Joyce, her neighborhood is family and making sure her neighbors are content in their homes is the same as making sure that her kids have their favorite pie at Thanksgiving. As Joyce explains, these families are planting roots in the community she loves and it's her job to make sure that the roots are strong and that they are watered and fed with love, so they flourish. This can't be done when an agent is content to put a family in any home, it only works when their agent works tirelessly to find them the right home.
Choose Empowerment not Ignorance - Joyce grew up in public housing at 82 OCallaghan Street, with five other children. Her dad, a Russian immigrant, was a bartender and her Irish mom was a housewife. Her family didn't have much money but she always felt loved. Joyce started working when she was fifteen, running a deli. From there she took a job at a utility company. She eventually started planning events, staging, and then eventually moved into real estate. Joyce claims that most of her success comes from street smarts, not necessarily school smarts. She says that she has always made a conscious effort to not accept ignorance but rather empower herself to figure out the answers. For example, Joyce has been networking with business people for twenty years. She says when you network with upper middle class, there's a lot of learning opportunity. For instance, Joyce loves it when someone uses a new word. She keeps dictionaries and encyclopedias around her house. When she hears a new word, she memorizes it, and before long it becomes a regular part of her vocabulary. Same goes with books. Joyce recalled being at a party many years ago where there was a conversation about the poems of Edgar Allen Poe. The next day she went out and bought a book of Poe poetry and began learning it. She encouraged her kids to learn it too. She said that it is instances like that one that have taught her that each person has the ability to empower themselves with knowledge. Joyce pointed out that we live in the age of Google, which means we are a couple keystrokes away from having as much knowledge as the next guy. That being said, she also understands the importance of embracing your own personal journey. In fact, Joyce proudly displays a brick from her old home at OCallaghan Street on her mantle at her beautiful South Boston home because she says she never wants to forget where she came from.
Never Work for a Paycheck - Joyce says that the key to building her empire is that she doesn't work for the money. She loves money and the beautiful things it can buy, but it doesn't motivate her. It's not unusual for clients to walk in to her beautiful South Boston office looking for a rental. In the real estate world there are not a lot of agents that want to work rental clients, because the big commissions are in selling houses not renting them. Joyce looks at everyone she works with as a new member of the community...a new friend... a new neighbor. Therefore, Joyce and her agents are just as likely to work with a South Boston couple looking to rent their first apartment as they are to work with a developer ready to list a 49 unit condo complex overlooking the city. Joyce says she works because she loves it. The real estate business gives her the opportunity to shape the community and to instill in the community values which are precious to her. Since she never focuses on the money, and always focuses on the relationships, she has built an annuity of buyers, renters, and sellers who keep coming back for her. By the way, I mentioned earlier that Joyce's son is a United States Marine. This is no surprise as Joyce instilled in her kids an appreciation for this country and those who serve it, just like her dad instilled in her. Joyce says that when she was growing up her dad used to say to her, in his broken English, "Stand up and repeat after me -- I am a citizen of the greatest country in the world. I am an American citizen and I will never forget that." As such, Joyce never takes a real estate commission from a veteran. Joyce says it's the least she can do for those who put their life on the line for our freedom.
Sometimes you find greatness in strange places. For me, it was a happenstance conversation with a fellow real estate agent and entrepreneur. Who knew I was sitting three feet from gold when we started talking? Certainly not I. These 5 lessons will forever stick with me thanks to the one and only Joyce Lebedew.