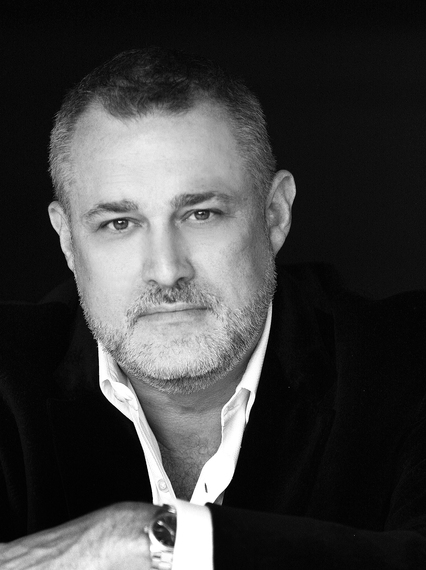 Jeffrey Hayzlett is the host of Executive Perspectives and the C-Suite with Jeffrey Hayzlett on C-Suite TV where he uncovers the secrets that entrepreneurs and C-Suite executives use to build their own empires. Jeffrey refers to it as "minding your own business." Hayzlett is also a top rated international keynote speaker, a best-selling author and a regular contributor on Bloomberg TV. He is the former Chief Marketing Officer of Eastman Kodak and today is the Chairman of the C-Suite Network, the world's most powerful network of C-Suite leaders. Jeffrey has a massive amount of experience minding businesses...his own and others. He's the kind of guy that makes you feel lazy no matter what you've accomplished in life. Hard working...yup! Tough as nails... you bet! A fearless risk taker... no question! If you want to build an empire, this is the guy that knows how to build it from ground up.
Here are 6 lessons to minding your own business the Jeffrey Hayzlett way:
Move to Where the Food Is: Jeffrey Hayzlett is a little bit country and a little bit rock and roll. He divides his time between Sioux Falls, South Dakota, where he lives on a ranch and enjoys riding his horses, and New York City where he builds empires by day and networks with celebrities and the Manhattan business affluent by night. How did a cowboy like Hayzlett end up in The Big Apple? "You must move to where the food is," said Hayzlett. Hayzlett says that when you have massive dreams you need to figure out where it is you need to be to build accomplish them. He wanted to have a business TV show and needed it be in New York City to make that happen. It took three years to pitch and develop, C-Suite with Jeffrey Hayzlett, to networks. As much as he loves Sioux Falls, he realized that building a strong television program was going to be all but impossible to do from there. Success required that he uproot and move to where the food is, NYC.
Fire Fast: I asked Jeffrey what it's like managing so many people both in his current businesses and when he was leading the marketing team at Eastman Kodak. Jeffrey said the key to managing people is in making sure the employees know what the conditions of satisfaction are to successfully carry out their role in the company. In other words, if the employee is clear as to what success looks like within their job, then they will know when they are not cutting it. As far as firing people, Hayzlett said that no business owner has ever made the mistake of letting someone go too soon. Furthermore, he says that the point in which you should let an employee go is right when you first suspect it. When you feel in your gut that an employee is not the right fit, it's time to move on.
What Would The Big Dogs Do?: Hayzlett lives by a simple motto, "If you want to run with the big dogs, you need to learn to piss in the tall grass." The problem with most business owners and entrepreneurs as Jeffrey sees it is that they think too small. They have self-imposed limiting beliefs about what their possibilities are, and they are forever confined by those beliefs. Hayzlett constantly re-examines his personal goals and the goals of each of his companies to determine if he's thinking too small. As well, he surrounds himself with a team who is unafraid to call him out when they see that he's missing out on reaching for something bigger or seizing an opportunity that he has missed. Big thinking takes practice but it's the foundation of all the biggest empires in the world.
Big Risks - No Regrets: When asked what his biggest regrets were in life, Hayzlett says he has none. This is one of the benefits of being a major risk taker. Hayzlett has taken massive risks in his career. Such risks lead him to his position as Chief Marketing Officer of a Fortune 100 company, Eastman Kodak, in 2006 and those same risk taking proclivities lead him to resign in 2009, at 49 years old, so that he could pursue some of his own massive career goals, all of which are coming to fruition. Hayzlett says that when things start to get comfortable, they are also becoming stagnant. Therefore he pushes himself constantly to get outside his comfort zone and to take risks that the outside world may see as unreasonable. In business, says Hayzlett, greatness is in doing things that nobody else has the guts to do. The upside of taking such risks is that he lives a "No Regrets" life. He says that most people have some regrets because they don't take the risks required to go after their big dreams, but for Hayzlett, he will always bet on himself. He will always take the risk knowing that he will absolutely land on his feet and in a position that is far superior than the one he was in before taking the leap.
Stupid Business Rules: One of Hayzlett's pet peeves is when he comes across really stupid business rules. He says when he runs across a stupid rule it forces him to re-evaluate his own business systems to see if there are any really useless processes that he's overlooked because sometimes there are opportunities hidden within those stupid rules. For example, Hayzlett talked about how he recently had a business meeting at a local restaurant. He arrived before his guest. The restaurant had a rule in which he couldn't be seated until the guest arrived. As a master empire builder, Hayzlett said to himself, "How stupid is that?" If they had seated him he would have ordered a drink, which would have grossed up the cost of the dinner. Instead, they made him wait. When his guest arrived, he decided to take the meeting to another restaurant. The lesson, says Hayzlett, is to re-evaluate your own business and make sure there are no stupid, archaic, un-opportunistic rules that are costing you money and customers.
What the Hell did I Hire You For?: Take authority. Take initiative. Whether you are an employee serving your company or a business serving a client, be willing to have authority and take initiative. Jeffrey shared a story about an employee at his firm. As they were preparing for a big meeting she came to Jeffrey and asked him if she should replace her black and white copies of their marketing materials with colored copies. Jeffrey asked the girl, "If you could only ask me 10 questions a month in the course of working here, would that be one of your questions?" The girl said, no, that she'd make sure the questions were important ones. This is the point that Jeffrey was trying to explain to his employee. He said to himself, "What the hell did I hire you for if I'm going to have to make the decision anyway?" Whether you are building a career, a small business, or a massive empire, success favors those who make decisions and own them.
I've interviewed hundreds of empire builders in my quest to build my own massive real estate empire, including the likes of Barbara Corcoran, Robin Roberts, and Darren Hardy...but none of them were quite like Jeffrey Hayzlett. He's the Napoleon Hill of the 21st Century, with a twist. Not only is he meeting and interviewing the biggest and best business leaders in the world, he is one. He's in the trenches building massive empires while visiting the trenches of other leaders who are doing the same. The best part for entrepreneurs like me is that he's curating the content that he learns and sharing it with the world so that we can all become better at minding our own business.
Learn more about Jeffrey Hayzlett at www.hayzlett.com.