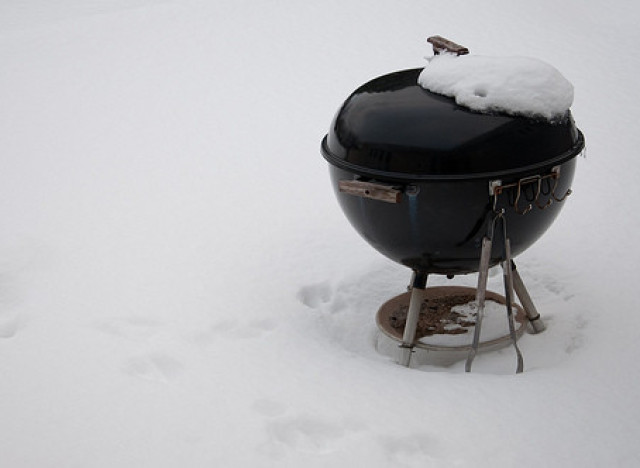 A snowy grill is not a good thing. Flickr photo by qJake
Take a few steps at the end of the season to ensure that your grill in ready to go at the first sign of spring:
1. Clean thoroughly. If possible, take the grill apart and scrape burners and grates with a wire brush to get rid of built-up grease and food. Rinse out the shell with warm soapy water. Dry completely before reassembling. For a gas grill, start it up and run for ten to fifteen minutes to make sure all parts are completely dry.
2. Check manufacturer instructions. If a protective coat of oil is recommended, lightly cover all metal parts with cooking oil to prevent rust.
3. Detach propane tanks. Choose a well-ventilated area protected from weather and elevate the tank off the ground on a flat, nonburnable base, storing upright for safety. Do not store in the garage or basement because propane is highly explosive, and propane gas fire are extremely destructive. A detached shed away from the house is ideal for storing tanks.
4. Store the grill indoors. Otherwise, choose a place outside, preferably under an overhang, where it will be sheltered from rain and snow. Invest in a waterproof cover to keep dirt and moisture out.
For more cleaning tips, check out What's A Disorganized Person To Do?