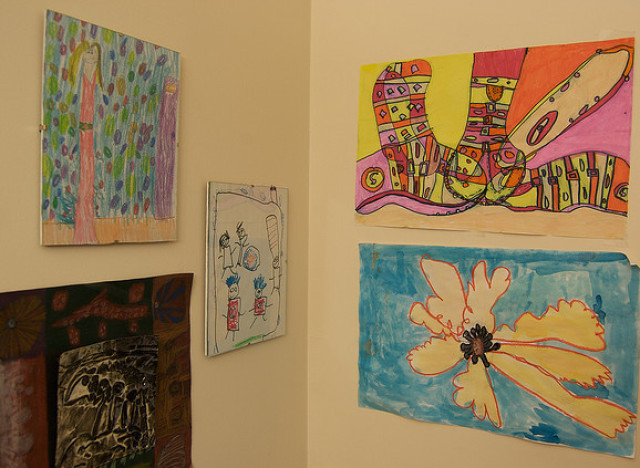 Flickr photo by somegeekintn
A cleaning tip from Stylelist Home's cleaning and organizing experts Stacey Platt and Sarah Hayon of DwellWell NYC.
Young budding Picassos can produce a prodigious amount of work. Here's how to decide what to save, and how to display and store the keepers. Create a special area (other than the fridge!) to display your child's best work. To limit the number of works on display, keep art in constant rotation. Some options:
1. Wall-mounted cable system. Stainless-steel cable with clips for hanging shower curtains or window panels can also display rotating artwork. For a cheaper alternative, use a clothesline and clothespins or picture wire with binder clips.
2. Frames. Frame select works and designate a wall or hallway to serve as a gallery. Rotate art through the frames.
3. Homasote. An environmentally friendly dartboard-like tack board, Homasote is great for displaying artwork and other memorabilia. Available at hardware stores in four-by-eight-foot panels, Homasote can be cut to size. Cover the panel(s) with a fabric of your choosing and use pushpins to hang art and anything else.
4. Magnetize a wall. Apply at least four coats of magnetic wall paint primer (such as Magic Wall, which is available at hardware outlets and some toy stores) and then paint your desired color over it. Use extra-strength magnets to hold up artwork, as regular fridge magnets aren't strong enough.
5. Share the love. Give to Grandma. Since even she can accommodate only so much, send some to friends and other relatives (who won't feel as attached and can eventually purge with greater abandon).
6. Gift wrap. If your child can handle his or her artwork being ripped apart, use it to wrap presents. Tape a few together for larger gifts.
Find more cleaning and organizing tips in What's A Disorganized Person To Do?