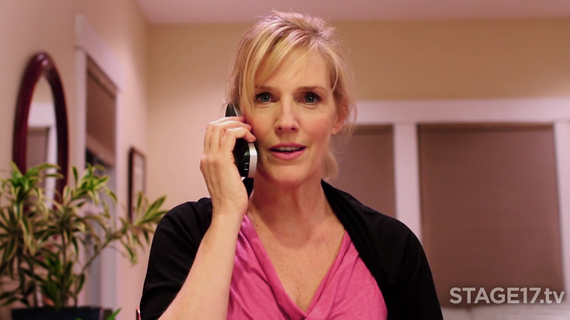 Hi Techno friends!
I bet you have an Instagram account, don't you? Twitter? Snapchat?
Snapchat? Come on. That might be pushing it. You know what that is. Right? The kids are using it because things instantly disappear once sent.
Does the name Anthony Weiner mean nothing to them? Jennifer Lawrence and her naked selfies?
Hopefully, we've developed more discernment at this Middle (St)age of life!
But just by being on this blog, I'm guessing you are a Techno-Nut. Me? I'm more of a Techno-Not.
I admit I've been a bit stubborn about fully embracing this part of our culture. I am the only person at my job without my nose in some sort of techno device at all available down times.
For instance, there are folks at work playing Words with Friends on their phones. And the person they are playing is two seats away. Ummm. Hello, fellas? Your "friend" is right there and maybe you would become better "friends" if you got up and moved two seats over and started a "friend"ly conversation. No, no, no! Not a text conversation! Aargh! Actually breathe and move your vocal cords and make words... with friends! Seems crazy, no?
I do work with a lot of kids, but believe it or not, the above mentioned friends aren't just the kids under 25 disappearing into their devices. Nope, these are the people who remember being turned loose in their neighborhood 12 hours a day in the middle of summer playing Kick the Can, or Kissem Ditchem or Freeze Tag until 9 or 10 o'clock at night when their dads would come out on the back porch and whistle for them to come home.
I knew my dad's whistle like I know my own cell phone ring. As a matter of fact, there's probably a way to ask my pop to whistle into my phone and use it as my cell phone ring. I'm TOTALLY doing that! I can immortalize my dad's whistle. He's 85 now. I would love to hear that whistle the rest of my days.
Okay.
There it is.
That's a good thing about technology. We can make it into what lights us up.

And, not for nothin', I don't want to be left behind. I don't want the kids thinking they have something over me.
Therefore, my Techno-Not has been unravelling of late. Because of this blog, I have joined Twitter, @FernandezStacia; I have Facebook, Middle Stage; and I even joined TUMBLR... even though I don't know what it is. But by golly I'll find out.
There is so much in this vast territory to help us, teach us, and keep us current that we have to dive in. And let's face it, the faster we embrace it, the faster us Middle (St)age ers can take over the world! (Cue sinister laugh.)
And who knows, maybe there's a Kick the Can game on my playstore.
Let's show the kids not only do we still HAVE IT, we're not afraid to USE IT!
Now watch the entire Second Season of Middle (St)age. You'll feel better about yourself. #YoureWelcome.
Middle (St)age is written by Stacia Fernandez and Jacob Pinion and can be seen in it's entirety on Stage17.tv. Follow Stacia at @Fernandezstacia -- follow her character Marina Lippon at @MarinaLippon or follow her page MIDDLE STAGE on Facebook. Just don't follow her around the grocery store. It makes her nervous.
Stage17.tv is the first digital entertainment platform to offer curated, theatre-centric content to a global online community. With its unique focus on Broadway and the arts, Stage17.tv is pioneering the intersection between theatre and the digital stage.